The One Simple Solution to Every Problem
Why is this on my Visa bill?
What began as an ordinary catch-up-on-finances afternoon escalates into a crisis.
I thought they'd agreed to cover my hotel cost.
A frantic search of my saved emails quickly proves my memory correct.
This charge is a mistake.
I call the hotel to explain that the organization that booked my original reservation should have been charged for my stay, not me. I'd only given my credit card in case of "incidentals," but I'd incurred none.
Minutes later, I slam the phone down.
Nothing makes me see red quite like hearing, "I'm sorry Ma'am, but there's nothing we can do on our end."
It's bad enough that I have to fix someone else's mistake. But now I have to write an email about it?!?
I heave a nothing-irritates-me-more-than-inconvenience sigh and search for the necessary email address.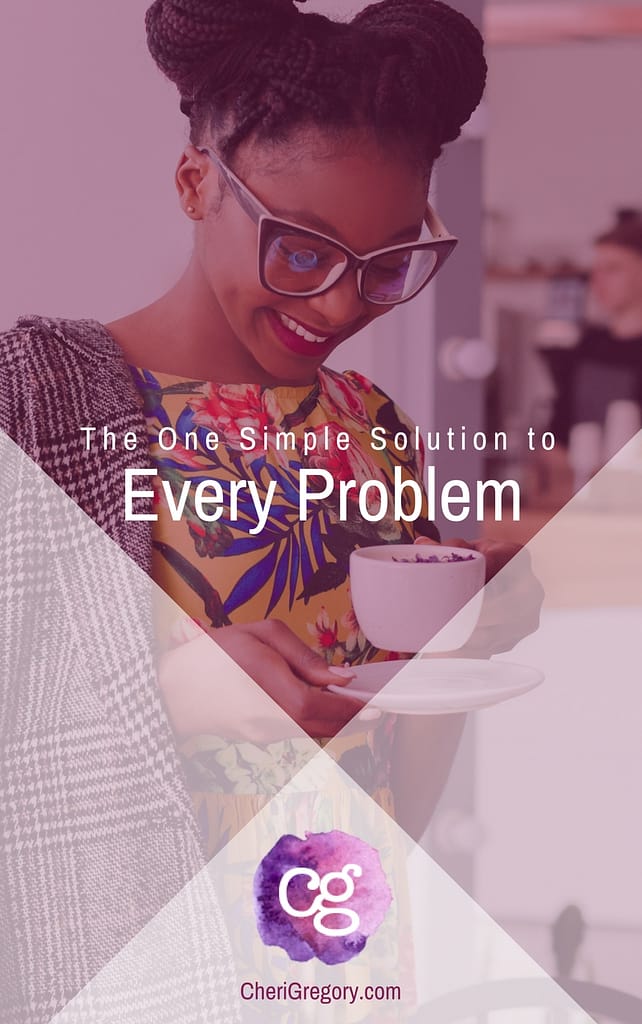 The Conciliatory Approach
Dear Jane —

I am so sorry to inconvenience you.

I totally messed up and somehow managed to charge my entire hotel stay to my own Visa card. My bad!

I've attached the hotel receipt for your reference.

Can you help me figure out my next step in resolving this situation?

Thank you SO much for your time and assistance!

Sincerely,

Cheri
This email only sounds conciliatory.
As a life-long People-Pleaser, I can keep my passive-aggressive hidden agenda just under the radar.
Here's a truthful translation of the above email:
I am so sorry to inconvenience you. = If you're a decent human being, you'll take my hint and apologize for inconveniencing me!
Somehow, I totally messed up and managed to charge my entire hotel stay to my Visa card. = This is your golden opportunity to assure me that I didn't mess up—someone on your end did.
I've attached the hotel receipt. = Here's irrefutable, concrete proof that I'm right.
Can you help figure out my next steps in resolving this situation? = You know as well as I do that my next steps are (a) receiving your prompt apology and (b) depositing my refund check.
One problem with this approach is that it can backfire if the recipient takes it at face value and believes that you really are at fault.
The far bigger problem, of course, is that it's downright dishonest.
The Crabby Approach
Dear Jane —

While updating my finances today, I was dismayed to discover that I have been erroneously charged for the entire hotel stay that Your Organization promised to pay.

My hotel receipt, which clearly shows the exact amount that was incorrectly charged to my Visa card, is attached as evidence.

Please issue an immediate refund. My Visa bill is due in 10 days, and I certainly don't want to pay interest on an unauthorized charge.

Sincerely,

Cheri
While this approach may produce quick results, it's the relational equivalent of dousing a bridge with kerosene and tossing a lighted match on it.
It's tempting to tell myself, "It doesn't matter if I burn this one bridge." But bridge-burning is habit forming. And before you know it, you've got a lot of scorched earth to look back on.
The Curt Approach
Dear Jane —

I was charged for the entire hotel stay that Your Organization agreed to pay for.

Proof of payment is attached.

Let me know when I can expect my reimbursement check.

Sincerely,

Cheri
At first glance, this approach doesn't look "as bad" as the previous one. It's clear and efficient. But it's also sterile.
Which means it misses a great opportunity for bridge-building.
The Connected Approach
Hi Jane —

Just when you thought you were done with me and my hotel reservation, I'm back to bug you. (Will it help to tell you up front that I make excellent homemade baklava?!?)

I just checked my Visa statement and was surprised to see a charge for $###.##. I called the hotel, and they basically said, "We can't help you, but Jane can. Jane's your gal."

At your convenience, would you help me figure out if I'm finally losing my mind … or if perhaps the hotel got some wires crossed?

In His Delight,

Cheri
Clearly, this isn't a copy-and-paste approach. These words worked for me; you'll have to find the words that work for you.
My goals in writing my email this way were to:
Communicate the problem clearly
Create a sense of safety with some humor
Acknowledge that the recipient is a hard-working professional
Position the recipient to become the solution-finding hero of the story
Move myself from "baditude" to gratitude
From Baditude to Gratitude
God's been leading me on a journey from "baditude" to gratitude for more than a decade, now.
I'm trading my life-long habit of over-apologizing for a new habit of expressing gratitude to those who lend me a helping hand.
Seeking gratitude keeps me from missing the point as much as I used to.
And even when someone else's mistake creates a mess for me to clean up, I'm finding freedom in exchanging my baditude for genuine gratitude.
Go-To Verses About Gratitude
It's been six years since my very first blog challenge: 30 days of replacing "baditude" with God's word and gratitude. Since then, I've become even more convinced that:
Gratitude changes everything.
Scripture is the key to being transformed by the renewing of our minds (Romans 12:2).
A few of my favorite go-to verses about gratitude include:
I will give thanks to you, Lord, with all my heart; I will tell of all your wonderful deeds.
Thanks be to God, who delivers me through Jesus Christ our Lord!
But thanks be to God! He gives us the victory through our Lord Jesus Christ.
Let the peace of Christ rule in your hearts, since as members of one body you were called to peace. And be thankful.

Let the message of Christ dwell among you richly as you teach and admonish one another with all wisdom through psalms, hymns, and songs from the Spirit, singing to God with gratitude in your hearts.

And whatever you do, whether in word or deed, do it all in the name of the Lord Jesus, giving thanks to God the Father through him.
Do not be anxious about anything, but in every situation, by prayer and petition, with thanksgiving, present your requests to God.
…give thanks in all circumstances; for this is God's will for you in Christ Jesus.
Gratitude is the one simple solution to every problem we face.
It may not be the entire solution to any problem.
But it's always powerful place to start.