How to Know if You are Helping, Meddling, or Rescuing
I don't want to meddle.
I stare at the text message I've just received from my daughter.
Then I glance at the calendar, confirming that our family trip to Italy is only a few short weeks away. Our airline tickets are booked, but I haven't heard anything about our accommodations.
Since this trip is our kids' gift to us, I've been trying not to over-step my bounds. In other words, I've tried not to pre-emptively "fix" anything. I've held back and held my tongue.
But Annemarie's just shared with me how stressed she is with school and work. Plus, she's down with a stomach bug.
I know what a first year of teaching is like. And I know what a first year of grad school is like. And she's doing both at the same time!
I sigh and set down my phone.
I really don't want to meddle.
The last thing I want to do is imply that she's not capable of "adulting." Especially since I am so proud of all she's doing and who she's becoming.
I stretch my neck, first to the right and to the left.
I also don't want to be involved in a last-ditch rescue.
It feels like I'm stuck in a conundrum, as if meddling and rescuing are my only two options.
Black-and-white, all-or-nothing thinking — so typical of a recovering perfectionist.
I close my eyes and pray for inspiration.
Is there a 3rd alternative? Something that is neither meddling nor rescuing?
It occurs to me:
Why not simply offer my help? She can always say "no"!
I pick up my phone and text:
Hey … I don't want to butt in where I don't belong, but I do want to offer help if it might be useful. So — if you could use any help with Italy accommodations, feel free to let me know. If you have it all handled, no problem-O.
Her response is immediate.
I could definitely use help. Even just checking over options. I have no idea what I'm doing.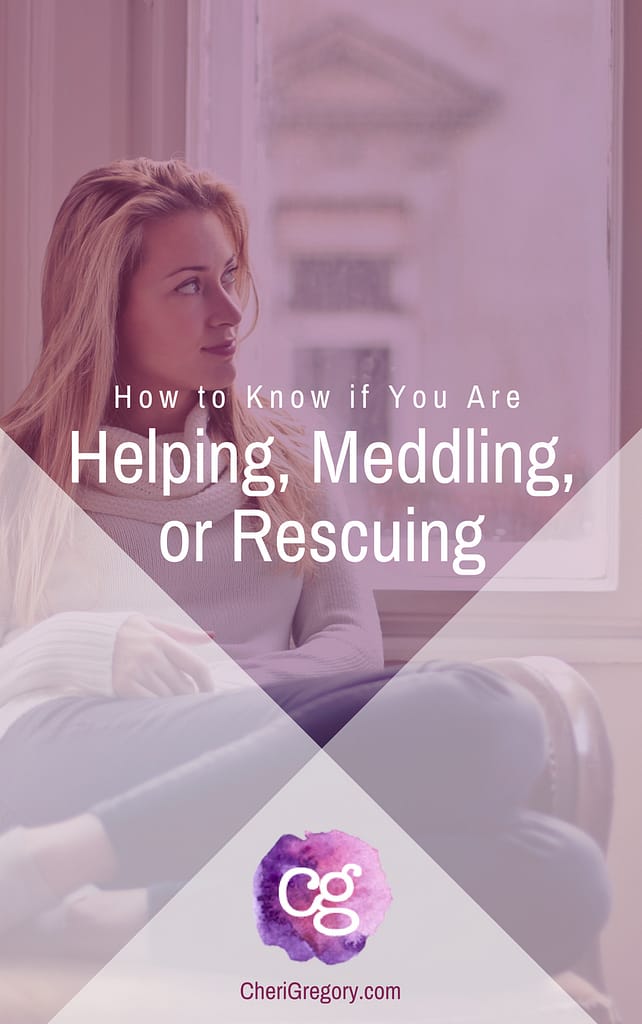 When You Love Being Helpful
Given the green light, I do what I do best: a ton of research. I find a couple dozen Air BnBs that look amazing and enter all their details into a spreadsheet.
(It doesn't surprise you that my #1 Strength is Input, does it?)
Then, I narrow all the options down to a short list of options that are comfortable, affordable, and 3-separate-bedroom-able, which I share with my kids.
Within 24 hours, they each knock options off the list for very different reasons: Annemarie picks Air BnBs with hosts who speak English, since she's afraid that her Italian is rusty. Jonathon prefers accommodations near bus and train stations.
The places we book meet all of our criteria.
It's a team effort in which we've combined the best of our personalities, our strengths, our expertise, and our experience.
All of which, for my collaborator heart, is My. Favorite. Thing.
How to Know if You're Actually Being Helpful
Help vs. Meddling
One key difference between Helping and Meddling is permission.
When you offer to help and the other person agrees, then it's help.
But when you offer to help, the other person declines, and you "help" anyway, that's not help. It's meddling.
Another key difference is how you offer.
When you offer, and the other person is free to accept or decline, that's help.
When you become hurt/offended when your unsolicited information or instruction or correction or criticism isn't appreciated, that's not help. It's meddling.
Helping vs. Rescuing
One key difference between Helping and Rescuing is time.
When you are able to freely choose how and when you assist, it's helping.
When you have to drop everything to prevent dire consequences, it's rescuing.
Another key difference is how you feel.
When your own schedule and needs are respected, and you feel like your unique contribution matters to the other person, it's helping.
When your schedule and needs are ignored, and you feel like you're being taken advantage of by the other person, it's rescuing.
6 Ways to Be Intentional About Being Helpful
Here are six ways to be intentional about being helpful:
1 — Offer your help early.
"I want to let you know that I'd be happy to help with _______."
The sooner you offer, the better for all!
2 — Make your offer clear.
"If you don't need or want my help, no problem. If you do, I'm on board, ready and willing to ______."
Verbal is fine, but follow-up with email and/or text so everything is spelled out.
3 — Set your boundaries.
"My availability to assist with ________ is _____________."
Give your offer an expiration date.
4 — Respond with grace when your help is declined.
If this is hard, pray-cess why.
5 — Stick to your boundaries when you receive a rescue call.
"_____ won't work for me."
"That's not going to happen.
Avoid apologizing for allowing natural consequences to occur.
6 — Persist.
In Revelation 3:20 (NIV), Christ says:
I stand at the door and knock. If anyone hears my voice and opens the door, I will come in and eat with that person, and they with me.
Jesus* doesn't force his way in, but He shows up and offers, over and over again. Follow his lead.
Being Helpful Instead of Meddling or Rescuing
It's already been two months since our family's immensely successful trip to Italy.
We loved the Air BnBs we chose and would rebook them in a heartbeat. Since I'm a process person, I enjoyed them all the more because of the cooperative way in which we chose them.
I hadn't meddled, jumping in without permission to force things to happen my way and causing others to feel controlled and manipulated.
I also hadn't waited until rescue was the only option, leaving me anxious and resentful about "having" to step in at the last minute to "save the day."
Instead, I'd offered my help clearly, early, and agenda-free. I was equally okay with hearing "No, we've got it!" or "Yes, we'd love it!"
I offered help, my offer was received as help, and all our needs were met.
It won't always go this well.
So I'm giving thanks that this time, it did.
(* The type of rescue discussed in this post is the unhealthy codependent type of rescue that fallen humans practice, not Christ's sacrificial, redeeming rescue of each one of us.)