How to Know When You Need to Go on a "Fixing Fast"
"How much longer have you been a parent than me?"
We'd gotten home from the hospital just a few hours prior, and I'd carried my baby girl so joyously into the waiting nursery.
But I'd scarcely laid her in the bassinet when panic hit hard.
How could all those doctors and nurses just let me walk out with her like that? Where were the instructions? A manual? Something?
Worst-case scenarios began to breed in my mind.
Colic.
Insufficient breastmilk.
Crib death.
I tried to relax by fixing a meal. The familiar motions of slicing fruit and making sandwiches did have a calming effect…until I went to tell Daniel that lunch was ready.
He was in the nursery, changing Annemarie's diaper.
Backwards.
He. Was. Putting. Her. Diaper. On. Backwards.
I flew into a flurry of words. Twenty-seven years later, I don't recall my exact words. But I know my message was clear:
"You are doing it all wrong! Get out of the way so I can do it right."
Daniel never stopped what he was doing. He didn't even look up at me. All he did was ask a simple question that stopped me in my tracks:
"How much longer have you been a parent than me?"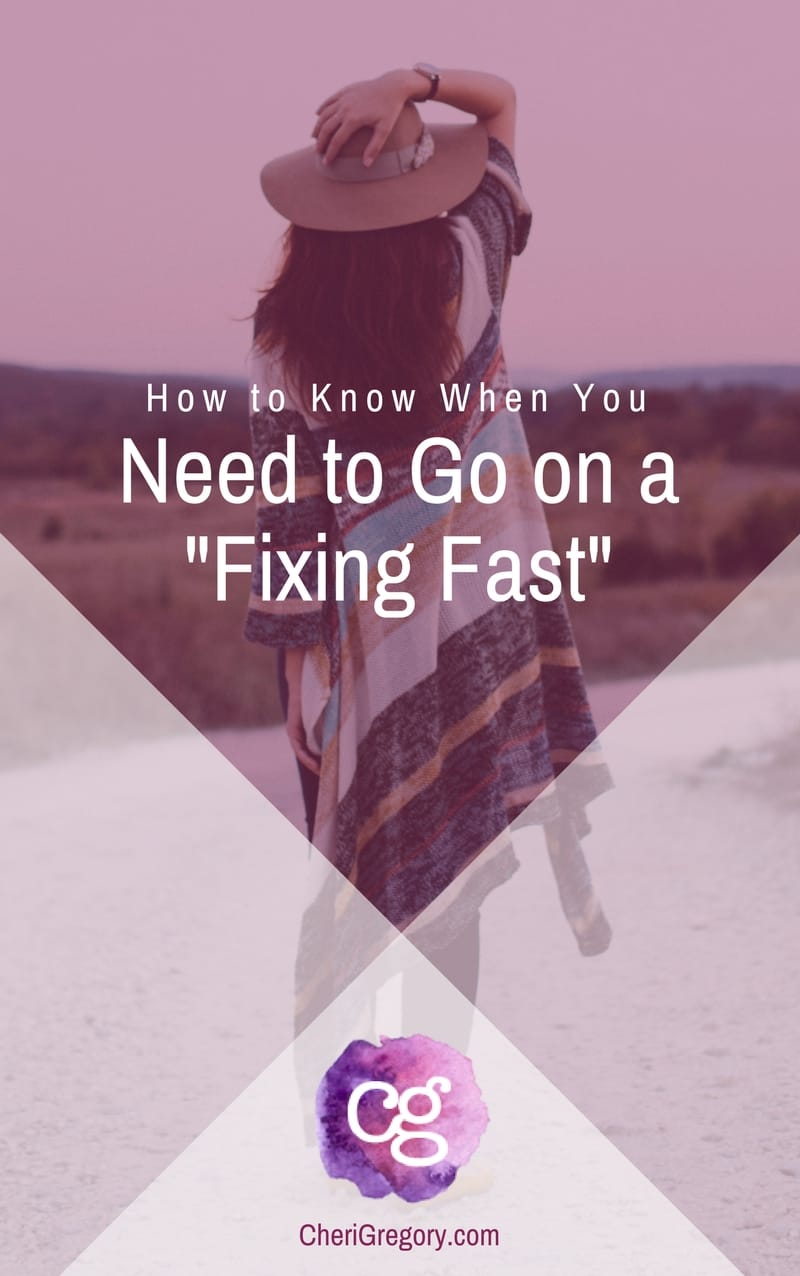 From "I'm just trying to help!" to "Am I controlling?"
You have a servant heart. You genuinely want to help.
But sometimes, being a blessing to others becomes a burden for you.
Somehow, what begins as a willingness to help becomes a compulsion to fix.
Which is why you're
So. Very. Tired.
Are you ready to put down the burdens you were never meant to carry?
Why the February "Fixing Fast"
I picked February because going on an intentional "fixing fast" is an act of true love.
Love for those who are closest to us.
Love for our truest selves.
Love for God.
(Coincidentally, it's also the shortest month of the year!)
I'm a bit scared—okay, panicked—about what God's going to reveal to me during the month of February. (I'm pretty sure I know the answer to, "Am I controlling?"
But I'm even more excited about all He's going to be teaching us. All the changes He's going to be making in our hearts, minds, and every-day behaviors.
Join Us for 28 Days of Finding Freedom
If you're wondering if you should join, ask yourself this question:
"What could I do for myself if I didn't feel so responsible for fixing everyone else?"
And if the phrase "do for myself" triggers your I dare not be selfish reflex, try these specific questions:
How much closer could I draw to God?
How much better could I serve others?
How much more fully could I step into my calling?
I'd love for you to join me for 28 days of finding FREEDOM.
—> Freedom FROM feeling responsible for everything and everyone.
—> Freedom FOR focusing on what God has actually called you to do.
"So if the Son sets you free, you will be free indeed." John 8:36 (NIV)
What You Can Expect
When you join the February "Fixing Fast", you'll receive short daily emails with Biblical encouragement, a challenge-of-the-day, plus a prayer for peace, patience, and perseverance.
ZERO guilt. ZERO shame.
LOTS of space for grace.
We'll all be aiming, each in our own way, to accept and apply this simple truth:
It's not our job to fix other people.