The Best Way to Share Your Amazing Advice
It must have been National Unsolicited Advice Day.
Kathi got an Email from a podcast listener, informing her that her violations of the rules of grammar cause the listener to grimace each and every week.
Michele received an earnest message from a podcast listener urging her to get a professional quality microphone — one that doesn't make it sound like she has a speech impediment. Michele does have a speech impediment due to tongue cancer.
A neighbor, whose dog went missing overnight but returned in the morning, expressed her joy via social media. "Did you learn anything from this experience?" one commenter demanded, and then admonished, "You should not let your dog roam."
A dynamic speaker shared a powerful message that went viral via YouTube. But numerous viewers gave her the thumbs down. Why? She pronounces espresso "eX-press-o."
I get it.
I've done it, time and time again.
I've felt the overwhelming compulsion to give advice, opened my mouth—or placed my fingers on my computer keys—and let the pearls of wisdom pour forth.
Here's just one example.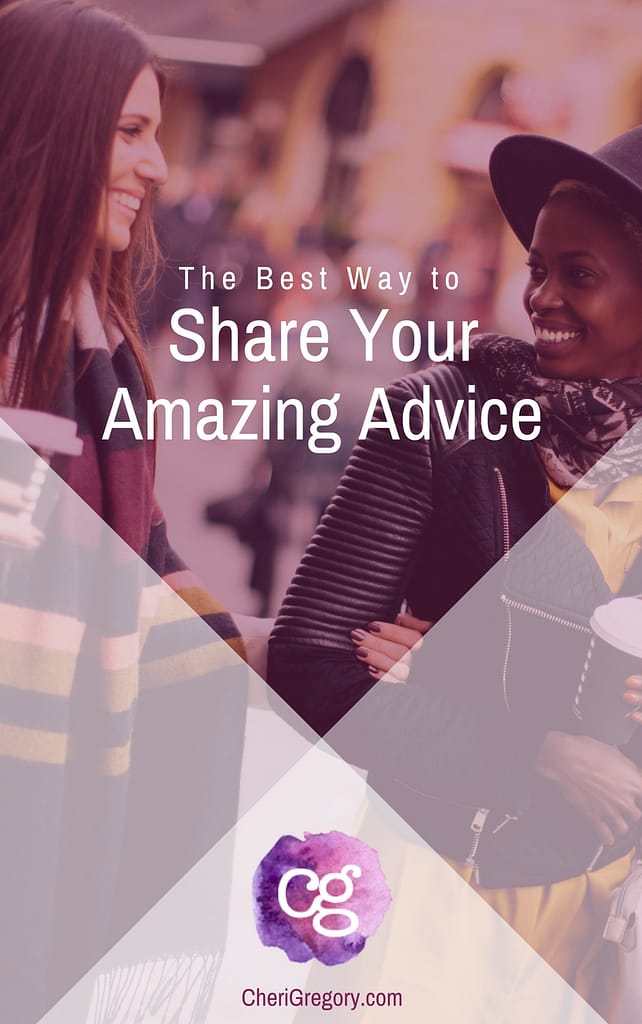 The Problem
I'm sitting on an aisle during the closing session of a major Christian writers conference when something odd catches my eye. A woman on stage is wearing a stylish jacket with two buttons snugly buttoned.
But not the third.
Hearing footsteps coming from the back of the room, I turn around to see the conference organizer holding a heavy box.
From chatting with her earlier, I know she's carrying just-off-the-press copies of a book she's co-authored with the stylishly-jacketed woman on stage.
I can tell, from the forward focus of her gaze and the increasing pace of her stride, that her goal is to get on stage and invite her friend to open the box with her.
But the third button is unbuttoned.
I flag her down.
Awkwardly, she stoops down, and with no small sense of satisfaction, I tell her about the problem I've noticed.
So she can fix it.
Before it's too late.
That third button is going to get buttoned.
She's going to be so grateful.
Instead, she gives me a look of disbelief. Says, "She did it that way on purpose." Straightens up and strides on.
Then—and only then—do I remember: I know absolutely nothing about fashion.
The Compulsion
And even if I'd been a fashion expert, this wasn't about fashion.
It never is about the topic at hand.
It is always about fixing.
This is just one of hundreds of stories I could tell.
Stories in which I was so sure I was right, knowledgeable, helpful … but was actually wrong, ignorant, and hurtful.
I considered several other titles for this blog post:
How to Drive People Crazy: Give Them Free Advice
Who Actually Wants to Hear the Advice You're Just Dying to Share? (Hint: NOBODY!)
Why I'm Going on a "Fixing Fast"
The first two were just a wee bit too snarky.
As for the third one? It's the reason I'm in a serious snit at God right now. But, I digress…
After National Unsolicited Advice Day, I posed this question to my Facebook friends:
"What compels us to share unsolicited advice and/or expertise?"
The Reasons
Here are a few responses:
We like fixing things, Lord help us.

Our own unresolved problems. We can't fix ourselves, so we try to fix everyone else. Besides, we loathe any discomfort.

I think that it can be because we really want to help. But other times it feels like a sort of power trip to think that you have the answers… that your knowledge is somehow the answer is a heady thing. It comes from a place of helpfulness and can end in a place of control. We people-loving control freaks often face this issue… it's not a good thing.

It's difficult to listen to a problem without "helping" to come to some kind of resolve.

The root of it is no boundaries and thinking we know it all. Sometimes we truly do know the answer based on experience but should ask if they want to hear what we have to say first. Easier said than done.

My deep love for others and profound concern for their well-being! (Followed by a wink emoticon that indicated the tongue-in-cheek nature of this reply.)
The Questions
I don't want to be the kind of person who inflicts pain on others through my "amazing advice." So when the urge to offer unsolicited advice comes over me, I pray-cess it via these three questions:
1) Whose need am I primarily meeting: theirs or mine?
When the Holy Spirit checks me, it's because the primary need I'm meeting is mine. My need to be a hero. My need to be an expert. My need to … well, be needed.
While these are all normal human needs, there are healthy ways to meet them …. and unhealthy, even hurtful, ways. Slapping an "I was just trying to be helpful" label on an interaction doesn't make it healthy. Nor does it absolve us of the pain we cause when using others to meet our needs.
2) Have I watched, listened, and prayed?
Too often, my modus operandi has been Fire! Ready? Aim.
When I take the time to watch, I can see if it's even an appropriate time or place to offer advice. When I listen, I learn the kind of words that are likely to be heard. When I pray, empathy replaces my compulsion to control.
In a crisis, of course, we act first, ask questions later.
Most things we feel compelled to fix aren't emergencies. When we watch, listen, and pray, we more readily discern the difference between a personal preference and an actual crisis.
3) Do I have permission or am I presuming?
We can seek permission so simply:
"What do you need most now: someone to listen or some to advise?"
"I have some background in _____, and I'm wondering if I could share with you my thoughts on ______."
"Is this a good time to offer you some feedback, or would you prefer another time?"
Asking permission before giving advice communicates respect.
Expecting others to be grateful for unsolicited advice comes across as presumption, even arrogance.
The Solution
Back to my snit with God.
He's convicted me to go on a "fixing fast."
As in I'm to stop jumping in and "fixing" people or situations … unless I've been specifically asked.
No invitation = No fixing.
No "helping." (aka meddling) (aka manipulating)
No sharing my amazing advice.
No using my mother's favorite phrase, "I don't mean to tell you what to do, but…"
When that "fix-it feeling" comes over me, I stop, drop, and write.
I'm journaling how it feels to bite my tongue. To let others make their own choices. To recognize that the real problem is never
the unbuttoned button
the missing apostrophe
the different pronunciation of a word
The real problem is that others' imperfections remind me of my own humanity.
Which leaves me with a vital choice:
I can keep acting as though fixating on your mistakes will make my own magically disappear.
or
I can accept that the problem of humanity is one He's already fixed.
For you. For me.
For all eternity.