How to Find a Dream That Will Last a Lifetime
A dream has died, and I'm celebrating.
No, I'm not celebrating the actual death of the dream. That was, and always will be, hard.
I am celebrating everything that's happened because I finally let that dream die.
Or, to be more accurate, because I finally came to an important realization:
I picked the wrong dream in the first place.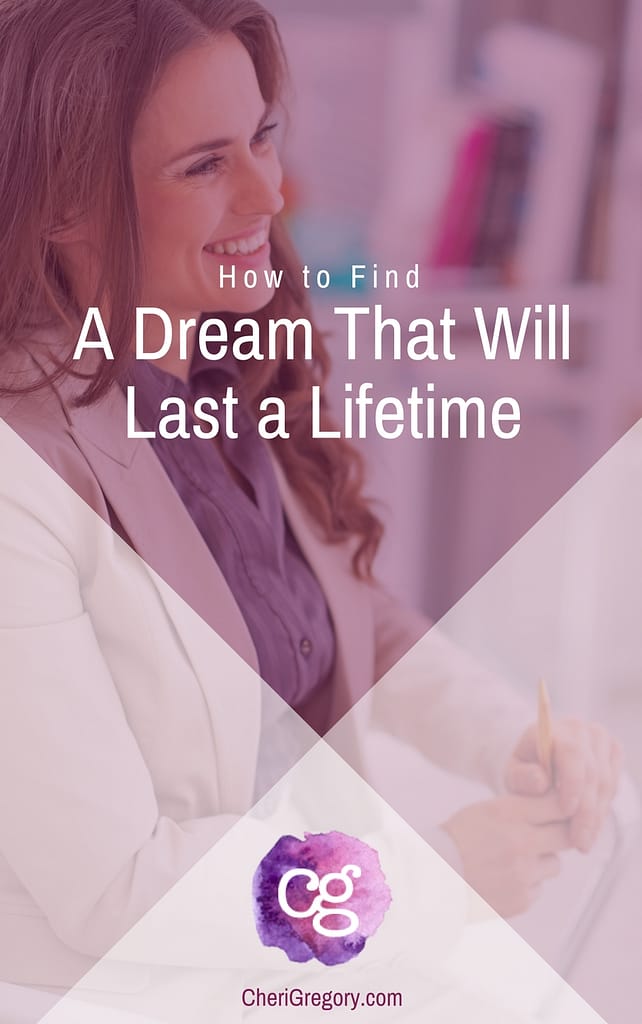 A Dead Dream and a Brand New Hope
I've been reading Angela Duckworth's book Grit: the Power of Passion and Perseverance. Early on, she explores a concept she calls "the hierarchy of goals." A simplified visual looks like this: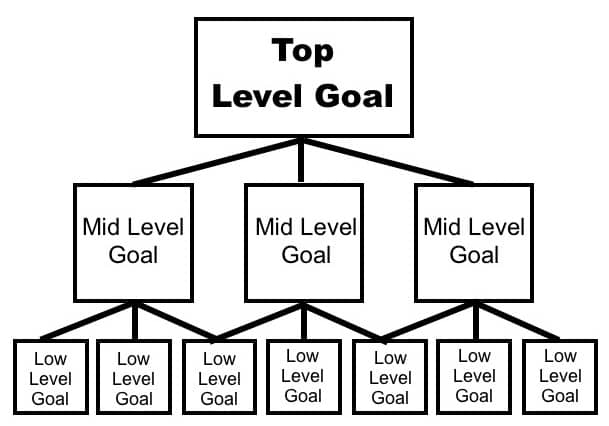 Duckworth discusses the importance of ordering our goals appropriately:
Grit is about holding the same top-level goal for a very long time….In very gritty people, most mid-level and low-level goals are, in some way or another, related to that ultimate goal.… You need one internal compass—not two, three, four, or five. (Grit, pgs. 62-67)
After reading this, and mulling over the diagram, I Emailed Amy Carroll, my co-host for the Grit 'n' Grace: Good Girls Breaking Bad Rules podcast:
For a decade, mentors like Kathi and you and Emily have been telling me, "It's about the message not the medium."

But that simply doesn't sink in to a girl who has dreamed of writing books since she was 2 years old.

NOW, after devoting YEARS to numerous book proposals that aren't going anywhere—after my first book didn't sell well enough for any publisher to want me, after I am SO SICK* of this 2nd book I want to burn it—NOW I get it.

I mistakenly thought that signing book contracts was my Top Level Goal.

And so I kept changing topics hoping to hit on a topic — ANY TOPIC! — a publisher might print.

But books are Mid Level Goals at best. Honestly, they may well be Low Level Goals at this point in my life—worth a shot but NOT years of my life.

My message, all the way back to when my mother heard Florence Littauer when I was 16, has always been around personality & temperament, which includes being HSP [Highly Sensitive Person]. And about what can go wrong when we don't know and accept our God-given selves: perfectionism, people-pleasing, performancism.

Educating women about such things so they can be set free to receive God's love and acceptance has always been my true Top Level Goal.

I'll bet my life would feel a lot less stressful—and a lot more rewarding!—if my goal hierarchy looked like this:

Anyhow, that's my ah-HA for the day.
Long long ago, I latched onto a dream that was never meant to last a lifetime.
Perhaps in your own way you have, too?
I'm Not a Drama Queen—But My Dream is Dead
A couple of hours later, after more reflection, I fired off this follow-up:
Here's the next ah-HA:

You know how for some gals (like me), rejection of their book proposal = MY LIFE IS OVER ?

Well, if the book proposal was, in fact, their ONE TOP LEVEL GOAL and it was blocked, then of COURSE their life is over! They're not being drama queens … they're being honest!

Now, the question is: How do we choose Top Level and Mid Level goals that NOBODY CAN BLOCK? That may end up detoured but never dead-ended?

Any goal that can be blocked or become a dead-end, it seems to me now, should never be given anything other than Low Level Goal status. Nice if it happens, but there's always Plans B, C, D, E, … ZZ if it doesn't happen.

All fabulous in theory, of course. Now, to try to live it out … !!!
My book-writing dream is not a worthy, life-long, Top Level Goal. Too many circumstances far beyond my control can bring this dream to a dead halt.
For years, Perfectionism has stepped in, time and time again, to assure me that all I needed to do was, "Just try harder."
Perfectionism prevents us from critically assessing our goals.
Finding Your True Top Level Goal
When we pick a Top Level Goal that isn't sustainable, we doom ourselves to disappointment.
Discouragement.
Even despair.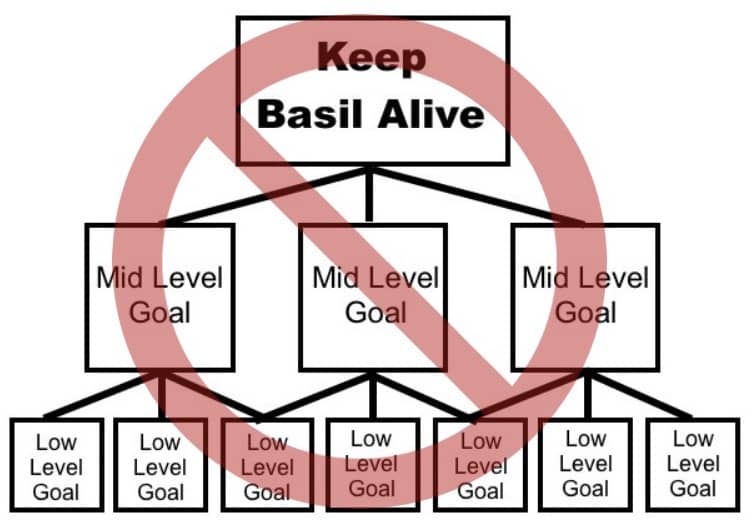 "Keep Basil alive" wasn't a worthy Top Level basil Goal. There were too many factors beyond my control: temperature, sunshine, whiteflies, aphids, and the fact that basil plants don't live forever. So I've changed my Top Level basil Goal to "Use Fresh Basil," which I can do.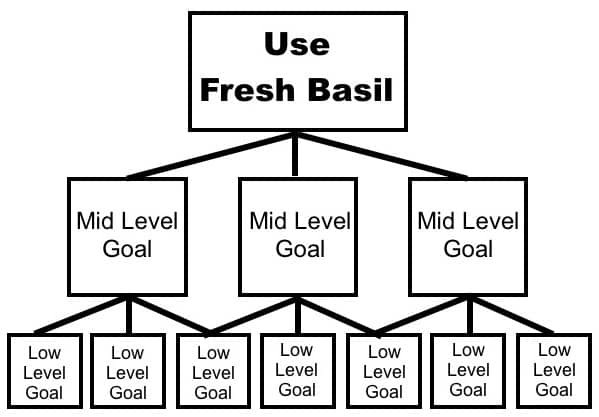 As soon as I harvest Basil's last leaves, he's going into the compost heap. I've already bought (and pruned!) his replacement. I don't need to keep any one particular basil plant alive. As long as a basil plant is thriving in my windowsill at any given time, it's all good.
"Get a Book Deal" has also been downgraded to a Low Level Goal. Not because I plan to write less, but because there are so many factors beyond my control in the world of traditional publishing, I'm not going to keep pouring time and energy into it.
What will I do instead?
Write here.
Where I can continue to Equip Women.
Where no one can block or dead-end my Top Level Goal.
Reassessing Our Dreams
What is your basil? Your book deal?
What dream have you clung to, refusing to let it die, regardless of how damaging it's become to you and those you love?
What dream have you elevated to Top Level Goal status but you can not sustain?
What dream has hit dead-ends because other people have blocked them?
Perhaps it's time to let this dream die.
Downgrade it to a Low Level Goal so you can start, stop, and swap with a clear conscience.
And await with anticipation the evergreen goal God puts in its place.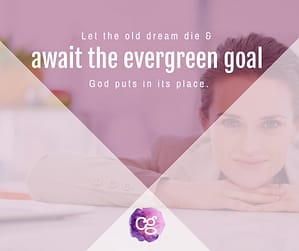 * Disclaimer: This particular Email was written in the messy middle of the rough drafting process. Due to the tireless efforts of my co-author, my writing coach, early readers, and editors, I absolutely love the final manuscript. But early stage angst, which I expressed freely to a fellow author who understood and empathized, is a very real phenomenon.