One Unexpected Way to Help Your Dream Thrive
The day I wrote "Finding New Life in a Dream You Thought Had Died," I was facing a dilemma.
Actually, I was actively trying not to face it.
I was intentionally in denial.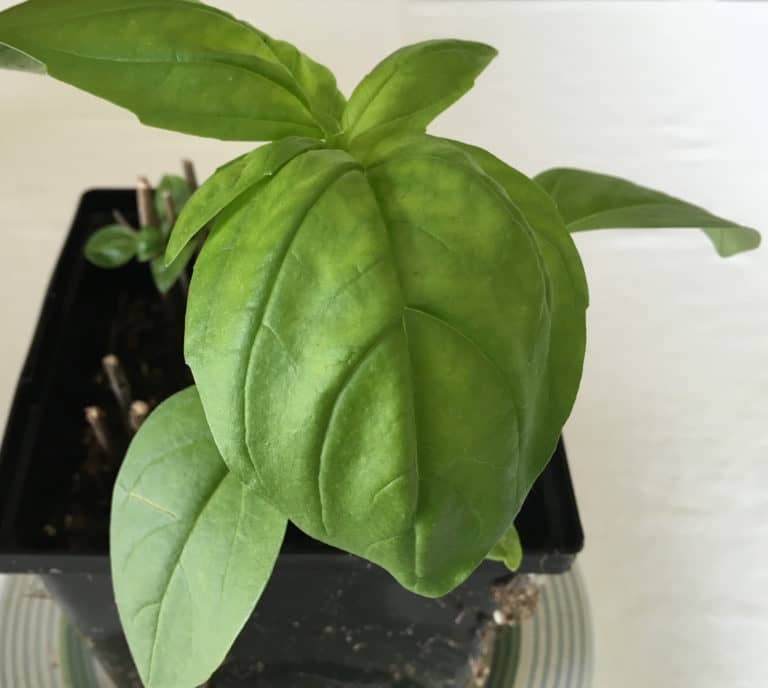 Basil had grown such big beautiful leaves.
Big enough for me to harvest, in fact. My first crop!
But I was feeling so successful, I didn't want to remove the leaves. I wanted to keep watching them grow bigger and bigger.
So, I kept telling myself, "I'll cut off the biggest leaves tomorrow."
When tomorrow came, I told myself, "I'll cut off the biggest leaves tomorrow."
For ten tomorrows.
Finally, I had to face the truth:
Basil had stopped growing.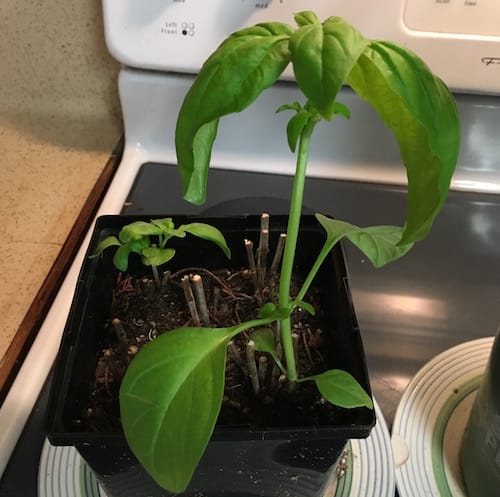 What If One Talent Isn't a Lesser Gift?
My women's group is reading If You Want to Walk on Water, You've Got to Get Out of the Boat by John Ortberg. In chapter 2, he discusses the parable of the talents.
Every time I've read this story, I've felt sorry for the poor servant who got one measley talent.
But yesterday, it occurred to me:
What if one talent isn't a lesser gift?
For so many years, I strove to make it clear to the watching world: I am a 5-talent servant, thank you very much.
Until I discovered that I'm not. I'm an HSP: a Highly Sensitive Person. A small-plate girl. Which I'm learning to accept.
Begrudgingly, that is.
Because I can do basic math. 5 is obviously greater than 1, so 5 is obviously better than 1.
But what if one talent isn't a lesser gift?
What if one talent is just right for right now?
What if the Master knows his servants so well that he knows when one talent is the perfect fit? For our unique personalities? Our past experiences? Our current season of life?
But since we can't do All The Things, we pout and do NoThing.
Or, if we're over-attempters, we keep trying to do All The Things, despite being utterly unequipped.
Because we can't face the shame of being a one-talent servant.
But what if one talent isn't a lesser gift?
What if one talent is just right for right now?
What if one talent is the gift of focus?
What if it's high time for me to cut back on All The Things I'm over-attempting, but I'm too addicted to showing off my leaves?
What if I'm shrinking back from the pruning sheers right when I need to welcome the chance for new growth?
What If One Leaf is Just Right for Right Now?
I pulled out the kitchen scissors, took a deep breath, and started cutting leaves.
When I was done, poor Basil looked so forlorn.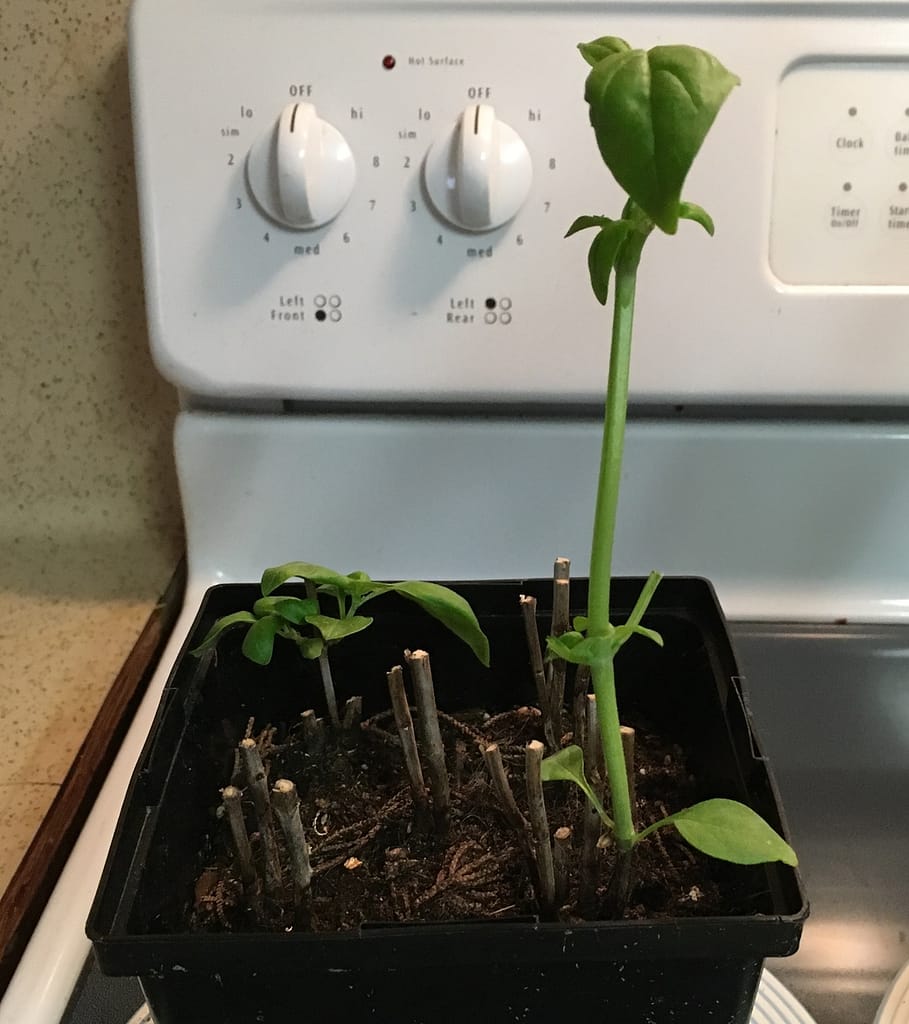 I pitied him.
Just look at that one sad little leaf all alone at the top.
And me?
I look like such a failure as a window sill farmer.
But then I wondered.
What if one leaf is just right for right now?
Evidently, it was. Ten days later, Basil looked like this: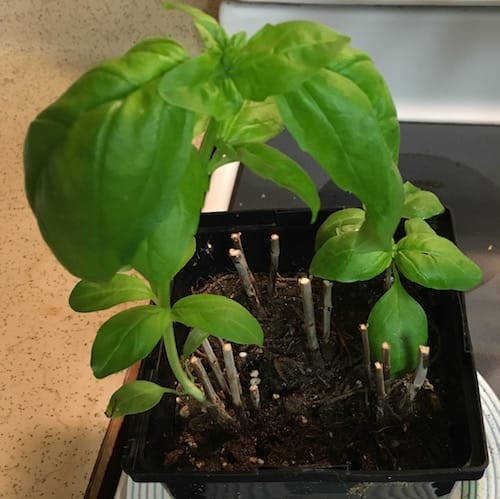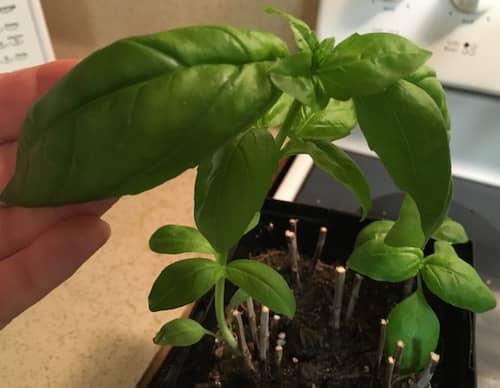 His largest new leaf was bigger than any of those I'd been so reluctant to harvest less than two weeks prior.
Here's a truth I wouldn't believe if I hadn't seen it with my own eyes:
Pruning actually increases productivity.
What If One Talent is the Gift of Focus?
This really shouldn't come as any surprise.
After all, I've read John 15 dozens of times:
"I am the true vine, and my Father is the gardener. He cuts off every branch in me that bears no fruit, while every branch that does bear fruit he prunes so that it will be even more fruitful…." (verses 1 & 2, emphasis added).
How quickly, in my on-going battle with numbers, I forget that God's math is so different from ours.
We strive for bigger and better. And then we cling to All The Things, terrified of losing what we have.
Letting go feels like too great a risk.
So we live unpruned, even wildly overgrown, lives. All our time and energy devoted to maintaining. Surviving, not thriving.
Like my basil plant, you and I can hold on to what we have now, or we can grow and flourish,
We can't do both.
God longs to give you all that He has in store for you next — "infinitely more than we might ask or think" (Ephesians 3:20 NLT)
He needs to subtract so there's space for Him to multiply.
Do you sense Him inviting you to set aside some specific dreams, perhaps for a season, perhaps forever?
If so, remember:
One talent isn't a lesser gift.
One talent is just right for right now.
One talent is the gift of focus.