Part 2: 8 Ways to Stop Being "Somebody" and "Anybody"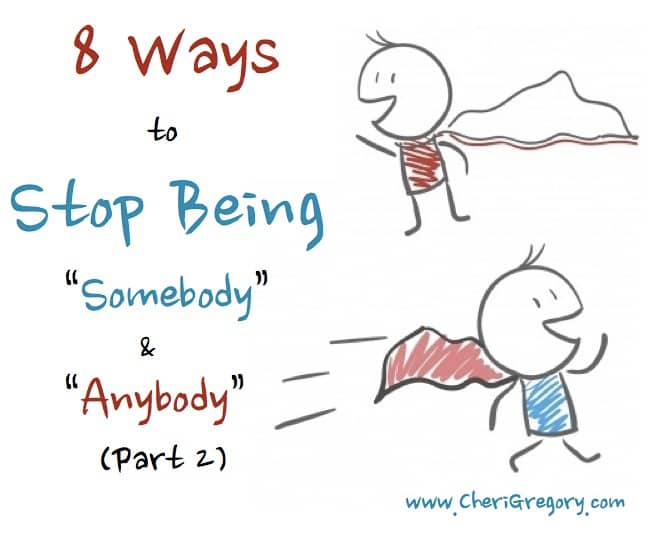 Tuesday, we looked at 3 Reasons to Stop Being "Somebody" and "Anybody". Yesterday, I shared the Part 1 of 8 Ways to Stop Being "Somebody" and "Anybody". Today, let's finish up the list!
5. Ponder Who Will Define "Success" (and How)
Think through these two scenarios:
What if your standards for "success" end up being quite a bit higher than those to whom you say "yes"? What will you do? Will you quit because you don't want to be associated with such a shoddy project? Will you take over and finish it "the way it should be done"?
Or what if your standards for "success" are higher than necessary for the task, but you just can't let go? How will you handle being told, "That's enough. We're done. Let's move on"?
Pause. Pray. Figure out your minimum standard for "success" before saying "yes." (Click to Tweet this.)
6. Reflect Realistically on Past Pain
Oh, it wasn't that bad.
If this comes to mind while you're pondering a new commitment, immediately do one of the following:
drop something heavy on your toe
close your hand in a car door
squeeze lemon juice into a new paper cut
Do all three if necessary. Anything to shatter this highly revised memory of the last time you over-committed!
Oh, it wasn't that bad?!?
Go back and re-read your journal excerpts. You know, the ones that start, "I am so overwhelmed! I can't wait until this is over!" Your e-mails to friends, full of phrases like, "I'm going insane!" and "Why do I always do this to myself?"
Ask those who live with you.
Pause. Pray. Recognize that Oh, it wasn't that bad! is a distortion of the truth. (As is This time will be different!)
7. Invite Input from Stakeholders
Ask those to whom you are Only Wife. Only Mother. Only Best Friend. Only Daughter. Only Sister. Only Aunt.
Ask them to be honest. Otherwise, those who love us may tell us what they think we want to hear because they believe that's what love requires.
But love does not lie. Love tells the truth…
…ahead of time.
…before there's an empty seat at the table or Christmas program.
…prior to resentment becoming bitterness.
Pause. Pray. Ask for honest input from those who are your original commitments, your highest priorities.
8. Who do they need: Me? or just Somebody,

Any

body?
God will often ask you to step out of your comfort zone. He has all sorts of unexpected ways of helping you grow and become who He created you to be.
But if you feel your true self shrinking with each "yes," something's wrong. If who you are dies a little bit with each task, chances are you're spending so much time as "Somebody, Anybody" that you're losing your self.
No, I'm not suggesting that you become selfish. And no, I don't know where the line between selflessness and loss-of-self lies for you. But the Holy Spirit does.
Pause. Pray. Each "yes" to God will make you more your true self, not less.
Your Turn!
Which of of today's ways are you already putting into practice? How's it going?
Which of today's ways feel the most challenging? Why?
Anything else on your heart!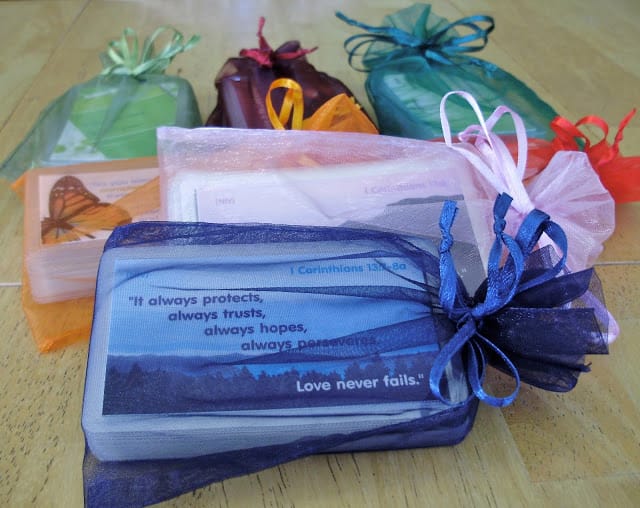 Looking for a simple hostess gift? "Secret Santa" present? Stocking stuffers?
31 Laminated Bible Verse Cards in an Organza Pouch, available in KJV as well as modern versions!
Printed on colorful cards and laminated for durability. (I've spilled coffee on mine and they washed right up just fine!) All tucked in an organza draw-string jewelry pouch, they're ready to slip in a purse and keep close at hand throughout the day!