3 Reasons to Stop Being "Somebody" & "Anybody"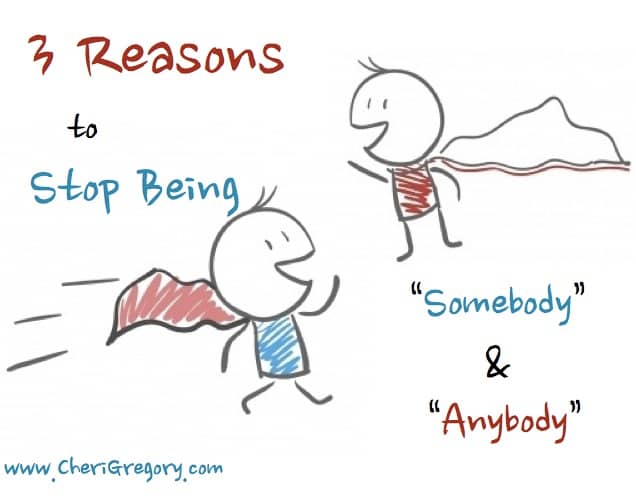 An uncomfortable silence hangs in the room. We're all avoiding eye contact. Our leader repeats the question,
"We need Somebody for this project. Can Anybody volunteer?"
I sigh a very old sigh.
It's one I've been sighing for more than three decades.
As far back as my teens, I've answered to these two names:
Somebody & Anybody.
When Nobody Else volunteers, Every One can count on me to finally raise my hand.
After all, I can do the task.
I'm capable.
Qualified.
Gifted, even.
And as Every One knows, "With great gifts come great responsibilities."
Besides, it's not that hard: Any One could do it!
This is Not Who We Are
Looking back, I'm still stunned that it's taken me so many decades to realize
that my name is neither Somebody nor Anybody.
that I am not some generic interchangeable part in the amorphous machine of life.
that while I was off doing things that Any One could have done, my children relied on Nobody to be their mother.
that my husband turned to Nobody to be his wife.
The belief that "Somebody – Anybody! – has to do it" held me captive for far too long. (Click here to Tweet this!)
Have you ever answered to "Somebody" and "Anybody" more quickly than your own name?
Why We Need to Stop
In a future blog post, I'll discuss how to break out of the vicious "Somebody…Anybody!" cycle.
For today, here are three reasons on my growing list of why to stop answering to "Somebody" and "Anybody":
Three Reasons You should stop answering to "Somebody" and "Anybody"
1. I end up doing things that might be better left un-done.
"Somebody has to do it" is not always true. Often, this phrase is followed by some variation of "We've always done it" which does not mean it still needs to be done.
Some plans need to fail. Some traditions need to die. Some organizations need to discover through lack of team buy-in that they're on the wrong track.
When Somebody and Anybody stepped in at the last minute, I often prevented much-needed change and learning from occurring.
2. The best person for the task is not always me.
Just because I can do something does not mean I should. Just because the pressure is on doesn't mean I have to cave and say, "Okay! Okay! I can't handle the guilt trip!"
Sometimes, other people are waiting to see if The Rescuers–good old Somebody and Anybody–are going to swoop in and save the day again.
When I did, I often deprived others of opportunities to stretch out of their comfort zones and play integral parts on the team.
3. I neglect my true identities and highest callings.
More than twenty-five years ago, I committed to being Daniel's Only Wife. I'm Annemarie's and Jonathon's Only Mother. To my students, I'm their Only Mrs. G. And I'm the Only Me that God made.
These are my highest callings and truest identities. While I have others, these are my top priorities.
For too many years, I poured my prime time and energy into my Somebody and Anybody roles. Only Wife, Only Mother, Only Mrs. G, and Only Me got whatever was left over (which usually wasn't much!)
Your Turn!
When have you jumped in to be "Somebody, Anybody" and regretted it?
What true identity and/or highest calling do you feel suffers most when you don your "Somebody, Anybody" cape?
Anything else on your heart!