How to Be the Best at Just Being Me
I will no longer fight you for me.
It's 4:53 AM, and I haven't put my contacts in yet. So I'm squinting hard to read the late-night scribbling on my nightstand note-pad.
I will no longer fight you for me.
The corners of my eyes sting.
What does this even mean?
After showering, dressing, and putting in my contacts, I settle into my prayer chair and open to my bookmark in Shaunti Feldhahn's The Kindness Challenge.
Shaunti tells about a woman who complains that all of her kindness is not changing the person she's being kind toward.
This woman wants to know why she should go to all the effort to change her own behavior when her kindness is so clearly not being reciprocated, and the other person so clearly has no intentions of changing.
I've been asking this question for my entire life.
Why do I have to change when (s)he's the one who really needs to change?
Shaunti writes,
I told her, "You have to start somewhere, and this is it. You have to be receptive, forgiving, and kind." She said, "But it's not changing him!"
I so understand this woman.
I spent the first two decades of my life trying valiantly to change my mother, and I've spent the last three trying to change my spouse. I've spent 27 years trying to change my daughter, 25 my son.
For their own good, of course.
Count up the number of years you and I have known each other, and that's how long I've been trying to change you, too. For your own good. Of course.
Shaunti continues:
And I said, "You're right. But it is changing you."
I highlight "it is changing you" in bright yellow.
This is nothing new. I know, intellectually, that the only person I can change is myself.
But in my day-to-day interactions, I still try to change everyone else.
Why?
Despite all the self-help books I've read, all the scriptures I've memorized, all the seminars I've attended, all the counseling sessions I've sat through — WHY am I so determined to change people?
So … desperate to change people?
I recall the scribbled note on my nightstand pad.
I will no longer fight you for me.
Switching to a navy blue highlighter, I underline "it is changing you," draw an arrow to a blank space below the paragraph, and write:
And I want ME back!!!

The corners of my eyes sting again.
I've been trying to change people … so that I can finally be me.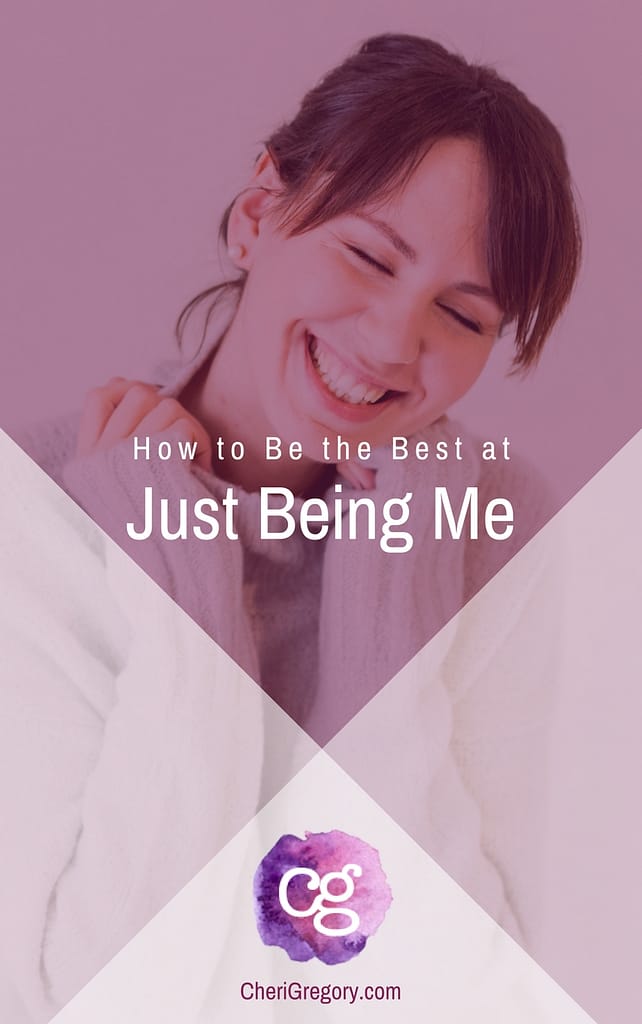 What Keeps Me from Just Being Me
That's dumb.
I grab a fistfull of Kleenexes and blot my eyes.
I don't need people to change in order to be me. I just need them to NOT be …
mad at me. I'll do whatever they need, be whoever they want, to make them happy with me. I can't be me when I know someone is upset with me.
disappointed in me. I'll make it up to them, go above-and-beyond, to make them pleased with me. I can't be me when I've let someone down.
critical of me. I'll jump through hoops, juggle knives, and swallow fire to impress them. I can't be me when I feel like someone disapproves of me.
I also need people to never EVER
disagree with me
sigh in boredom when I'm presenting
correct a mistake I've made
roll their eyes at my ideas
interrupt me while I'm talking
No wonder I'm so exhausted from all my attempts at changing people!
It's as if everyone holds a piece of me that I need them to give me before I can actually be me.
No wonder I've felt so desperate—with so much at stake!
But what if …
…if other people aren't the "keeper" of me?
…I don't actually have to manipulate anyone into "releasing" me.
…I could take all the time and energy I've been pouring into changing other people and refocus it on … Just … Being … Me?
Two Steps to Just Being Me
I open my Bible and read familiar verses in John Chapter 10 about "The Good Shepherd and His Sheep."
The thief comes only to steal and kill and destroy
I've spent my life fighting people for my life. As if they are thieves who have stolen me, and it's up to me to get me back.
But Jesus doesn't instruct me to fight people — he invites me to follow Him.
I am the good shepherd…. My sheep listen to my voice; I know them, and they follow me.
This verse reveals two simple steps to just being me:
Listen to Jesus' voice
Follow Him
I think back to my scribbled late-night note:
I will no longer fight you for me.
I exhale.
I don't have to change anyone in order to be me.
They can go ahead and be mad at me.
They can be disappointed in me and critical of me.
They can disagree, sigh, correct, roll their eyes, and interrupt all they like.
I can quit being a good little people-pleaser, "helping" others change for the better.
And be the best at just being me.
"I have come that they may have life and have it to the full."