How We Had Ourselves a Bully-Free Little Christmas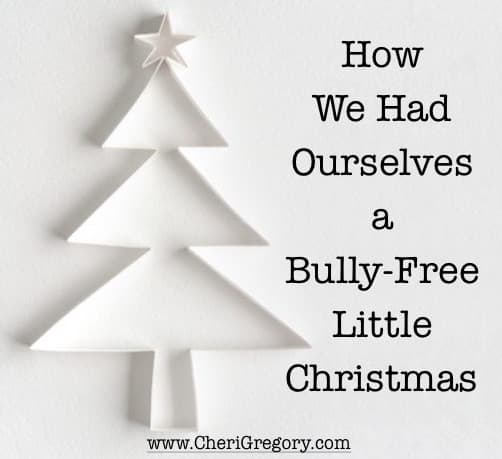 We had a different kind of Christmas this year.
After reading Scarcity in June, I booked us a cabin near Mendocino. I recognized that Daniel and I are both such "tunnelers", the only way we ever really relax and re-charge is by getting completely away from home and work.
After my mother died suddenly in early November, we debated whether to cancel on the cabin. It seemed so selfish to drive four hours north when our families live four and eight hours south.
But we kept the cabin.
It's been a relentless year. (A relentless three years, actually.)
Waiting for "a better time" might mean waiting forever.
Daniel and I drove up first.
We spent five days, just the two of us, before the kids joined us the day before Christmas Eve.
Rain doused our plans for canoeing, sight-seeing, and window shopping.
Instead of dining out, we hung out.
We. Did. Nothing.
For five days.
By the time the kids arrived, we were so mellow they demanded DNA samples to make sure we were their real parents!
It was our first major holiday without a major argument.
The first year I wasn't counting the seconds until it was finally over.
The first Bully-Free Christmas I can recall.
A Perfectionism-Free Christmas
Oh, Perfectionism showed up as I was packing and conned me to take enough food for the apocalypse.
When we discovered the cabin refrigerator was only slightly larger than a postage stamp, he mocked me for packing thirty-six frozen burritos.
But when "thirty six frozen burritos" became our punch line for the week, all he could do was sulk.
He almost scored a direct hit on Christmas when it became clear that our kids weren't planning to do what we have always done every Christmas: read The Best Christmas Pagaent Ever as a family.
"They used to love your Herdman voices, but now they don't. Which means that now they don't love …"
But Daniel and I cuddled up together and read it aloud to each other for the 28th year in a row.
A People-Pleasing-Free Christmas
People-Pleasing knocked several times.
While browsing Facebook, I felt a few twinges of worry / guilt / fear that we weren't exchanging gifts on Christmas.
But when he outright saked, "What kind of mother / wife / daughter / sister / friend doesn't buy Christmas gifts?" I told him, "This one, this year."
He had no response for that.
Best of all, the grenades of bitterness and resentment that he typically tosses into the complicated "communication" kabuki between Daniel and me? Not a one of them detonated. Not a one!
When we are present, we are pleasant.
Who knew?
We wasted no time or energy convincing each other of our right-ness, right-now. No hauling baggage from the past. No catastropizing about the future. No codependence or martyrdom.
Instead, we invested time in asking and listening.
Lots and lots of listening.
A Performancism-Free Christmas
Performancism did his best to make us feel guilty. For me, as a Choleric/Driver, "doing nothing" is already a terrifying oxymoron.
He kept hissing, "How dare you relax when there is So. Much. To. Do.?"
And he tried extra digs, like, "Your mother taught you to make lists, yet here you are without a list. Such the disappointment!"
When that didn't work, he switched tactics. "Don't you want to make the most of this trip? You don't want to miss out on all the opportunities around you, do you?"
He sent me to the tide table website, so I could plan exactly when to take the canoe out. He stuffed a Skunk Train schedule in my purse, so I could convince the whole family to "ride through the redwoods." He even pointed out a poster for an encore showing of the Benedict Cumberbatch Hamlet.
I started losing sleep, trying to figure out how to "make it all work."
But in the end, Performancism also failed.
Daniel bought a train whistle keychain that has been "delighting" our kids daily; I got a smashed penny that reminds me of the time I rode the Skunk Train as a child.
On our one sunny day, Daniel and I took a canoe out, only to turn around after twenty minutes because it was shipping water. We did meet two friendly seals and bask in the silent beauty around us.
On Saturday night, we all went out for ice cream and the new Star Wars movie. On Sunday, the kids went to Hamlet while Daniel and I drove home, unpacked, and did laundry.
We enjoyed what we did.
We did enough.
A Procrastination-Free Christmas
Procrastination was beaten the moment we stepped into our cabin. Getting away as a family is always that luxury we'll indulge in "one of these days" … "when we get around to it."
There are always so many other things we should be doing.
But getting away was what we needed most.
We knew were depleted.
We knew had nothing left to give.
We knew that come January, we'll be back in the "tunnel" — fully focused on the people and process right in front of us. We knew that the next time we're scheduled to exhale is June.
So, we took care of our selves—our individual selves and our core relationships.
We're a family of HSPs (Highly Sensitive Persons). Away from everyone else's expectations and demands, we nurtured ourselves with what we needed.
Quiet.
Simplicity.
Extra space heaters.
Beauty.
Thirty-six frozen burritos.
Sleep.
Lots and lots of sleep.
5 Braver Living Choices
Fve Braver Living choices helped us have ourselves a Bully-Free Little Christmas:
1. We accepted God's invitation to rest and quietness.
I've been pondering Isaiah 30:15(b) all year:
"In repentance and rest is your salvation,
in quietness and trust is your strength,
but you would have none of it…."
I hear such sadness in the last line: "…but you would have none of it…" I don't want to be too busy to receive all God offers!
2. We initiated change.
With so many changes happening to us, it felt good to choose a change. After so much reactive living, we're thinking of more proactive changes to make in the new year.
3. We took responsibility for knowing and meeting our own needs.
We didn't wait for others to validate our needs or give us permission to meet them. Nor did we wait until a crisis forced us to take care of ourselves.
4. We prioritized our own needs over others' expectations.
This will not always be possible or even desirable. But this time, it was vital.
5. We let go of our own expectations.
The biggest victory for me was how little I saw of Anxiety Girl. Each time something didn't go the way I thought it would/should, I reached for my tools. They worked!
A Bully-Free 2016
If you'd like to learn more strategies for defeating the four bullies of Try-Harder Living, The Cure for the "Perfect" Life is a great resource for personal and group study!