How to Change the Story Your Stuff Tells You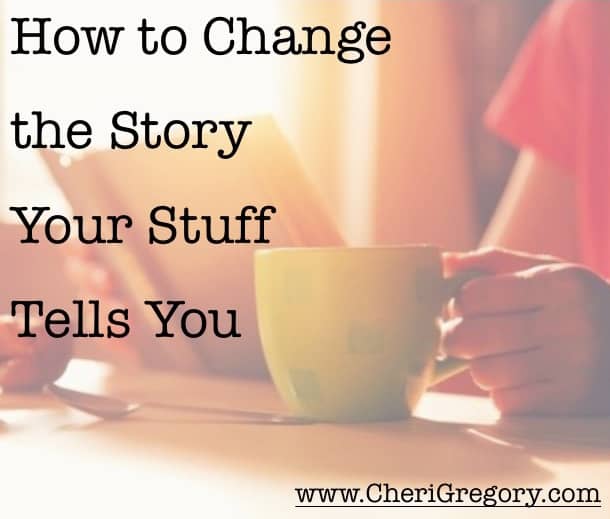 I was too ashamed to take a "before" photo.
Too ashamed to document, even in digital pixels, how awful our garage had gotten.
I was afraid, too.
Afraid that I'd never have an "after" photo.
Afraid that any "before" photo would always represent "now."
After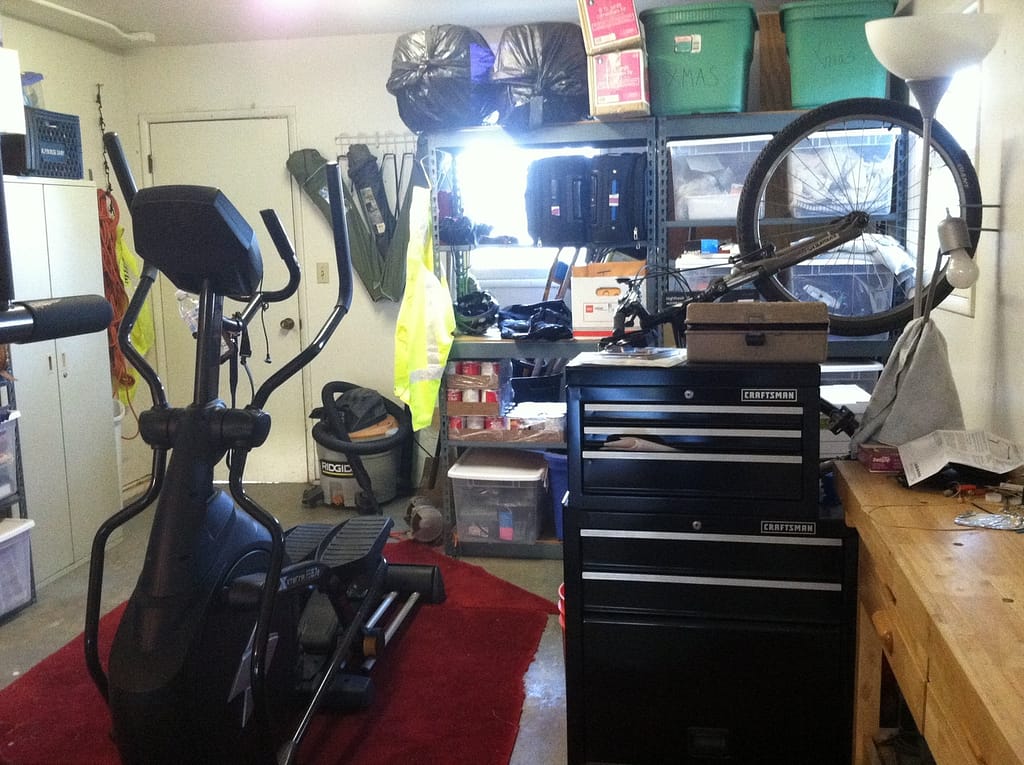 Now, I wish I had taken that "before" photo.
Now, I wish I could show you how bad our garage really was a couple years ago.
I could try to describe
the dozen shelving units crammed with hundreds of boxes marked "Misc. Stuff."
all the boxes double-stacked around the shelving units.
the haphazard piles of paint cans.
the graveyard of non-functioning gadgets needing repair.
the narrow "path" you had to take in order to get from one end to the other.
the way you'd risk your life trying to find anything.
your extremely low chances of success (which meant running out to buy a duplicate of something that was "in there somewhere.")
But without a "before" photo, you can't see how different things are today.
The Stories Stuff Tells
Perhaps, though, you can feel the difference if I tell you the "before" and "after" stories.
Two years ago, the story our garage stuff told me sounded like this:
You are pathetic. This garage is a mirror of your life, your soul: total chaos. You've tried to get organized for years, and this is all you have to show for it? You are such a loser.

All your efforts at personal growth are a joke. Just look around — see how trapped in the past you are? What kind of woman keeps four boxes of scratched and broken model horses?!?

And the DIY supplies. As if you're capable of doing anything yourself without ruining it and wasting all the time and money you invested.

Oh, look — boxes full of photos and other 'memorabilia' that should be in albums on the coffee table in the living room (not that you even have a coffee table). Instead, they're out here rotting because you don't even care about preserving memories. You don't care about the people in the photos.

YARD CARE TOOLS!!! When was the last time you TOOK CARE OF YOUR YARD?!?
And on and on and on.
The "after" story the stuff in our garage now tells me sounds like this:
You are the kind of person who cares for the things God's entrusted to you.

You are the kind of person who nurtures the body God's created for you.

You are a good and faithful steward.
A New Story
Here's the thing:
I didn't recognize the "before" story until it was replaced by the "after" story.
One day after the Great Gregory Garage Gutting as I went out to exercise, I opened the garage door, paused to look around, and it hit me:
This place is telling an entirely new story about who I am and what I value.
Our stuff constantly tells us stories about who we are and what we value.
And while I'm thrilled with the new story my garage stuff is telling, some of the the stuff in my house is telling "before" stories I want to change. Stories that say
"You start projects but never EVER finish them!"
"You don't deserve to wear clothes that fit well."
"You must keep evidence of your past mistakes."
I'm ready for my stuff to tell me some new stories.
How about you?
Are you ready for your stuff to tell you a new story, too?
If so, I'd love for you to join me in Kathi Lipp's Kickstart to Clutter Free eCourse.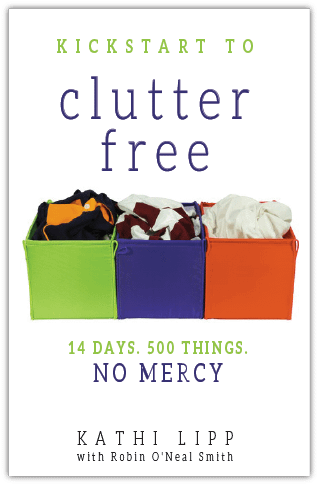 Instead of $11.99, it's just $5.99 when you use this link !
After you sign up, drop me an Email at [email protected], and I'll add you to my private "Bully Free* Kickstart to Clutter Free" Facebook group, where I'll be supporting and cheering you along every step of the way!
*****
This week, I'm giving away a copy of The Cure for the "Perfect" Life along with a set of 34 laminated Braver Living Bible verse cards and a "Brave" necklace.
To enter the drawing, simply leave a comment answering one (or both) of the two questions at the end of this post.
If you'd like to learn more strategies for defeating the four bullies of Try-Harder Living, The Cure for the "Perfect" Life is a great resource for personal and group study!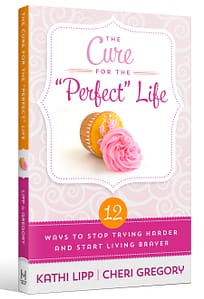 Q4U:
What story is your stuff telling you about yourself and what you value?
What new story do you want yout stuff to tell?
(* Especially tailored for Perfectionists, People-Pleasers, and HSPs like me!)