One Way to Learn to Listen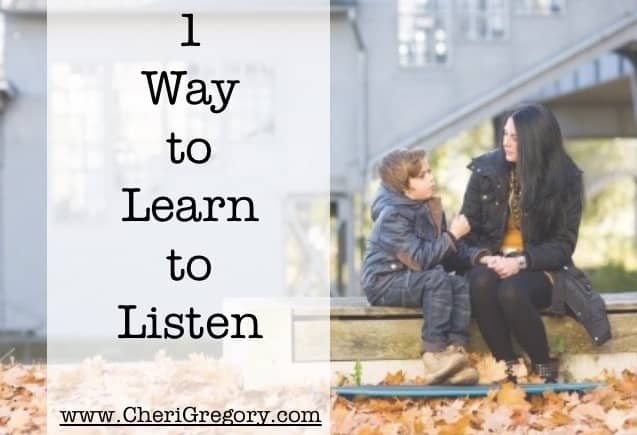 "uh…Mom?"
Oops—I'm doing it again.
Fake listening while one of my children is talking to me.
Clearly, I've missed my cue to answer a question or offer my opinion or simply acknowledge their presence.
"Say that again?" I request.
This time, my child prompts me, repeating their last line so I can save face. Often, though, they just stop talking and drift out of the room, without me ever noticing.
Which probably happens more often than I know.
My One Word for 2016
My One Word for 2016 came to me a few weeks ago after I'd fake listened yet again but not realized it until several hours later.
As I tried to reconstruct the scenario—
Hey, they were talking about … I don't remember … They must have … because I wasn't …
—conviction hit hard:
I am a terrible …
(No, that's condemntation.)
I don't know how to listen.
As a Sanguine/Expressive, I love to talk.
As a Choleric/Driver, I love to boss.
When I mask Melancholy/Analytic, I'm a know-it-all.
When I go into HSP overload, I get so distracted by all my hypothetical lives I hardly notice the real people in my real life.
I thought about the people in my life who are good listeners.
What do they all have in common?
Great listeners ask great questions.
Ask
So, I jumped at question as my word for 2016.
But then I worried that question carries a cynical tone to it, which I don't want. Asking my Facebook friends the difference they sensed between ask and question helped me settle on ask.
Then, I remembered Matthew 7:7-8
Ask and it will be given to you;
seek and you will find;
knock and the door
will be opened to you.

For everyone who asks receives;
the one who seeks finds;
and to the one who knocks,
the door will be opened.

Matthew 7:7-8
Asking means receiving, which is something else I'm terrible at. (I'm especially bad at simply receiving what is offered vs. what I think I want, need, and/or should have!)

4 Scenarios from 4 Days In
I'm already finding that "ask" is far more multi-faceted than I'd imagined. Here are just a few practice opportunities that have shown up:
1) In conversations, instead of listening so I can add my 2 cents as soon as possible, I've been listening so I can formulate the best possible question(s) to ask. (Hint: these are totally different experiences!)
2) When contemplating my goals for the year, my plans for the month, my schedule for the day, instead of trying to figure out my next move myself, I've been asking God to guide me in simply taking the next most faithful step. (Ditto!)
3) Over the weekend, I felt impressed to invite a friend to go to an event with me. I started to tell myself that she's waaaaaay too busy. And then I realized that ask can also mean invite!
4) Instead of mulling and stewing for hours (or days … or weeks … or months…!) over some concerns I have about someone close to me, I asked questions. Questions with no agendas.
Why Learn to Listen?
Listening will help us better understand people.
And the people God places in our lives will no longer need to prompt us out of fake listening mode. They will no longer drift out of the room without us noticing.
But my main reasons for learning how to listen by learning how to ask?
The people God places in our lives will finally feel heard.
In the process, we will hear more — and more clearly — from God.
Q4U:
What One Word or focus have you chosen for 2016? Why this one?