Top 10 Priceless Gifts (that don't cost a dime!) for a Sanguine/Expressive
This is the final installment in a four-part series on giving gifts that match each personality. Here's a quick online personality assessment if you need to figure that out first!
In less than a month, Christmas tree skirts will be empty, trash cans stuffed, and many credit cards maxed.
What do you want to feel, after the frenzy of wrapping paper tearing — and the ooooh-ing and ahhhh-ing — is done: Relief that it's all over? Regret over the money spent?
Or satisfaction for time well-invested and gratitude for blessings beyond price?
One more time: Gift-giving shouldn't be panic-producing; it should be fun!
Over the last three days, we've been looking at custom-tailored gifts for each Melancholy/Analytic, Phlegmatic/Amiable, and Choleric/Driver personality on your shopping list.
Today, we finally turn our attention to the personality that's been wondering, "When's she gonna finally talk about ME?!?"
Keeping in mind that your Sanguine/Expressive's primary goal in life is fun, and that her primary emotional needs are attention, affection, approval, and acceptance, a real gift from your heart could be…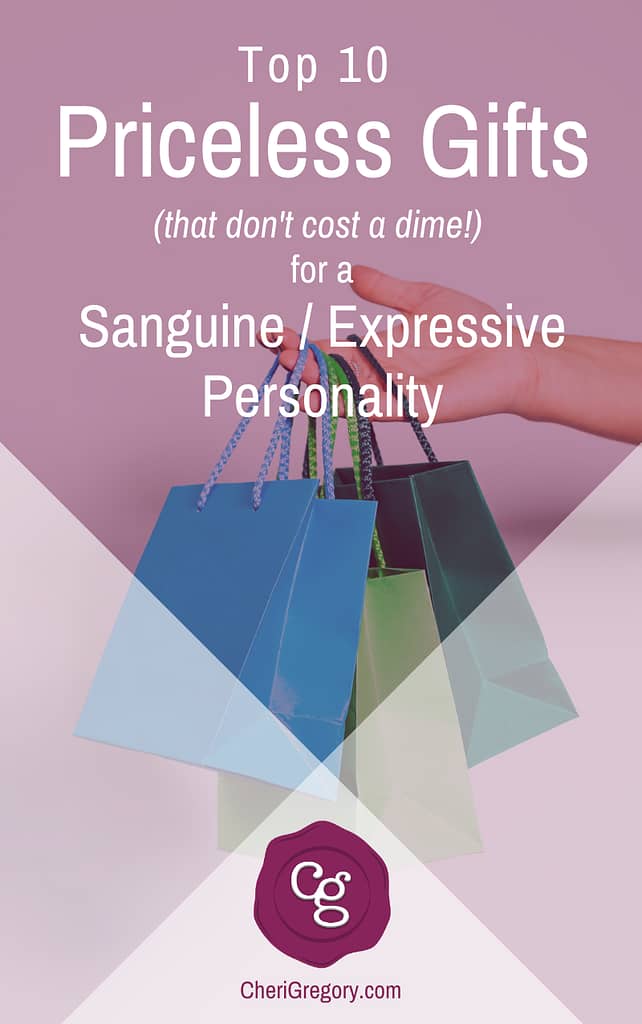 10. Laugh Together.
Borrow DVDs of comedians, relax on the couch, and chuckle along. Our family loves Ken Kington, Michael Junior, Taylor Mason, and Ken Davis. We've watched them dozens of times, and they're funnier each time!
Read comic books together. When Daniel and I were expecting Annemarie, we devoured For Better or For Worse books. As the kids moved through toddler and elementary years, we followed Calvin and Hobbes faithfully. Once they hit their teens, we became Zits devotees.
Listen to npr together. For years, Daniel and I had a weekly ritual of listening to Car Talk and howling together at the outrageous antics of Click and Clack, the Tappet brothers.
What other ways can you think of to tickle your Sanguine/Expressive's funny bone for free?
9. Laugh AT Them.
Audience laugher is a powerful opiate for a Sanguine/Expressive.
When Jonathon was four months old, it took me thirty minutes to dress him because he had just learned to laugh. Every movement, every sound, every facial expression I made prompted fresh bursts of belly laughter. I couldn't get enough!
Inside each Sanguine/Expressive is a stand-up comedian dying to get out and find an audience, any audience. Laugh at me, and you'll trigger my inner Sally Fields euphoria: "You like me! You like me! You really like me!"
There's pretty much nothing a Sanguine/Expressive won't do to get a laugh. After a recent women's retreat, I told my family how much the audience had laughed at an especially embarrassing story I'd told about myself.
"Mom," sighed Jonathon, "you'll share anything as long as it'll get a laugh, won't you."
Duh!
(Caveat: I'm not advocating mockery. If you don't know your Sanguine/Expressive well enough to sense the difference between "laughing at" and mocking, skip this one.)
8. Speak Words of Affirmation.
Your Sanguine/Expressive's primary love language is words of affirmation.
I may have just kept 300 teachers laughing hysterically at a conference, but I still love hearing Daniel say, "You're so darn funny!"
You may be having a great day shopping with your BFF, but she still wants to hear,"I am so glad we're friends!"
If a husband is working through the "honey-do" list, he wants to hear, "I don't know what I'd do without you."
And a parent who's gotten the kids fed, bathed, read to, and tucked in bed really wants to hear, "You're an amazing Mom/Dad!"
Don't assume your Sanguine/Expressive knows what you're thinking or feeling or worry about inflating their ego. Say what's on your mind, and watch them thrive on your words!
7. Self-Edit (Then Speak).
The Sanguine/Expressive is the most NTN Personality: No Test Needed. In-your-face. Over-the-top. Force of nature. Larger than life.
So it's easy to assume that you can cleverly "bring him down a notch" or teasingly "cut her down to size."
Yes, I laugh at put-downs disguised as jokes. They're a form of attention, after all. I will take bad breath over no breath at all, any day. I'll even join in, as self-deprication is my type of humor; it's also my best cover for digs that go too deep.
But realizing the power of words, and choosing to leave hurtful ones un-said, is an especially generous gift for a Sanguine/Expressive He's already been called "motor-mouth," "dummy," and "nuisance." She's already been labeled "air-head," "pollyanna," and "pest."
Take care not to add your voice to the echo of wounding words.
6. Invite Them. 

Multi-level marketing companies make millions of dollars each year by inviting Sanguine/Expressive to join. And I've happily whipped out my checkbook at least a dozen times. $200 for a kit is a small price to pay for instant membership.
You can remove the price tag from belonging: Just invite, no strings attached.
Invite her for a cup of hot chocolate and a chat. Invite him to borrow equipment. Invite her to run errands with you. Invite him to be part of the praise and worship team.
In a new social setting, Daniel often invites me to (re)tell one of my favorite "same old stories." Even though he could tell it word-for-word (and with greater factual accuracy!), he still listens and laughs, drawing me into the new group.
For a Sanguine/Expressive, an offer of belonging is an irresistible invitation!
5. Take a "Mystery Trip."
The point of a "mystery trip" isn't the destination. The point is the excitement of having a trip planned for me and the anticipation of the fun we'll have along the way.
Keep things cheap and easy.
Fill a couple of thermoses with hot chocolate, hop in the car, crank up the Christmas carols, and drive down "Christmas Tree Lane" together.
Or pack a sack supper and go to the mall, cameras in hand, for some "Photo-Shopping" together. When you return home, make PowerPoint wish lists.
For non-Sanguine/Expressives, remember that perfection and achievement are not the goals of a "mystery trip." Having fun together is the goal.
If things "go wrong", relax and roll with it. No parking spots? If you vent your frustration, you'll spoil the fun.
Daniel's best move at times like this? He reaches over, grabs my hand, and says, "This just means I get to spend more time with you!" (I've learned to ignore the clenched teeth!)
4. Do a Chore Together.
I am the world's worst homemaker.
I hate cleaning. I hate cooking. I hate having guests over.
Cleaning is dull, boring, solitary work. Cooking takes forever, which means my kitchen becomes an isolation chamber. Having guests over is a double whammy: I have to clean alone and cook alone.
All that said, I love company!
Join me in the cleaning, and we'll have a party! Join me in the kitchen, and we'll make Disneyland the 2nd Happiest Place on Earth! Bring a potluck dish and promise not to check for dust, and you're welcome in my home any day, any hour!
Partner with your Sanguine/Expressive on a chore, and you'll turn boring into a blessing!
3. Re-Fill Their Love Cup.
Each Sanguine/Expressive has a Love Cup…with a crack. For some, it's a hairline split; for others, it's a jagged gash.
So a Sanguine/Expressive's Love Cup always has a leak, whether a trickle or a gush. They need constant re-filling.
This is a tall order. (Sanguine/Expressives aren't for sissies!)
Years ago, I read about a man who ordered a dozen red roses to be delivered to his wife each week. No personal note, no loving words, no special treatment to accompany the flowers. Just a weekly regimen of red roses.
While this might sound like the ideal solution — set up a routine and let it run — it's the worst possible scenario. Far worse than a completely empty love cup is the sense of being such a burden that a system is required.
Keep re-filling as honestly and spontaneously as you can. You don't need to fix the crack or keep the Love Cup full.
Just keep re-filling.
2. Be All Ears.
When Annemarie was old enough to walk and talk, I felt stalked.
She'd start telling me a story. As the story got longer, I'd try to escape upstairs with the laundry; surely, she wouldn't follow me up there?
But here she'd come, toddle, toddle, toddle, one-step-at-a-time, following me room-to-room, starting her story over and over again.
As a Sanguine/Expressive, she was relentless. She would keep talking until she felt heard. And she wouldn't feel heard until she had not just my ears but my eyes, too.
We finally compromised. I'd pile up the clean laundry between us — so she could see my face — and I'd sort and fold as she talked. Once she finally got me to listen to her entire story, she'd prance off.
I told this story while speaking to a MOPS group one day and then came home for lunch. Daniel was home, so I started telling him about how much fun the MOPS moms had been.
He finished his sandwich and headed to his studio, but I wasn't done talking, so I followed him. While I talked, he did what he needed to do in his studio and headed to the bathroom. (I did not follow him there!)
But as I sat on our bed, waiting for him to come out so I could keep talking, I realized: Sanguine/Expressive never outgrow the need to be heard.
We will keep talking. We will follow you wherever you go.
If you listen, we will finally finish.
(And then we'll leave you alone.)
1. Include Them.
At 6:00 AM a few years ago, our cat, Dusty, leaped onto our bed, landing squarely on my forehead. I screamed, and she dug in, using my head as her launching pad.
I was lucky to escape with only one long, jagged, bloody gash down my forehead. Unfortunately, we had no neosporin ointment at home. I had four classes to teach before I could make a Target run, and I didn't want the wound to close up.
The red line down the middle of my forehead created quite the sensation all morning. Students pointed, gasped, and gaped. Colleagues kept asking, "Do you realize you're bleeding?"
I finally got neosporin, covered the offending red line with Band-aids, and life went back to normal.
A few days later, a faculty member approached Daniel with the idea of having all staff members draw red marker lines down the middle of their foreheads for that week's staff meeting.
Daniel, who as a Melancholy/Phlegmatic hates pranks, threw up a red light to the idea, afraid I'd be humiliated.
But I love, love, love just the idea, even though it never came to fruition. I love imagining a room full of my colleagues, red penned lines saying, in effect, "You're one of us!"
And I am thrilled that They like me! They like me! They really like me! enough to come up with a crazy idea like that…for me.
For non-Sanguine/Expressive personalities, none of these may feel gift-worthy. Who cares about laughter or belonging or anticipation? Your Sanguine/Expressive, that's who! These gifts send the subtle message,
"I understand that fun, attention, affection, approval, and acceptance are vital to you. Rather than ignoring these needs and hoping they go away, I'm choosing to find ways to meet them because I love you. You're important to me, so what's important to you becomes important to me."
This kind of support in action is a fabulous gift for a Sanguine/Expressive!
Read All the Gift Lists
Your Turn:
Which of these seems like a true fit for someone on your list?
Which of these might be a struggle for you to give?
Anything else on your heart!