Top 10 Priceless Gifts (that don't cost a dime!) for a Choleric/Driver
Note: This is the third installment in a four-part series on giving gifts that match each personality. Here's a quick online personality assessment if you need to figure that out first!)
It's less than four weeks 'til all Christmas Gift Lists need to be fully checked off.
Perhaps you took full advantage of Black Friday. Or maybe the thought of venturing into the crowds is enough to set off an anxiety attack.
Gift-giving shouldn't be panic-producing; it should be fun!
In yesterday's blog, I shared gift ideas custom-tailored for the Phlegmatic/Amiable personalities on your shopping list. The day before, we focused on gifts-from-the-heart for Melancholy/Analytic personalities.
Today, I'm focusing on our Choleric/Driver (the "Powerful Personality") loved ones, who often appear so "together" that we wonder if we have anything of value to offer them. (We do!)
Keeping in mind that your Choleric's/Driver's primary goal in life is control, and that her primary emotional needs are responsibility, achievement, appreciation, and loyalty, a real gift from your heart could be…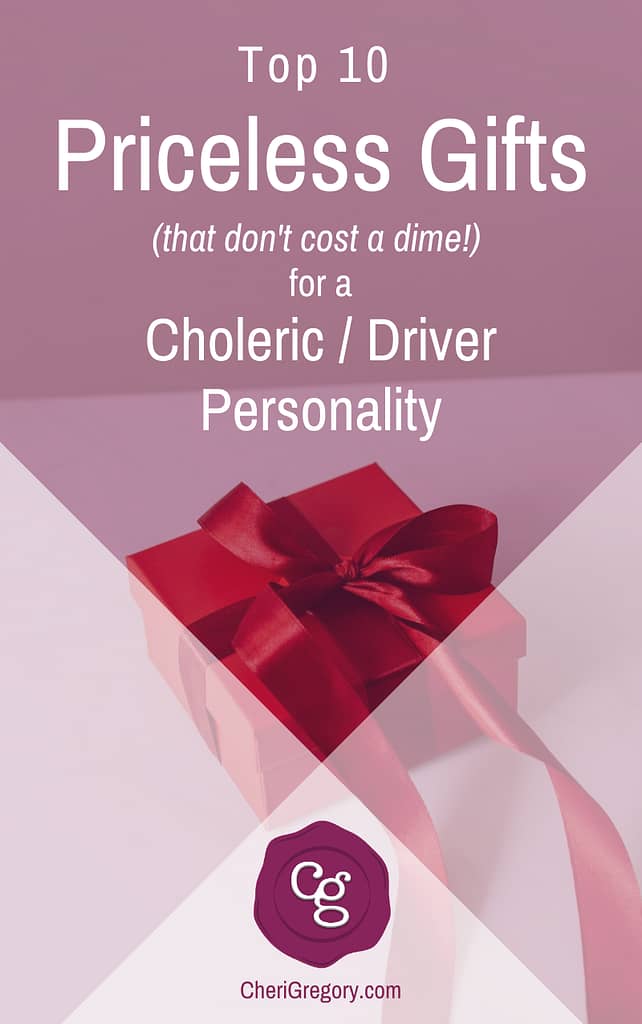 10. Offer to Take Orders.
Welcome any time, this gift is especially valuable when a Choleric/Driver is feeling overwhelmed. Bossing you around will give him a small sense of control; he'll feel more hopeful immediately.
Annemarie often helps in my classroom. It's amazing how much "stuff" she can de-clutter, how much trash she can throw out, and how many books she can re-organize in 60 minutes…and how much better I feel when she's done!
So if you're willing, say, "I have an hour during which I will do whatever you tell me."
If he's to overwhelmed to even know what he needs, try #3; or invite him to think it over, and then come back later.
9. Request "Expert" Help.
When I considered attending the Desire Conference, I asked Kathi if I could help her in any way. Attending alone, I knew that I'd feel — and look! — purposeless and foolish.
Kathi graciously invited me to help with her book table, "because you know my books so well!" Armed with a clearly defined role, I happily registered, arrived early, fulfilled my purpose, and never once felt foolish!
A Choleric/Driver wants to feel needed in a social setting. Give her a specific responsibility, preferably a task she is especially qualified to do. She will be far more at ease than if all she's supposed to do is "show up" (and then what?)
8. Share Time-Saving Tools.
Do not accidentally imply that your suggestion is necessary due to your Choleric's/Driver's ineptitude! Be clear that you're making the suggestion because they are so capable and so busy.
Try something like, "Because I know you ______, I thought of you when ______."
I've said to fellow teachers, "Because I know that you like to teach vocabulary in context, I thought of you when I ran across VocabProfile. Copy and paste any text into it, and it'll tell you which words are in the 1st K, 2nd K, on the Academic Word List, and which are Off List."
I've just started using Evernote, and I'm going to suggest it to all my Choleric/Driver colleagues who collect articles, images, comics, etc. Multiple tags for individual items means powerful storage and sorting!
Important caveat: No matter how certain you are that your suggested tool will revolutionize a life, simply share and back away. It's virtually impossible to create a "teachable moment" with a Choleric/Driver. Your gift is in the sharing…not the results!
7. Public Acknowledgement.
I'll never forget walking on stage to receive a major award during a Discovery Toys Convention.
The company founder looked me in the eye, smiled broadly, and said, "I am so proud of you!"
As I hugged the Vice President of Sales, he said, "When you look out at the audience, you'll see what a standing ovation looks like!" He then grandly led me to center stage, gestured forward, and I saw thousands of women on their feet, cheering and clapping, for me.
None of them knew me. All they knew was that I had worked hard, very hard. And instead of resenting me, these women stood to say that what'd I'd done mattered.
Not all Cholerics/Drivers like the spotlight. But most crave to know that their efforts matter. "We couldn't have _________ without ________!" is sweet music to Choleric/Driver ears.
6. Stand Up For Me & Stand By Me. 

Because of their driven nature, Cholerics/Drivers can come across as independent, even arrogant. Acquaintances frequently watch for moments of weakness to "show them they're not all that." Even friends often back away at the first signs of difficulty, letting them trip, fall, and get back up on their own.
Almost twenty years ago, I walked far too calmly into the Labor and Delivery ward. Nobody called my doctor; Daniel was sent downstairs to the Admitting Department.
After a torturous solo hour of transitional labor without epidural and moments from an emergency C-section, I cried to the attending physician, "I can't push!"
"You have to!" he yelled.
"If my wife says she can't push," Daniel thundered, striding into the room and elbowing through the hastily-assembled crowd of specialists, "then you will accept that she can't push!"
Jonathon was born moments later. But I remember December 13 as the day Daniel stood up for me and stood by me when I could do nothing for myself.
5. Allow for More than One Right.
When our Fontana house was being built, Daniel and I got into an argument over the spelling of our street name.
He knew it was Toulumne while I insisted it was Toulumme. I had practiced the spelling aloud hundreds of times, specifically so I would not get it wrong.
We finally drove to the development, simultaneously shouted, "See!?!" in triumph…while pointing at different signs. Daniel became even more upset, because two different signs with two different spellings should not exist. I, on the other hand, was vastly relieved that I was not wrong.
Instead of going toe-to-toe with a Choleric/Driver, consider that she may be looking at a different street sign, spelled a slightly different way.
Allowing for more than one right allows for two winners and no loser.
4. Laud Their Lists.
A listless Choleric/Driver is a contradiction in terms. Show me a Choleric/Driver, and in her purse, on her refrigerator, in her notebook, or on the back of an envelope she will have a list.
I like knowing what's expected of me, and I love knowing I've fulfilled – and preferably exceeded! – those expectations. Making and checking lists helps me make sure nothing falls through the cracks.
Protect your Choleric/Driver from ignoramuses who think calling someone "anal-retentive" demonstrates comedic talent. Such a label misses the point entirely.
I don't keep lists because I'm hypervigilant about details. I make lists because of the adrenalin rush I get each time I put a "check" next to a completed task!
(And, of course, when I do a task that's not on the list…I write it in so that I can check that one off, too!)
3. Be a Sounding Board.
With several projects going on simultaneously, a Choleric/Driver will often get bogged down but not readily recognize why.
Many Cholerics/Drivers are auditory processors; they don't need to see a flow chart, but they do need to hear their own train of thought as they explain it to someone else.
When Daniel says, "So, tell me about everything you've got going," he demonstrates powerful, selflessness generosity.
And within minutes, I'm saying things like, "So that's what I should do next!" and "I knew there was a hang-up I wasn't seeing; that's it!"
Your listening facilitates your Choleric's/Driver's self-discovery of clear thoughts and next steps.
2. Detailed "Thank You."
Many people find a Choleric/Driver so intimidating that they make the excuse, "Oh, he already knows what a great job he did; he certainly doesn't need to hear it from me!"
Oh yes, he does. More than you can imagine. He doesn't actually need to hear about the "great job" he did; he needs to hear about how his efforts impacted you, specifically.
I keep thank-you notes from former students in my wallet. All I have to do is open one up and read the words, "I'm writing to say 'thank you' for…" and I am re-energized. Not because the student "liked" me but because they reminded me that I do make a difference.
Jot down few sentences detailing the difference a Choleric's/Driver's influence has made in your life. Deliver it via e-mail, USPS, or face-to-face over a mocha at Starbucks.
(For everything else, there's Master Card.)
1. Assume Positive Intent.
Annemarie read through this list as I was brainstorming and gave a hearty "Amen!" to this final gift, saying:
I'm really not a horribly witchy person. I mean for things to go well and have no idea how they go so terribly wrong. I'll be all proud of what I've done and then find out that everyone else is ticked off and hurt. Then it's all terrible, just terrible, and I don't even know why.
Poor child, she comes by it honestly! I frequently become so task focused that I simply don't see the wake of dead bodies behind me.
When your Choleric/Driver has "bull-in-the-China-shop" moments (or days), trust that the original plan only involved action, not collateral damage.
For non-Choleric/Driver personalities, none of these may feel gift-worthy. Who cares about recognition or lists or time-savers? Your Choleric/Driver, that's who! These gifts send the subtle message,
"I understand that control, responsibility, achievement, appreciation, and loyalty are vital to you. Rather than ignoring these needs and hoping they go away, I'm choosing to find ways to meet them because I love you. You're important to me, so what's important to you becomes important to me."
This kind of understanding in action is a validating gift for a Choleric/Driver!
Read All the Gift Lists
Your Turn:
Which of these seems like a true fit for someone on your list?
Which of these might be a struggle for you to give?
Anything else on your heart!