Top 10 Priceless Gifts (that don't cost a dime!) for a Melancholy/Analytic Personality
This is the first installment in a four-part series on giving gifts that match each personality. Here's a quick online personality assessment if you need to figure that out first!
The gift-giving season is almost upon us. For many, what should be a celebration of relationships mutates into stress over getting "just the right gift" for each friend and family member. Gift certificates end up being an easy out when we can't find anything that really seems to fit.
Gift-giving shouldn't be frustrating; it should be fun!
So this week, I'll be sharing gift ideas custom-tailored for the PURSE-onalities of those on your shopping lists!
I'll start with our Melancholy/Analytic loved ones because you may need a week or two of careful listening and observation (unless you, too, are a Melancholy/Analytic in which case you've been hearing and seeing all along!)
Keeping in mind that your Melancholy/Analytic's primary goal in life is to achieve perfection, and that her primary emotional needs are order, sensitivity, support, space, and silence, a real gift from your heart could be…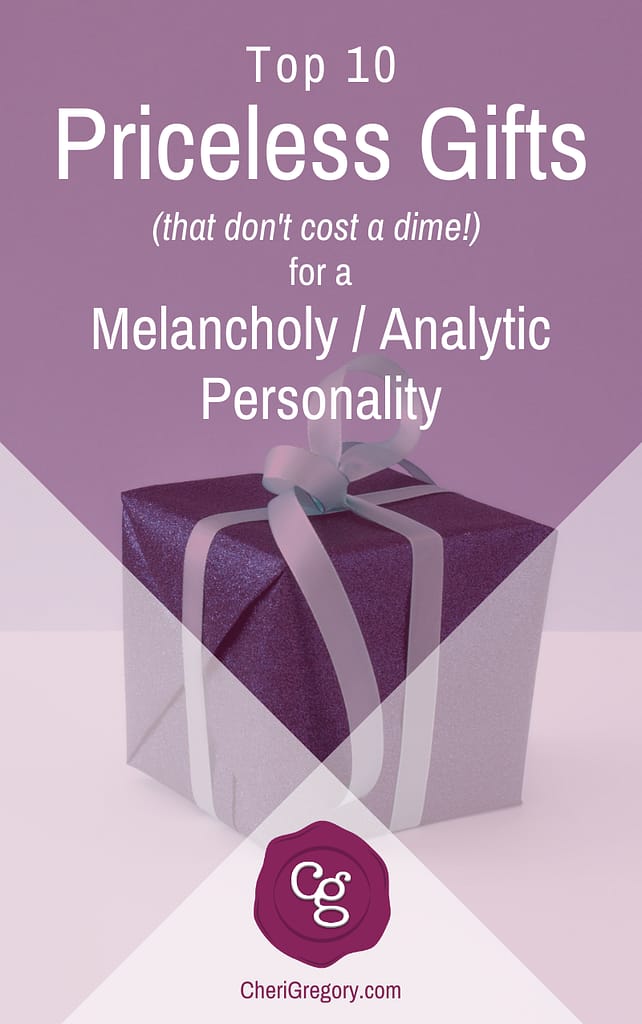 10. organization of an area of disorder
Sometimes, this has been as simple as putting my shoes away "where they belong" instead of leaving them out.
(Other times, it's been as daunting as dealing with the garage, but we're not going there today!)
And when "where they belong" hasn't been well-established, I've researched solutions until we found one that works for both of us.
9. willingness to hear what they're really saying.
For years, my husband griped, "All I want is a clean knife, but noooo, they're all in the dishwasher! Why does everyone use so many knives? It's ridiculous. If you'd all just rinse it off after you use it…"
All I heard was the complaining.
Recently, I decided to screen out anything that evoked an emotional response in me; lo and behold, I heard him really saying "I want a clean knife." I quickly bought a set of 4 new knives, which he chose to let us use (he prefers his "old faithfuls!) No complaints since!
8. your presence at important events.
Daniel's gospel quartet practiced every Monday night for three hours in our home, 50 weeks a year for seven years.
I'd heard every song they sang, multiple times…often the same short phrase over and over and over — "There's power in the…There's power in the…There's power in the…" — until I all but begged for "blood! Just give me blood!"
So I initially thought performances would be no big deal; I could just stay home with the kids rather than dragging them out to hear what we'd already heard.
Wrong. When I didn't show up, Daniel was crushed. Conversely, when I spent a wedding anniversary tending the group's table at Redlands Market Night, I earned big points with my man!
7. a room of his/her own.
When we first moved into a four-bedroom house, I took over the spare bedroom and crammed it full of my sewing and crafting supplies (which I visited now and then.)
One day, while at my brother and sister-in-law's home, I found Daniel sitting on the floor reading in Karen's lovely office. He looked up and said, in a voice of longing, "She has a room of her own!"
It took me two hours, after we got home that night, to shift all my stuff from storage in my "craft room" to storage in the garage, freeing the space for Daniel's office / studio / cave (complete with a door that opens, shuts, and — when necessary! — locks.)
6. protection of quiet time.
When a Melancholy in the house decides it's nap time, I crate the dog (so she won't bark at stray air molecules!), un-plug the phones (and remove the batteries!), and tape a "do not disturb" sign on the door.
And then I remove myself so they're free to enjoy complete silence.
5. an advance plan.
For both Melancholy males in my house, "spontaneity" means anything less than three weeks' notice. Their favorite surprise is no surprise.
My most notorious failure to give this gift was the night I called home to tell Jonathon, "We're not there."
"I noticed," he said gloomily. "I've been noticing for the last several hours. It got dark, but nobody told me anything or left me any notes or even called."
He wasn't afraid to be home alone — he was 16 at the time — but he was bummed that nobody had bothered to clue him in on their plans.
4. attention to what matters.
Almost ten years ago, I was wracking my brain to think of a meaningful gift for my mother. I tried to recall anything she'd ever mentioned needing or wanting, but for weeks I drew a blank.
Finally, a light bulb moment! Any time she talked about her five years as a sixth grade teacher, she spoke fondly and longingly about the reading book she'd used: Engine Whistles. Thanks to eBay, I hit the jackpot that year.
She held the book reverentially, stroking it in wonder, asking over and over, "How did you get this?"
What other meaningful gifts I could have given her throughout the years, if I'd only listened more and made note of what mattered to her?
3. unobtrusive companionship during/after a difficulty.
When things go wrong, a Melancholy is reminded that she has, once again, failed to achieve perfection. She may take this failure to heart and become very discouraged for a while.
Trying to "cheer up" a discouraged Melancholy is like trying to nail Jell-O to the wall: lots of effort with no results. You'll end up frustrated that your attempts aren't appreciated, and your cheer-ee will become further discouraged because nobody understands the gravity of the situation.
While it's tempting to just leave her alone (and if you ask, you may even find out that's what she needs at the moment), staying alongside her without trying to "fix" her is often the most healing thing you can do.
2. respect for solitude.
When we were first married, Daniel used to take off for a walk, a trip to a bookstore, even a backpacking trip without inviting me.
It took me years to understand that his need for solitude was not a reflection of his commitment to me or his enjoyment of my company. As an introvert, he needs time alone, away from anyone who knows or needs him.
Now, I actively protect my husband's solitude by call screening, running interference when someone shows up unannounced on our doorstep, and even holding his cell phone for a few hours when I can tell that he's "peopled out."
1. a good old fashioned shuttin' up.
I used to regale Daniel with the novel-length version of my day, every day. I ignored the glazed-over look in his eyes, determined that we were going to build a more intimate relationship via sheer volume of words.
In time, I shortened my end-of-day commentary to the blog-post version. Suddenly, I no longer had to chase him around the house to get his attention. He started voluntarily asking me, "So, how was your day?"
In the last couple of years, I've edited myself down to Facebook status update length. Amazingly enough, Daniel now asks insightful questions, wanting to hear more. He recently startled me by asking, "And how did you feel about that?"
But my greatest successes have been Twitter-sized comments, the carefully thought-out one-liners. Over the last couple of years, Daniel has stopped what he was doing, looked at me in wonder, and said, "That was profound!" several dozen times.
Clearly, less really can be so much more!
For us non-Melancholy/Analytic personalities, none of these may feel gift-worthy. Who cares about shoes or rooms or quiet? Your Melancholy/Analytic, that's who! These gifts send the subtle message,
"I understand that order, sensitivity, support, space, and silence are vital to you. Rather than ignoring these needs and hoping they go away, I'm choosing to find ways to meet them because I love you. You're important to me, so what's important to you becomes important to me."
This kind of compassion in action is the ideal gift for a Melancholy/Analytic!
Read All the Gift Lists
Your Turn:
Which of these seems like a true fit for someone on your list?
Which of these might be a struggle for you to give?
Anything else on your heart!