How Asking Becomes a Gift of Grace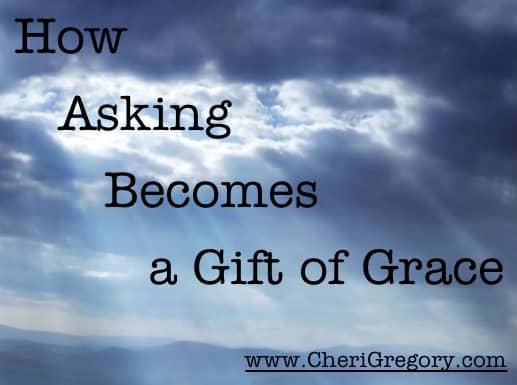 "We should wait until February to take the Pathfinder in for servicing."
I start to shoot Daniel my What on earth are you even talking about? look.
The one that starts with a You obviously aren't listening to a word I am saying! eye-roll and ends with a defiant You better believe I can do this fine and dandy without you, Buster! glare.
After all, this conversation isn't about when the Pathfinder should go in for servicing.
I'm trying to tell him about how I scored a courtsey car which will save us a world of time and hassle, whenever the Pathfinder goes in.
He's supposed to be declaring his undying love and devotion to me.
Not telling me what to do.
Or when to do it.
Asking
Just in time, I remember that I'm practicing asking in 2016.
So I ask myself:
Why am I surprised that Daniel's taking this conversation in a different direction?

I've known him for thirty years. This is not new behavior; thus, it is not surprising.

Confusing, yes. But not surprising.

And if I'm confused, I need to ask him a clarifying question.
So I do.
"Why February?"
Daniel makes a vague reference to the state of our finances, and my hackles rise.
What does he think he knows about our finances? He hasn't touched a checkbook or looked at a bank statement in the 27+ years we've been married.
"And who handles the finances around here? Who actually knows how much we do and don't have?"
(Yes, I know: I'm baiting him.)
"I just want to make sure you're thinking through all of the options," Daniel says.
Oh. No. He. Did. NOT. How dare he imply…
Asking, Take 2
Just in time, I remember that I'm practicing asking in 2016.
And—thanks to a Holy Spirit whap upside the head—I also remember that Daniel is an Analytical personality, a fixer.
He's trying to fix a problem.

But there is no problem to be fixed!

Well, at least none that I can see.

So he's trying to fix a problem that he sees but I don't. What could that problem possibly be?

Only one way to find out.
In a far gentler voice, and with genuine curiosity, I ask:
"What problem are you solving?"
Perfectionism vs. Grace
Yesterday, in "Confessions of a Grace Thief and Miser," I shared my latest BIG ephiphany:
Perfectionism is a wall that keeps us from receiving and giving grace. We can't give what we haven't got.
Today's related "ah-HA!" moment:
Asking breaks through the wall of Perfectionism.
God instructs us to "…be quick to listen…" (James 1:19) for good reasons.
Asking exposes expectations. It helps us recognize that our perspective is not the only perspective.
Asking encourages empathy. It opens us to see a situation from the other's perspective.
As I ask Daniel, "What problem are you solving?" I am mere seconds away from becoming off-the-charts offended that he is questioning my capabilities to effectively manage our household matters.
But his response stops me in my tracks.
"I worry about you. You work so hard, and you do so much. I'm trying to take the best care of my wife that I can."
Oh.
He's doing exactly what I wanted all along: declaring his undying love and devotion to me!
Hiding behind Perfectionism's wall, I couldn't perceive it or receive it.
Asking one simple question—"What problem are you trying to solve?"—frees me to accurately perceive my husband's intentions and receive what he is actually offering.
My heart is softened.
His is understood.
Asking is a gift of grace that gives both ways.