Confessions of a Grace Thief and Miser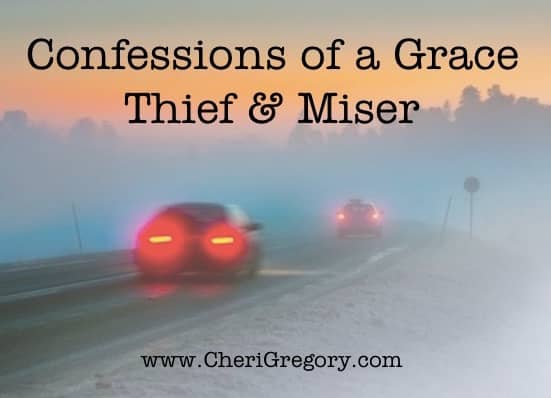 "You always reject my input," Daniel says.
"No I don't," I respond.
We're at A Weekend to Remember, dutifully working through our first set of discussion questions. Once we finish, we head back to our hotel room to catch a quick nap before the 2:00 PM session.
Waiting for the elevator, I turn my cell phone back on to find multiple urgent messages from my brother:
Mother is deteriorating. CALL ME!
By the time I reach him, there are no words, only sobs.
After the Funeral
Over dinner, responding to the memories John and I shared of Mother during the memorial service, Daddy observes:
"Eleanor really did believe that if she did everything right, nothing would ever go wrong, didn't she?"
No wonder Daniel described her as his "kindred spirit."
As the only two Melancholy/Analytic personalities in our family, and Mother and Daniel understood each other in ways the rest of us could not.
They were bonded by the unshakable Melancholy/Analytic motto:
If I do everything right, I will never be wrong.
No wonder they both make me so mad.
On the Road Home
Our car is heading north on the 5 freeway; I'm in the driver's seat and in the middle of a pity party.
A surprise pity party, actually.
After handling a week of grief astonishingly well, Daniel and I lost it over a minor disagreement.
The issue we went to the mat for?
How long I'd been idling in front of Subway.
(I kid you not.)
Now, with Daniel napping as I drive, the opening lines of our spat replay over and over in my head.
"If you're going to take this long, you should pull up and park."
"People are driving around me just fine."
"But you're confusing them. You should practice the golden rule."
"Today, I don't really care about other people."
"You should care. Every choice you make changes who you are."
"Well, right now, I could care less. A minute or two isn't going to kill anyone."
"It's been more than two minutes: you've been sitting here for 2 minutes and 37 seconds."
Our "discussion" went downhill from there.
An hour later, he's still sleeping, and I'm still trembling with dismay.
What I needed to hear was, "You're a little preoccupied right now. It's okay."
Would that have been so hard to say?
Nothing New
As mile markers flash by, I recognize an old pattern, one that started years before I met Daniel.
It's a fight that goes way back to my childhood, as I struggled—and failed—to meet the expectations of a perfectionistic parent.
Now, I've never been kind of person who always has to be right. But heaven help anyone who suggests that I am wrong.
I can't be wrong. I can NOT be wrong!
At the heart of all my efforts to prove I Am NOT Wrong is a plea, a desperate heart cry—
I'm sorry I disappointed you.

Again.

I'm so sorry I'm so incurably imperfect.

Forgive me for being human.
I crave permission.
Permission to be flawed, to fail, to learn.
I crave compassion.
Compassion that says, "I get it. I've been there, too. I know how hard you're trying."
I long to hear:
"I see your struggles, and I still love you."
I need … I am desperate for …
I crave grace.
A Thief and a Miser
My anger wanes as the truth sinks in:
I've spent my life demanding grace.
When someone doesn't offer grace willingly, I try to wring it out of them.
Then, I rationalize my reactions to whoever is withholding what I so desperately need, be it parent, spouse, friend, church member, boss, teacher.
Daniel gets it worst.
I punish my husband for being stingy with grace.
The more he insists that he's right, the more I point out every way he's wrong.
He's right: I do reject his input.
Oh, the irony.
And oh, the time and energy I waste trying to shake people down for grace when they, too, are flat broke.
I try to take from others what I couldn't give you if you paid me.
After all, we can only give what we have.
Learning to Receive Grace
I'm late in learning that there's only One place to find grace:
Let us therefore approach the throne of grace with boldness, so that we may receive mercy and find grace to help in time of need.
Only One endless Source:
For from his fullness we have all received, grace upon grace.
Only One who is never disappointed by my imperfections and flaws:
…"My grace is sufficient for you, for power is made perfect in weakness." So, I will boast all the more gladly of my weaknesses, so that the power of Christ may dwell in me.
Only One who longs to give us His infinite abundance of grace:
But grow in the grace and knowledge of our Lord and Savior Jesus Christ. To him be the glory both now and to the day of eternity. Amen.
I long to be a Grace-giver.
But at long last, I'm finally becoming a Grace-receiver.