When Guilt Feels Safer Than Grief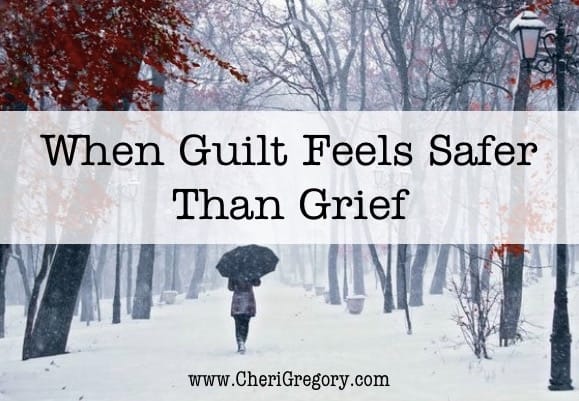 October 29, 2015

I know how to feel bad, but I don't know how to feel sad.
Guilt and I are thick as thieves. But Grief?
Watching Inside Out (yes, again!) has prompted new journal reflections. I recall a decades-old conversation with my brother.
Me: "John, does our family do grief?"

John: "Nope."

Me: I didn't think so.

I don't know how to do grief.

I only know how to do guilt.
How Guilt Leads to Shame
When I've done something wrong, I become obsessed with making it right. Proving that really and truly, I'm NOT more trouble than I'm worth.
Please. Let. Me. Fix. It.
Holding on to each wrong I've done until I can right it, I become buried in shame.
The shame of being such a disappointment.
How Shame Leads to Blame
I can't handle feeling bad all by myself.
So even as my mind is figuring out quick fix solutions, it's also spinning stories about how you, too, are in the wrong.
And I become obsessed with making you admit I'm right. Showing how magnaimous I am for sticking around even though you've caused so much trouble.
Let me hear you admit it.
Holding on to each wrong done to me until you admit I'm right, I bury you in blame.
The blame of disappointing me.
Guilt vs. Grief
Guilt triggers these overwhelming fix or force responses in me. What I need is forgiveness, for myself and for others.
Forgiveness requires death — death of expectations.
To forgive, I must move into the pain of grief. But I've spent my life avoiding that pain.
I don't know how to do grief.

I only know how to do guilt.
The Pain of Guilt
Not that guilt feels good, of course.
Just familiar.
And busy. Guilt keeps me going.
Hustling to make you happy again. Chattering to charm you again.
Hinting, manipulating, downright demanding the magic words — "You were right" — so I can do my end zone dance.
But as Guilt, Shame, and Blame's old cronies show up — Resentment, Bitterness, Discouragement, Cynicism, Contempt — they bring more and more pain with them.
Grief and Grace
All my life, I've run from grief, terrified that the pain would swallow me alive. But in the hours of protective shock that follow news of my mother's death, I face a choice.
November 7, 2015

What if feeling sad is better than feeling bad?
Guilt feels safer than grief.

But actually, guilt is killing me.
Guilt slams shut the door to grace.
The Guilt Gang circles around our hearts, barring us from receiving or giving what we all need most — love, which can only grow where grace abounds.
Guilt is killing us.
Grief brings us back to Life.
Grief says, "I was wrong, and I'm sorry."
Grief says, "You were wrong, and I'm sad."
Grief releases expectations, mourns disappointments.
Grief breaks wide open the door to grace.
Grief brings us back to Love.
I want to stop obsessing on guilt and start processing thru grief.
I don't know exactly what that looks like, yet.
But I'm sure it starts with getting to Jesus as fast as possible and simply saying,
Jesus, I'm sad.