The Ugly Truth About Myself I've Had to Face Due to My Daughter's Tattoos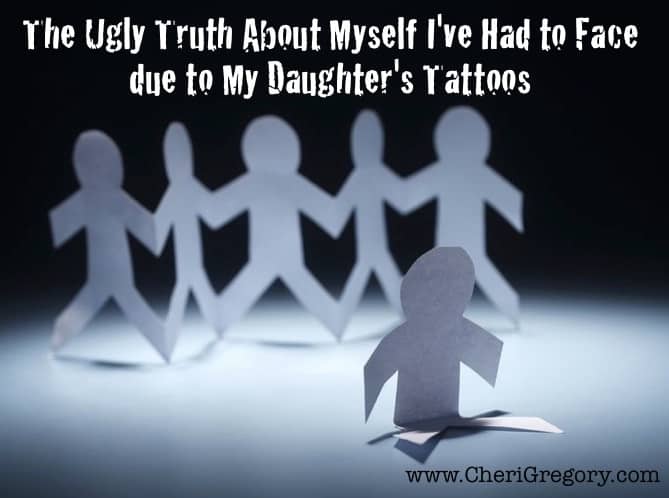 Just a few weeks after I first saw the Facebook photos of Annemarie's tattoos, we spent a weekend together in a Las Vegas hotel room. (We were co-presenting a workshop at the 2012 National Council of Teachers of English Convention.)
She didn't know I'd seen the photos. So we choreographed our very own Concealment Kabuki, with Annemarie slipping in and out of clothes so fast she defied the laws of physics while I developed sudden and intense fixations with the ceiling sprinklers.
It felt disingenuous to pretend hadn't seen the photos. That I knew nothing about her tattoos. That I was too blind to notice them even as we shared a room.
But I was convinced that saying and doing nothing was the best approach.
I said nothing — because I didn't want to say the wrong thing.
I did nothing — because I didn't want to do the wrong thing.
I didn't have a clue what the "right" responses might be, but at least I wouldn't be wrong.
For too long, this has been my standard measure of success: at least I'm not wrong.
But I'm learning, now, that sometimes nothing is the wrongest thing I can possibly say.
Sometimes, nothing is the wrongest thing I can possibly do.
Nothing Isn't Neutral
Recently, I reminded Annemarie of our time in the Las Vegas hotel. I laughingly asked if she had noticed my attempts not to notice her tattoos that weekend.
With no trace of a smile and a distinct edge to her voice, she replied, "I was very aware that my own mother wouldn't look at me."
My nothing wasn't better than wrong.
My nothing wasn't neutral.
My nothing was judgmental
Old Family Stories
As I've pondered and prayed about my reactions to my daughter's tattoos, some very old family memories have surfaced.
Oh, how I prefer the happy stories.
Like how my great grandmother ran into a burning house to perish with her husband rather than join her children in their safe hiding place and reveal their wherebouts to the invaders who were exterminating Christians.
Heroism.
Or how my grandmother and grandfather sent letters back-and-forth between America and Germany for a year and then she got on a boat and he waited so long for her to disembark that the flowers he'd brought her all wilted and they married the next day.
Romance.
But I've been recalling other family stories that I had no clue were so deeply embedded in my heart.
"…if only…"
This one, I heard aloud, in full statements such as:
"She'd be a pretty girl, if only she weren't so heavy."
"Her baby would have her same color skin if only she'd married within her race."
"He'd be such a nice boy, if only he wasn't a ________; you know how they are…"
There were also unspoken storylines:
"…well, at least we don't…"
"…well, at least my son/daughter would never…"
"What will other people think…?!?"
The Ugly Truth About Myself
One word accurately identifies these old family patterns:
Prejudice.
It's not just my family legacy; it's the human condition.
Prejudice is a natural by-product of Perfectionism: as long as you look and act the way I know you ought, I will "love" you.
But as soon as you don't look or act according to my definition of right, my heart flips from "love" to "judge."
The most devastating realization is that this is nothing new.
It's been happening all my life.
I used to call it "having high standards."
I now realize that the real nothing in my life is that I know nothing about love.
Or grace.
My life-long habit of saying nothing (for fear of saying the wrong thing) and doing nothing (for fear of doing the wrong thing) has been nothing but a fear-filled, self-protective retreat from anyone who doesn't look like me, talk like me, think like me, or believe like me.
For four-and-a-half decades, I didn't see it.
Until, one day, "anyone" was my own daughter.
And all I could do was judge her.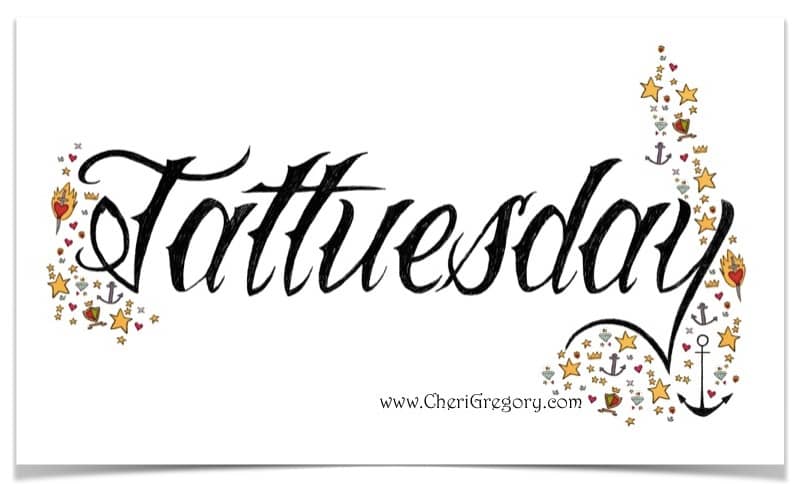 I know I'm supposed to end the post with my "Top 10 Tips to Beat Prejudice". But besides the fact that I'm already 200 words over the recommended 500, I don't think "tips" are appropriate or helpful. At least not yet.
If anything in this post speaks to you, I invite you to pray for specific conviction (not condemnation!) If not, I invite you to pray for those you know who struggle with this issue.
In my next Tattuesday post, I'll explore some solutions. But for me, it's been important to let the weight of the problem really sink in. Otherwise, it's too tempting to reach for a quick fix…rather than a change of heart.
I'd love to hear your perspective!
"Prejudice is a natural by-product of Perfectionism." This has been a new "ah-HA!" for me. What do you think? Am I making this up? Taking things to an extreme? What's been your experience?