The Best Way to Receive a Compliment
After writing "How to Give the Best Kind of Compliment" last week, I thought about the flip side of giving: receiving.
Which made me think of Emily.
I heard Emily give a keynote address many years ago. Her words, her message, and most of all, her authenticity moved me.
When I noticed her sitting alone at breakfast the next day, I couldn't help myself.
Although I didn't know her, I had to say something.
As I wracked my brain for the right words, I also braced myself for the inevitable: her dismissal of my compliment.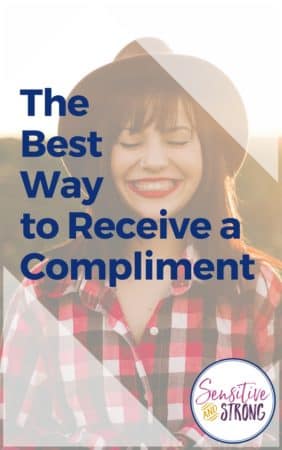 The Ways Women Handle Compliments

As girls, we learn so many ways to deflect praise:
"Oh, it was nothing."
"I totally messed up! Did you see/hear when I…?!?"
"You're too kind."
"You need your eyes/ears checked."
"Anybody could have done it."
"It was no big deal."
"Just doing my job."
"I've got great genes."
"You must be kidding!"
"I've done it a dozens of times before."
"Guess I got lucky."
"Must have been at the right place at the right time."
"That? It just comes naturally to me."
"Thank you, BUT…"
"Bless your heart."
"It was all God."
(Blush, remain silent, and walk away)
With each of these, we risk sending an unintentional message: You don't know what you're talking about.
How to Really Receive a Compliment
"Emily," I began, trying to sound confident.
Inwardly, I berated myself, thinking I shouldn't have bothered her.
Emily looked up and smiled.
I blurted out something pathetic, then waited to see how she would minimize my already meager attempt at praise.
But Emily surprised me.
She laughed heartily, threw her arms open wide, and declared:
"Thank you. You just made me feel absolutely wonderful!"
Receiving is a Gift
I still get teary each time I think of Emily.
I'd expected her to reject my compliment, the way women so often do.
Instead, she received it.
Fully.
With gusto.
She told me I'd made her feel wonderful, but it was she who made me feel wonderful.
Emily taught me an unexpected lesson:
When you truly receive a compliment, you give a gift.
Perhaps it's
the gift of being heard.
the gift of being valued.
the gift of being known.
You may never know.
But when you fully receive a compliment, chances are good that two people will feel absolutely wonderful.
Your Turn
How might focusing on the other person change how you receive their compliment?