How to Love Your Daughter When You Hate Her Tattoos
My car didn't sport a Parents Against Tattoos bumper sticker. In fact, I never even talked about tattoos, I was so sure my daughter would never get one.
Last Summer
I wanted to post this photo on Facebook last summer.
But I couldn't.
I spent an hour cropping it one way, then another.
Trying to include the beautiful Italian scenery while eliminating what I didn't want to see.
Or have seen.
Ultimately, I gave up.
I posted nothing.
And felt awful.
Coward.
Two Months Ago
In early April, Annemarie sent me an eMail titled "some headshots." The attached photos were stunning.
I wanted to post them to Facebook.
But I couldn't.
I felt awful.
Sick, really.
Of myself.
What is wrong with me? Why am I so stuck?
Ten Days Later
After days of inner wrestling, I posted this message on the Love Idol Launch Team Facebook page:


I'm feeling convicted to write a blog post about dealing with my daughter's tattoos and piercings. I've already asked her permission, and she's on board….

What I want to explore is what happens when we think we've been "doing well" as a mom expressing unconditional love, and then a child steps over a taboo line.

And we discover a deeply buried, incredibly powerful "Love Idol": the expectation that "MY child will NEVER…"

Many (perhaps even most) Christian women have not and never will struggle with this. They are spiritually mature enough to see past any issue. But some of us discover, the hard way, that we know far less about love and grace than we thought.

I'm not sure whether I want to take a "How to Love Your Daughter When You Hate Her Tattoos" approach or "When You Discover You Don't Know Jack About Love" approach.

The first is what I needed a year ago when I first discovered she'd gotten tattoos.

The second is what I've been discovering to be true about me ever since then.
Wonderful women were generous with wisdom and empathy and encouragement. They shared their own perspectives and prayerfully challenged me to move forward.
I hoped I wouldn't need to.
That I could fix this thing on my own and quit obsessing about my daughter's tattoos.
I couldn't.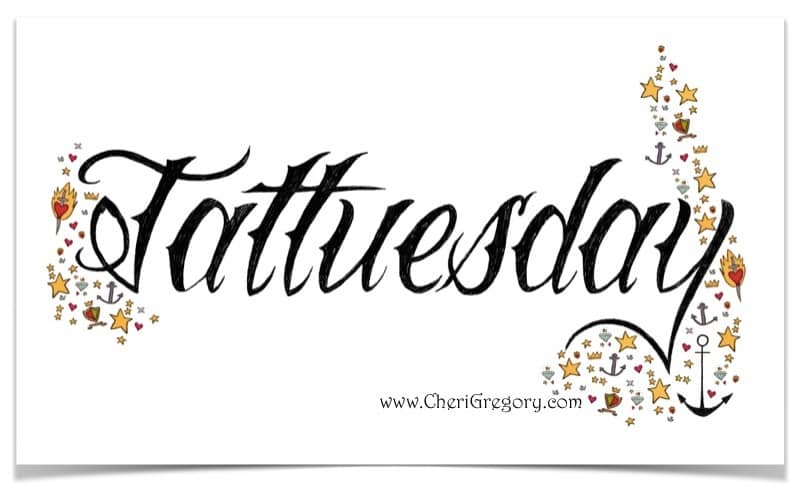 I still can't.
I feel like I'm wearing an invisible Parents Against Tattoos bumper sticker.
So I'm starting a series affectionately titled "Tattuesdays." Every Tuesday, for as long as it takes, I'll explore some aspect of my reaction to Annemarie's ink.
My goal is to get un-stuck.
Break through the barriers in my heart.
I want to be able to look at the amazing young woman God gifted into my life 23 years ago and see only who Jesus sees…nothing else.
Each week, I'll also seek your input. In the spirit of welcoming whatever God wants to teach me, I'll invite all perspectives. I'm tempted to ask that you be gentle but suspect I need to stick with respectful.
So here are my first questions:
For those of us who do have negative reactions to tattoos: Why do we react the way(s) we do?
For those who once had strong reactions to tattoos but no longer do: What's made the difference for you?
For those who have never had negative reactions to tattoos: (After 15 minutes of brain death…I'm so stuck, I can't even come up with an intelligent question to ask, but I know I need to hear from you!) Pretend we are face-to-face friends having coffee together, and I start lamenting my daughter's tattoos. How do you respond?
For parents who have expressly forbidden tattoos: What would your child getting inked mean to you?