Tattuesday: The Stories My Daughter's Tattoos Are Telling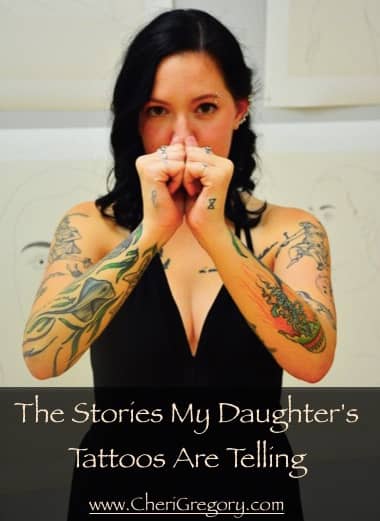 I'm texting with Annemarie two days before heading to southern California for her BFA solo art show reception.
Me: If you're up to it, I'd like you to tell me the stories of your tattoos. I'd like to learn about your personal gallery before Saturday night's "grand opening" of your public art show.
Annemarie: Totally up for it. You pick which ones, or I can tell you about the first one or my favorite or whatever.
Me: I'll let you be my gallery guide!
Tattoos as Story-Tellers(?!?)
In the more than 10,000 words of comments and Emails that followed my first Tattuesday post, many people urged me to ask Annemarie to tell me about her tattoos.
It was hard enough to begin to wrap my mind around the "body as canvas" concept.
Body as storyboard?
Puh-leeze.
I knew what I saw when I looked at her tattoos.
Black and blue and green bruises.
The very things I'd hovered so close througout her childhood trying to prevent.
I still cringe in guilt when I think about the day the hutch fell on her tiny 4-year-old frame, gashing into her back, leaving permanent scars.
I failed to protect her!
When I heard Daniel Goleman, author of Emotional Intelligence, speak on mirror neurons, one point hit especially close to home:
Highly empathic people register pain when they watch someone else being injured.
My instinctive maternal reaction to all the dark marks on Annemarie's fair skin was alarm.
I failed to protect her!
But no.
She did this to herself.
Intentionally.
It's not right for her to do this to me.
I clung to the concept of mirror neurons, telling myself: It's only a natural reaction for me, as an HSP, to shut down when overloaded by upsetting new stimuli.
A New View
As the months passed, and my alarm reactions remained on high alert, I needed a new excuse. So I pulled out my old stand-by:
"I'm non-visual."
Which is true. When I close my eyes, I see black. When I dream, I only hear sounds.
When the kids were little, I made matching outfits for the whole family: dolphin shorts for Daniel, Annemarie, and me, plus dolphin overalls for baby Jonathon. Yet on the day we went all matchy-matchy to Sea World, if you'd asked me what I was wearing, I wouldn't have been able to tell you without looking down at myself. Even with my dolphin-decored family standing in plain sight.
I'm that non-visual.
So, as soon as Annemarie would go back to college, I'd forgot that her arms weren't the same color as mine.
And whenever she'd come home, I'd be in for a whole new round of shocks when I saw her "bruises" again … almost as if for the first time.
Of course, there was an easy way around all this alarm. But it only occurred to me last month.
What if I put a current photo of Annemarie by my computer screen? Might it help normalize what she looks like now?
Oh.
Duh.
Annemarie's Stories
Annemarie and I are at Healthy Junk in Anaheim, California, having just scarfed down two amazing portobello mushroom burgers and one superb slice of Bunny Love [Carrot] Cake.
Annemarie: So, pick one, any one.
Me: Nope — you lead the tour!
Annemarie: So … I started thinking about phrases, because I wanted [my first tattoo] to be words. This is from my favorite book of all time, I am the Messanger by Markus Zuzzak. What I settled on says, "I want to run and laugh and feel like this forever…"
The actual phrase keeps going, but Wes, the tattoo artist, was like, "It's really long; it's going to sag and look really bad." And I was like, "Hey, let's not."
(Moving to her arms.)
I had a sketchbook full of sea creatures. I had designed five to go on this arm, so that's all there was at first. No seaweed or anything, just the animals.
The reason I chose sea creatures is three-fold, I supposed.
First of all, I feel a strong connection to Monterey. It's one of the first places that ever felt like home. Whenever I go back, it just feels like I can breathe.
The ocean is very spiritual to me. I used to take walks and just stand there and sit on the bluff and talk to God.
It also goes back to how I heard stories growing up of how you and Dad went to the Monterey Bay Aquarium on your honeymoon, and then you gave birth to me listening to ocean sounds …
Me: I did!
Annemarie: That's the story I told when I transferred last year. My professor asked me, "Can you tell us about your tattoos?" and I was all, "Funny story… well, the aquarium is like my cathedral. I go there and it's a holy place for me. I stand in front of the big glass thing with the kelp and it's transcendent. I don't know what it is …
Me: You don't have to know …
Annemarie: …and I cry and have this deeply spiritual connection. But also, funny story, my mom gave birth to me while listening to ocean sounds!"
Me: It was whale calls!
Annemarie: Yeah, from the aquarium. And everyone was all like, "No way!"
Me: That's funny!
Annemarie: So that's why I chose ocean creatures. The jellyfish was the first one I designed, just because I really like the jelly exhibit there. Leopard shark is my favorite animal …
Me (chagrinned by my ignorance): Oh!
Annemarie: … at the aquarium. And then I really like the stingrays. I wanted a whale. I think its tail should have been longer…
Me: What does this say?
Annemarie: Oh gosh — it's in my horrible handwriting. I tried to talk him out of it. Ugh. It says, "The tides are in our veins…"
Me: Hmmm.
Annemarie: It's in the aquarium. It's by the poet Robinson Jeffries. I did it in my own handwriting, that's why I hate it. (pointing to a different tattoo) That's his handwriting — it's so much nicer! So…
Me: I like your handwriting better.
Annemarie (giving me "the look"): I don't like it.
Me: Fine.
Annemarie: Fine!
Me: FINE!
(Convo to be continued)
Telling Myself a New Story
When Annemarie was just two, her favorite movie was "Beess Bell": Beauty and the Beast. A single song lyric has haunted me ever since:
We don't like what we don't understand because it scares us.
Annemarie's tattoos used to scare me. I didn't understand them, so I didn't like them. It was a vicious cycle.
While listening to Annemarie tell her stories, it hit me:
What if my daughter's tattoos are her "gratitude gallery"?
I still have much to learn, process, and understand. But having heard Annemarie's stories, I know one thing now:
My daughter wears her heart on her sleeveS.