How to Be Content (Even When Others Aren't)
Daniel wakes up worried.
I slide toward him.
"What's wrong?"
His brow furrows.
"I feel like God is telling me that it's not my job to straighten others out or point out where they're wrong and what they should be doing instead."
The first words that come to my mind stay on the inside.
Can we do a quick DNA check?
I'm pretty sure my real husband was replaced with an imposter while he slept.
As Daniel sits up, I reach out to scratch his back.
"Wow. That sounds hard."
He stands, stretches, and winces.
"You have no idea."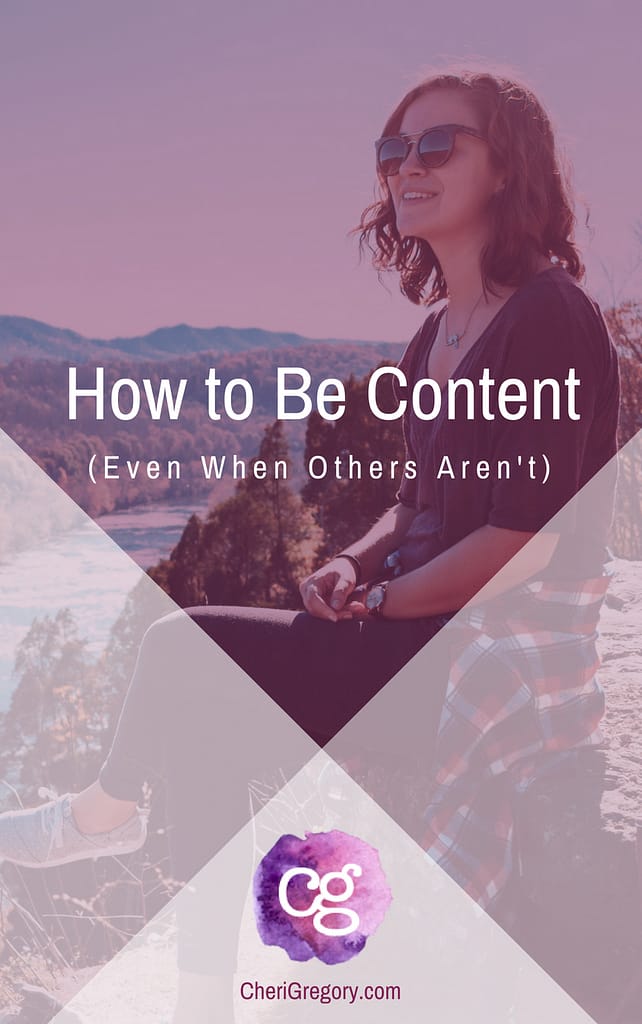 A Coaching Convo with God
Oh, but I do.
Even as I celebrate that God's gotten through, my mind is awhirl with all the other truths He needs to impress upon my husband, now that He has his attention.
If he can just learn to stop _______ and start ______, then …
God turns the tables with a question:
"Then what?"
I don't want to say it.
"Why not?"
It sounds so shallow. So distinctly-not-spiritual.
"Go ahead. You can say anything to Me."
Then … then … then I can finally be content.
"You've been waiting a long time to be content."
I've been waiting over half my life for … for …
"For what?"
For Daniel to … I dunno!
"To straighten out?"
Well, yeah.
"To stop making wrong choices?"
Of course.
"Start doing what he should be doing?"
Definitely!
"So until he changes, you can't be content?"
How can I possibly be content when he's not content? When he's unhappy? Especially when he's unhappy with me?
"Haven't you been trying this hard enough and long enough?"
Trying what?
"You're not going to like the word for it."
Trying what?
"Trying to manipulate other people to react to you the way you neeed them to so you can feel the way you want to feel?"
<ouch>
"Haven't you been trying and waiting, trying and waiting, trying and wating hard enough for long enough?"
I'm exhausted from living so many hypothetical lives.
"What would happen if you stopped trying and waiting?"
I would … well, I don't know for sure, of course; perhaps I could possibly maybe …
No, actually, I would.
I. Would. Be. Content.
An "Ah-HA!" Text to Kathi
My coaching convo with God occurred a couple months ago as I was sitting in the car, just before I left home to pick Daniel up at the end of his bike ride.
Forty minutes later, while waiting for him at a Starbucks in Monterey, I texted Kathi:
So, I just had an epiphany. Probably a "no duh" to anyone who knows me, but I've not seen it.

I spent my first twenty-one years trying to make my mother happy. I then shifted to twenty-seven years of trying to make Daniel happy.

Neither of them ever became happy as a result of my efforts, at least not for long.

Looking back at my life, I now see that I've been on a life-long quest to impress the most important person in the room.

I've lived with two faulty beliefs:

When the most important person in the room is "happy" with me, I can be happy with me.

When they aren't, I can't.

But this year, God's been "re-mothering" me through nurturing interactions with women. He's been showing me that I don't have to "make up" for mistakes in my female friendships.

When I've offended a friend, I don't have to elevate her into the most important person in the room, impressing her with my dazzling performance to make her happy again so I can be happy again, too.

The most important person in the room, it turns out, isn't a friend or parent or even my husband.

The most important person in any room?

It's me.
Kathi texted back: "Okay, I'm running a huge fever and feel like crud, so all I can say at this moment is wow. But this is big. Huge stuff you are processing. Be gentle with yourself."
A Shortcut to Contentment
The most important person in any room is me.
Not that I consider myself more important than anyone else.
Simply this:
The one person I have the most influence on – the one person I can change and am responsible to change – is me.
Nobody else.
Just me.
And the good news?
I know how to be content.
I really do!
I know what makes me laugh.
I know what brings me peace and delight and wonder.
All summer, I've loved watching hummingbirds flock to my feeder.
Last week, the kids and I laughed 'til we cried while watching a video comparing the sound of German with other languages.
Just yesterday, I spent time in my prayer chair with a hot drink, fuzzy blanket, and C.S. Lewis Bible. I thought of a steller discussion question for today's AP class. I instant messaged with a former student who is–get this: bringing me home a new dirndl from Austria.
I know how to be content.
I don't have to put forth Hurculean efforts to change a host of other people and wait (and wait and wait and wait and…) until they change in order to be happy.
I don't have to live dozens of hypothetical lives.
I don't have to meddle where I don't belong.
I don't have to manipulate <ouch> you to do and be what I think you should "for your own good" because it's what I secretly need you to do and be in order for me to feel good.
I can prayerfully make my own choices about what I will do and who I will be.
I finally get to be happy, because I finally get it:
My happiness depends on nobody but me.