Questions My Daughter's Tattoos Make Me Ask Myself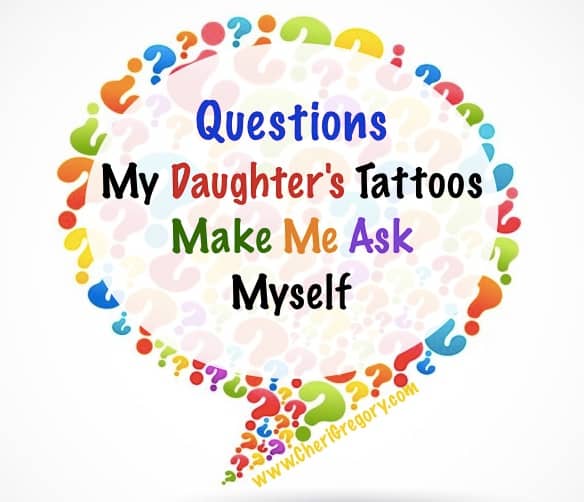 A few months after I'd discovered Annemarie's tattoos, my solo performing class did a brainstorming exercise called, "The truth is…"
The instructions were simple:
Start with the words, "The truth is…" and keep writing for 10 minutes.
Here's what I wrote, almost two years ago:
The truth is that I do not understand why my daughter's tattoos upset me.

Is it because she was so adamant that she would never get one and now has not just one but who knows how many up her arms, down her back, and over her chest?

Is it because I know and her dad doesn't and when he finds out he is going to hit the roof and I will be to blame somehow even if I can manage to not be home when it happens?

Is it because I worked so hard to keep her skin un-scarred for so many years that the thought of purposefully using needles and drawing blood just does not compute?

Is it because I wonder what will be the next thing that she was never going to do that I'm going to find out she's already done?

Is it because I tried so hard to give her all the freedoms I never had growing up but I didn't mean for her to squander her freedom on tattoos?

Is it because of the money? Everything I've denied myself, never dreaming she was using my sacrifices to indulge in what I consider luxury?

Is it because they represent, in black and white and red and green and orange and purple, all my parenting failures, permanently etched for the world to see?

Is it because I envy her?

Is it because I resent how far she's gone with her freedoms?

Is it because those tattoos mock me each time I see them, reminding me how safe I still play this game called life?
I can't give you easy answers to any of these.
I can tell you that questions are great antidotes to the angst of rigid judgmentalism.
The more questions I ask–of myself and Annemarie–the more curious I become.
And curious is a far better place to be than where I was two years ago.