How High a Price Do We Pay for Hurry?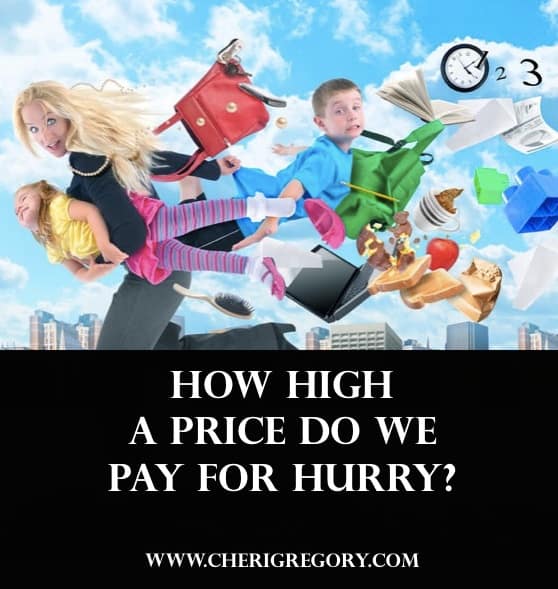 This is a bad idea, I thought.
But I did it anyway.
While on the elliptical, I took off my sweatshirt. Without slowing down. Or removing my iPod earbuds.
My attempt to save a few precious split-seconds cost me
an hour of paperwork, as I filled out the form for iRepair.com.
a chunk of change to have the smashed screen replaced.
an entire month without my iPod
But at least I learned my lesson, right?


Efficiency is not always the best goal.
Hooked on Hurry
I'm a slow learner.
The very next morning, I loaded up my iPhone with all my favorite tunes and took it out to the garage.
Within minutes, I did the one thing that you're probably kind enough to assume I would avoid at all costs:
I took off my sweatshirt.
Without slowing down.
Or removing my iPhone earbuds.
In an erie moment of deja vu, I watched my iPhone — worth 3x as much as my iPod — crash to the floor.
I must really want to learn this lesson the hardest possible way!
While relieved to find that my phone's LifeProof case lived up to its promises, I was stunned by my stubborn insistence to prioritize speed over care.
Quick is Costly
A broken iPod isn't the only casualty of my hurry habit.
As I whip dishes — my favorite, discontinued Pfaltzgraff dishes — out of the dishwasher, I inevitably chip one against a shelf.
I typically sport a half dozen or so black-and-blue bruises on various parts of my body from walking into furniture, corners, and doors because I'm rushing around too fast to judge distances.
I've ruined more beautiful pedicures than I can count because I hate sitting around waiting for the polish to dry for a Whole. Ten. Minutes.
What We Pay for Hurry
And it turns out that I'm not the only one who pays a pretty high price for hurry.
I asked for input from my Facebook friends, and here's just a sampling of what they said:
Skipping steps in a process. Ex: leaving the baking powder out of a recipe because I read thru it too fast.

You get a speeding ticket with double consequences: you're still late, but now you have to pay.

Stressed, impatient, angry, miss the details and beauty around you! (just to name a few.)

Dropping and breaking things, cutting self in kitchen, forgetting to lock up

I usually trip and fall!!!!

Anger. Forgetfulness. Short tempered. Rushed. Frustration.

My first thought was not paying attention while driving and nearly causing an accident.

Miss hearing or seeing God in our day.

Odds are you'll have to fix your mistakes. The phrases "there's never time to do it right, but always time to do it over" and "slow down to speed up" come to mind.

Stub your toe, knock something over, leave the house wearing mismatched shoes, forget something like putting on deodorant or brushing your teeth, leave something important at home (or work…depending on where you are leaving from), lower grade because you missed a step in a school assignment, offend someone who thinks you are mad at/snubbing him/her, stress out others, trip and fall, trip over your pet and step on his/her tail, forget to eat, leave your lunch at home…

Become impatient with (i.e., yell at) your kids

Somehow swiping the car into the tie lines of the power line pole…

Forgetting to buckle one of the kids in until down the road she reminds me.

Forgetting those oh-so-important items you were supposed to bring with you!

Less peace, more discontent. Shortness with loved ones and myself. Speeding tickets. Near-misses in all walks of life.

Something always get broken or spilled at our house.

Locking myself out of the house and having to Mission Impossible through a skylight to get back in.

Backing into your husband's car… even WITH a backup camera.

I slammed my son's fingers in the car door one time when I was in a hurry to get somewhere. The place and the reason I was in a hurry are now long forgotten, but the rush to the ER will always be crystal clear in my mind.

Blood pressure goes up, people steer clear of you….etc. I really hate the stress of "running late", and what it does to my overall mood and to those around me.

Put your fingers through not one, not two but three pair of pantyhose then decide–eh, pantyhose, they're overrated anyhow.

Losing jewelry because you didn't have time to put it on so you put it in a pocket to put on later.
One commenter said, "I love all the great examples here. Real eye opener!"
I agree.
Dallas Willard said "we must ruthlessly eliminate hurry from our lives."
Seeing all these consequences together in one place makes it pretty obvious why.
A Little Less Hurry
I'm not suggesting that we pull all-or-nothing routines and all come to a screeching halt.
I am suggesting a little less hurry.
As I've practiced doing just one thing at a time (i.e. stop exercising for a few seconds, remove the earbuds, take off my sweatshirt, replace the earbuds, and then start moving again) I've found that it doesn't take that much more time.
Doing just one thing at a time often saves time in the long run.
Less bruising, fewer chips;
Calm in our relationships.
Greater peace, decreased worry;
Aren't these worth a little less hurry?