And Now for a Word from My Daughter & a Few Pictures of My Tattoos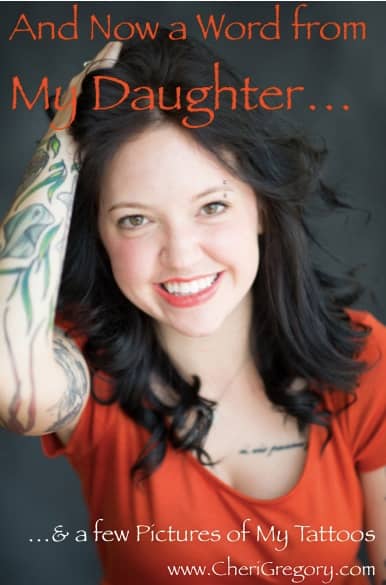 Annemarie and I both feel like it's time for her to join the Tattuesday conversation.
She planned to make a short introduction video to share with you during Christmas break. But then she got sick and lost her voice entirely (for which I may or may not have teased her mercilessly!)
So, today's post comes from a Skype session we had back in the spring of 2014, right before I started blogging this series.
I wanted to dialogue with Annemarie about my reasons, plans, hopes, and fears about blogging through "How to Love Your Daughter When You Hate Her Tattoos."
I also wanted to assure her that I was planning to run every blog post by her, prior to publication, so she could red flag anything she disagreed with.
Here's some of what she had to say that day:
Mom, this is your process.

I appreciate being informed, mostly because at this point that's a big honor. It means a lot to me that you're wrestling with this and willing to struggle with it and trying to process it, and still not okay with it…and maybe will be, maybe won't be, whatever.

I respect that process a lot, even if I don't understand or agree with all of it.

So, I'd like to be a part of this.

But I don't have any business saying, "No, you can't say that." Because if it feels accurate for you, then it's accurate for you. If it felt like a betrayal, then it was a betrayal.

Of course, that's not something I would ever intend; again, my tattoos have nothing to do with you or Dad. But if that's the way it felt for you, that's the way it felt for you.

When you first emailed me about this and mentioned doing it, I was kinda taken aback, in a good way. I was like, "Wow, that's really cool. My mom is talking to me about this. Okay."

I wanted to email you back and say, "Let me tell you all the reasons why you're not okay with it!" But I realized, "Not my place…not my place."

Before you had emailed me, and since then, I've had a couple of conversations with Uncle John. Of course he's very accepting of [my tattoos], but there were a couple of aspects he didn't understand. And I found that interesting.

So we had a couple of good conversations about that. But he did bring up … the home you two grew up in. I was like "Okay, so that means that at least some of what I surmised is correct."

…The taboo surrounding tattoos is … the only thing I didn't really research before making my choice. And part of me wishes I had.

I don't regret any of the tattoos I've gotten, but I didn't realize what community it was placing me in. Because it's changed. It used to be — 10, 20, 30, 40 years ago — these were the meth-heads, these were the drop-outs…

Part of this, Mom, I will never understand until I'm a mother. I want to say right now, "I'm going to let my child get tattoos and piercings; I want them to be of age.

But what if I have a little girl, and I'm like, "Your skin is perfect! NO. I can have tattoos, you can't!"

I might do that! I don't know. I'm not a mother….

You chose Abnigation. I'm Dauntless.

I've always been Dauntless.

The bottom line for me is that they're art. I've chosen/designed them all carefully. So it is hard for me, at times, to understand why they are such a big deal.

That's not me trying to be nonchalant about them; I'm not a parent.

I don't understand what it's like.
If you've watched the video clip included with "What My Daughter's Tattoos Are Teaching Me About Braver Living", you already know that this summer I decided to buy a temporary tattoo or two.
I wanted to enter into Annemarie's experience, without the needles or permanence.
As I browsed Etsy for temporary tattoo designs, I was surprised by how emotional I got while choosing.
I knew them the moment I saw them:
Once they arrived, they got lost in my desk clutter. I told myself that I was saving them "for the perfect time."
Actually, I was chicken. For months.
Well, during Christmas break, I finally tried them on.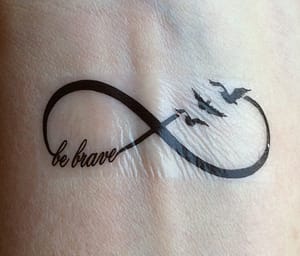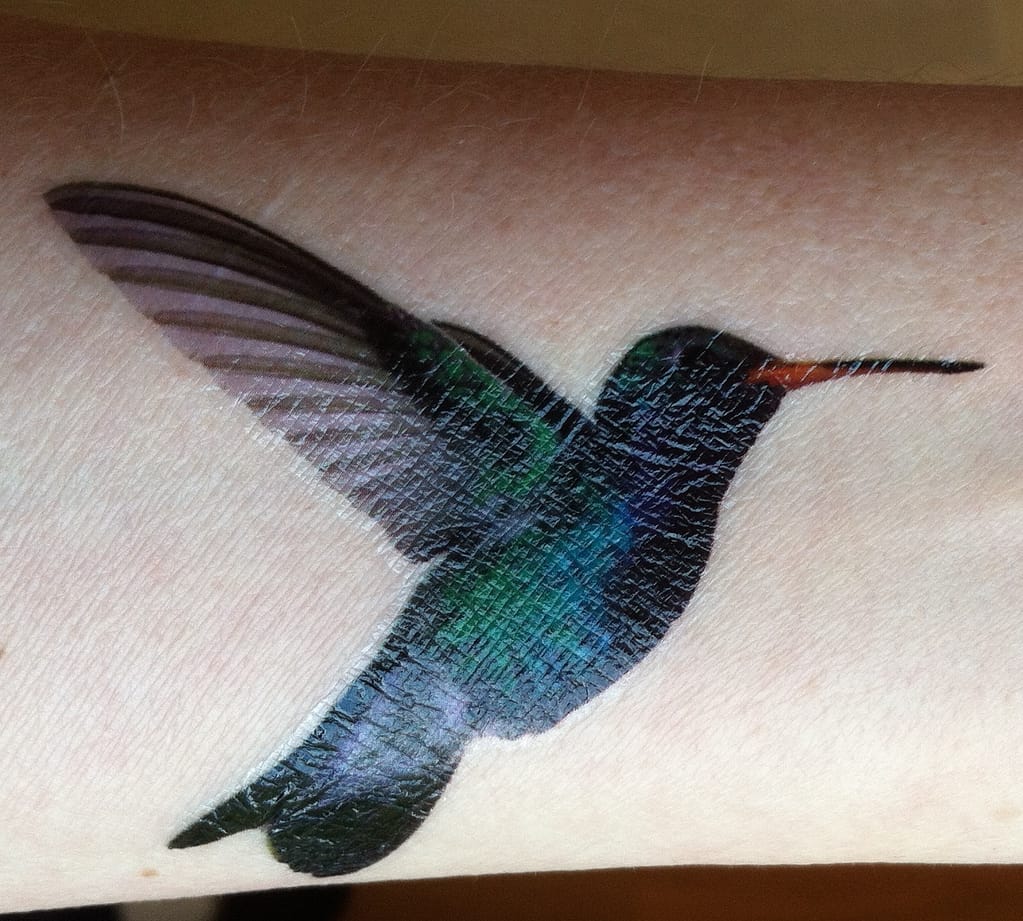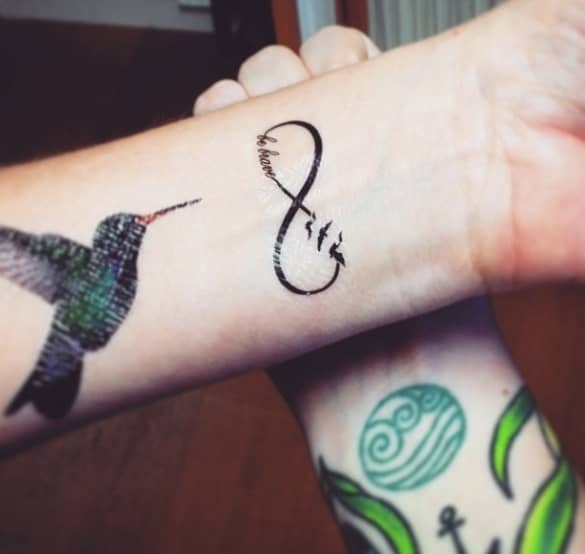 Turns out, for me the process of selecting my tattoos felt far more important than actually wearing them.
But I will confess: I miss my hummingbird.
I will neither confirm nor deny having ordered another one.
(Perhaps even two.)