101 Ideas for Braver Living Gift Giving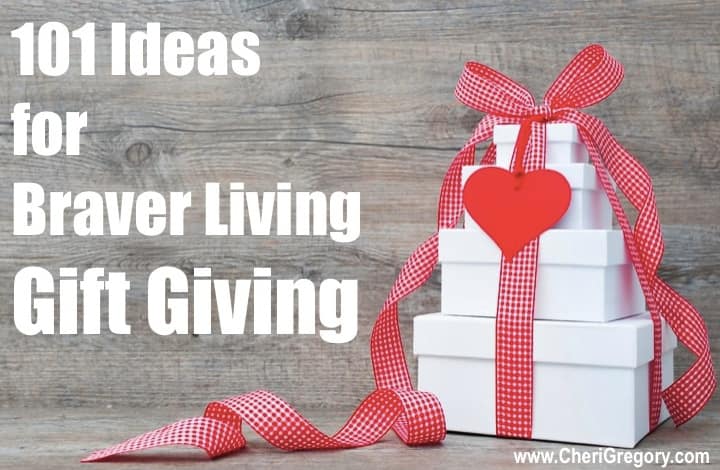 I don't like December.
I feel terrible admitting it.
But for so many years (decades, really) Try-Harder Living overshadowed Christ and family and joy.
Long before Pinterest, Perfectionism barked orders about the kind of tree we had to have (at least 7′ tall, freshly cut). All the cookies I had to bake (from scratch; no boxed mixes allowed.) All the events we had to attend (knee-jerk "yes" to all invitations.)
I still cringe at all the time, energy, and money the People-Pleasing bully used to con me into spending on gifts:
You don't want anyone to be disappointed in you, now, do you?
Is that the perfect gift or should you keep looking?
What if you forget someone?
Don't you want to show your family how much you love them?
On top of these "normal" Try-Harder Living holiday pressures, I spent ten years with the added burden of hitting my sales goals for the direct sales company I belonged to. December was my do-or-die month for earning the yearly incentive trip. (Of course, according to Performancism, failing to qualify for the trip was a non-option.)
And, as a teacher, I had end-of-quarter grades to complete, plus school Christmas programs and parties to coordinate and attend. (Thanks to Procrastination, I was usually waaaaay behind on my grading, causing me to pull all-nighters and even take papers and a red pen to family gatherings.)
So, it's not that I dislike December.
I regret December. So many Decembers, and so much regret.
I don't know what your December regrets may be.
But if you're feeling the weight of Try-Harder Living, too, let's start by receiving the gift we so desperately need:
Grace.
Forgiveness for the past.
A fresh start for today, for this December.
Permission to do what we can, when we can.
And to call it "enough."
My "Top 10 Priceless Gifts that Don't Cost a Dime for a _____ Personality" Series
… for a Melancholy / Analytic Personality

… for a Phlegmatic / Amiable Personality

… for a Choleric / Driving Personality

… for a Sanguine / Expressive Personality
"8 Non-Stuff Gifts Your Friends and Family Will Love"
25 Life-Improving Christmas Gifts for Under $10
35 Gifts Your Children Will Never Forget