How to Fix a Non Gift Giving Husband (Take 2)
Might you be a Highly Sensitive Person ?
Take the "Am I a Highly Sensitive Person?" self-quiz to find out!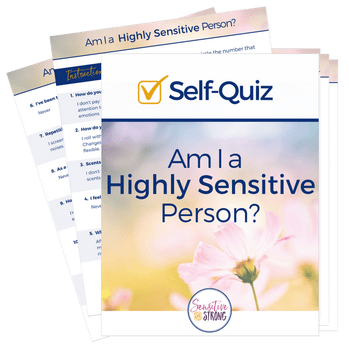 * * * * *
I don't write about controversial topics.
At least not intentionally.
But over the last seven years, my post "How to Fix a Non Gift Giving Husband" has tweaked a few nerves.
My two harshest critics consider me delusional:
"Sounds like you have done a fine job rationalizing a selfish man who is not in touch with you. He will buy presents for the next wife."

"I find this to be a way of self-punishing for your husbands lack of consideration…. Your problem is not trying to control him or change him. Your problem is being married to a selfish man. He does not care about your feelings at all."
Now, I'm not claiming that my perspective is "the truth." It's simply my story of what worked for me. Every marriage is unique; what works for one couple may not work for another.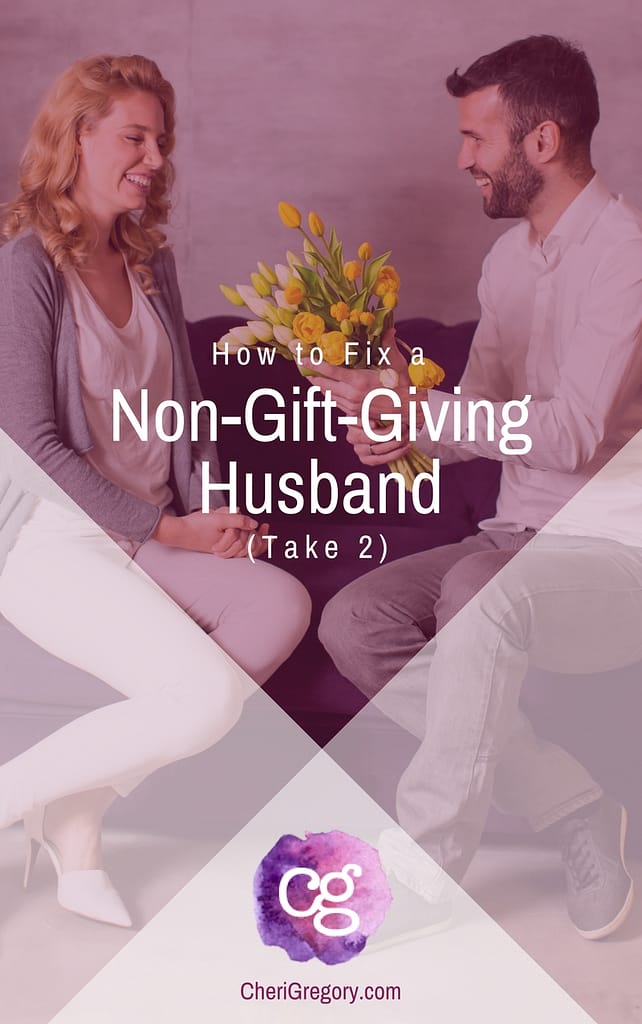 But the funny thing about my original post?
Three times a year, "How to Fix a Non Gift Giving Husband" gets a ton of Google traffic.
It's a top search result for questions like "Why won't my husband get me a gift?" and laments like "My husband never buys me anything!"
Those three times a year?
Valentine's Day

Mother's Day

Christmas
Since so many women are wrestling with this issue, I asked my Facebook friends and fans for their best advice:
Q4U: What's your experience / opinion / position / thoughts on a boyfriend/husband who doesn't / can't / won't give gifts?
If you're talking love languages, I think it is important. It's high on my list and last on my husband's. We've had many talks about the need to express love how the other spouse receives it, but it goes both ways. His top are time and touch, which are as difficult for me as gifts are for him. (KP)
Early years of marriage I cried and got angry and resentful. Then, something clicked and instead of baiting him (gulp) I simply communicated directly: my birthday/etc is in x weeks, I'd like x. And for us it worked. Also, I realized the intense sexual compatibility that we shared as a couple was indeed a gift and one I should not take for granted not diminish. That was 18-years ago and those are still choices I keep today. (JPB)
I have a friend whose husband would buy her very expensive Christmas & birthday presents…..while keeping a mistress or two on the side! Even after moving out of the house this past spring, he sent her $1,000.00 cash for Mother's day. I am certain that she would much rather have had a faithful husband who actually loved and cared about her! (Anon)
My husband can't even remember my birthday, and we have been happily married for 15 years. When my birthday, anniversary or Valentine's rolls around, I just tell him what I want or what I want to do and we do it. Even if I have to go get it myself, I don't mind. I am not a "gotcha girl." I don't hide and watch to see if he remembers. I don't measure his love for me by gifts or no gifts, but that is because it isn't my love language. For some, this is real important though. (GD)
This has been a huge problem for me throughout our marriage. As some very wise women said in a great book: "expecting others to meet my standards of right is nothing short of 'premeditated resentment'." Communication and honesty have done nothing to change this issue in my marriage, so I have prayed that my attitude will change and that I will find a way to make my birthday great without depending on someone else to make it so. (HD)
You know what, this used to drive me crazy and make me feel unloved. I have realized and accepted that it is just not his thing. SO I go out and buy what I want and that settles that. The pressure is off him and I get exactly what I want. (CTHP)
It does not bother nor am I concerned with gifts, etc. You know your husband loves you that is all that is needed. As I have aged I have become more of a minimalist in which I prefer words not stuff. I have made over 40 trips to Goodwill, I do not want clutter or items given to you because that is what society views as love. (CR)
My girlfriend has a husband who didn't think it was important so at Christmas she bought herself a lovely coat, wrapped it up and put it under the tree from her loving husband. On Christmas morning she opened the gift and gushed over the gift thanking him. He said he didn't get her anything and she said, "I know." I think she said something about this is what she would have wanted. He did get a little mad…but it did lead to a discussion later about how she felt when he didn't even try. They buy her gift together now! (CM)
I like gifts but my hubby often forgets. To me, it isn't something that bothers me a lot. I value time over gifts. Because I know it has nothing to do with whether or not he loves me. I just learn to appreciate all the other wonderful things he does daily and not expect gifts, flowers, or cards on holidays. Besides, he buys me chocolate for no reason sometimes and that is wonderful. (CB)
Instead of focusing on the physical gifts…. I've learned to be grateful for the ways in which he loves me. I like sparkly stuff like the next gal, but he also makes me coffee every morning, he is an amazing dad, he dances with me in the kitchen, he leans in when I swirl, he listens, etc. I think it's a matter of perspective. What matters most the gift or the gift-giver? The presents or his presence? Trying to fix your man is kinda insulting… be thankful for what and who and how he is. (JM)
Our solution is a hybrid. I have realized that my husband is not a gift-giver. He is a servant, so I try to look at his acts of service as little presents. I have also let him know that I like gifts. It doesn't so matter what the gift actually is. I just like presents, like a little kid. Because he loves me, he gives me gifts. Once he wrapped up a hand mixer that he wanted and put it under the tree for me to open on Christmas. It's a very sweet memory. (EG)
We agreed a long time ago that there would be no gifts between us. Instead we give greeting cards–about 8-10 per holiday. We leave them for each other to find in all kind of odd places: inside his iPad, on the back of the sink, under the remote. I have saved them all for the past 20 years and now we recycle them! It's a hoot and there is no pressure. (CM)
I think everyone loves in different ways – love languages… He may not buy you gifts, but maybe his gift is quality time, or words of affirmation… Once you know someone's "love language" it becomes so much easier to feel and accept their love the way they best know how to give it… And you stop (hopefully) feeling bad that they aren't "loving" you the way you think they should. Does that make sense? Like you can be so busy focusing on the lack of love in one area, that you miss it in its purest form in another area. (SC)