How God Speaks to Me Through You About My Daughter's Tattoos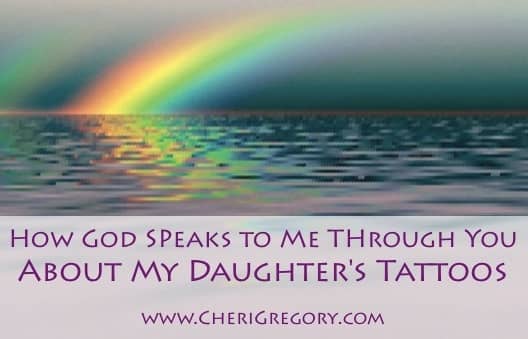 When I launched this "Tattuesday" series, my original plan was to blog weekly.
As in Every. Single. Tuesday.
As Annemarie would say: BAHAHAHAHAHAHAHAHA!!!!!!!!
"Life" quickly prevented me from doing so.
But that's turned out to be a good thing.
Because as comments came pouring in to my first post, I felt the temptation to turn this aspect of my life–and my daughter's life–into a reality show.
What "growth" should I be ready to report this week?
If we videotape a face-to-face conversation between the two of us, that should be good for 6-8 weeks of material!
Wonder how many "shares" I'll get if Annemarie guest blogs?
<Sigh>
Travel, illness, and a long-anticipated book launch have limited me to about a post a month. In retrospect, I see that they've also protected me. I'm finding that I need a buffer of a month (or more) before blogging about "the latest."
How God Speaks to Me Through You
While speaking at a retreat in October, I showed The PERFECT(ionism) Crime, a monologue I wrote and performed three years ago, in which I call out Perfectionism for the crimes he's committed against the women in my family.
What's making me brave enough to finally stand up to Perfectionism is the discovery that my artist daughter's sketch pad is full of blank pages: terrifying evidence that she, too, is starting to believe Perfectionism's oppressive rules: "Nothing's worse than making mistakes" and "Nothing's worse than failure."
After my message, an attendee handed me a note that has changed forever how I view my daughter's tattoos:
(Can't see this 1-minute video clip? Click here to view it directly on YouTube!)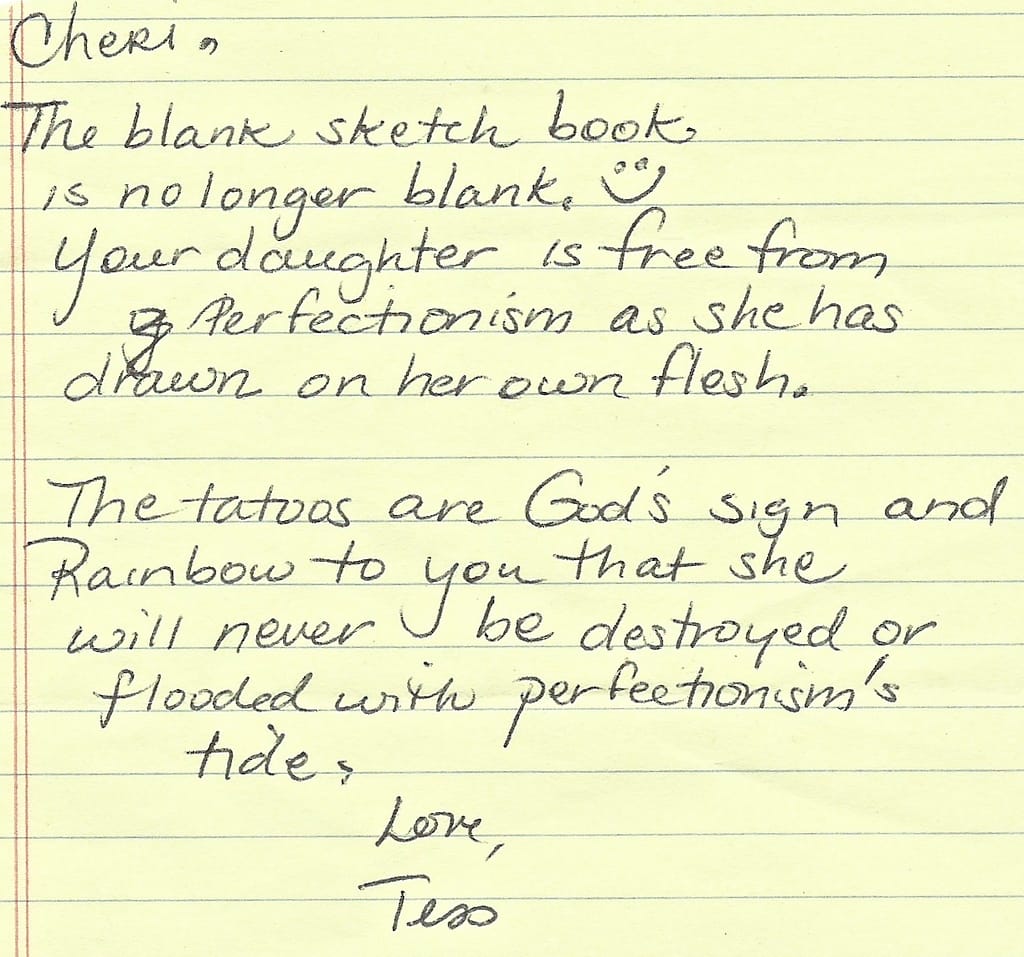 It's been an amazing journey thus far.
And it's far from over!
I still have so much to share that I've learned from all of you. You've left or sent 20,000+ words of comments, Facebook messages, and Emails that have blessed me — I'd say "beyond words," but you know me better than that by now.
I'm still not where I want to be.
But I'm no longer stuck.
I'm on my way to where God plans to take me.
And He's leading me through you.