What My Daughter's Tattoos are Teaching Me About Braver Living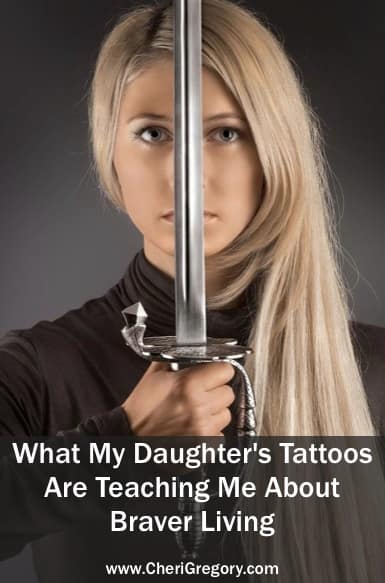 Video covers the same concepts as this blog post, in more detail and depth.
(Can't see video? Click here to view it directly on YouTube!)

Years ago, I made a "gentleman's bet" with God.
I wasn't consciously aware of making the agreement, and He certainly didn't make it back with me.
But I decided that there were just some places I wouldn't go as a parent. That I shouldn't have to go. That nobody could make me go.
For many months, I thought that acknowledging Annemarie's tattoos but asking her to cover them up while she was at home was progress.
Enough progress.
Surely I didn't have to go beyond.
But I was doing exactly what happened in the home where I grew up. Pretending that if we just didn't talk about the "problem"…
…it wasn't really happening
…it would go away by itself
…my child would no longer be "one of those kinds of people"
The "problem" wasn't even Annemarie's tattoos. The real problem was my judgmental attitude toward someone I claimed to love.
Turns out, I've still got a lot to learn about love.
Loving my daughter when she does what I want but then withdrawing from her when she does things I didn't like?
That isn't love.
A list of things "no child of mine" would ever do?
That isn't love.
A line that, once crossed, puts my child outside the bounds of my love?
That isn't love.
The belief "There are some places I shouldn't have to "go" as a mother"?
That isn't love.
These days, I feel like I know more about what love isn't than what it is.
But one thing I do now know:
There is no place Love won't go.
Last summer, while out to dinner with friends, I noticed that our server, a young woman, sported full arm tattoo sleeves.
My initial reaction was, She must be wonderful, just like Annemarie!
I immediately began patting myself on the back for making so much progress.
See? I'm doing so much better!
Days later, the truth sucker punched me:
I've never thought anything positive like that about a person with tattoos before. I'm not "doing so much better" –– I'm just now recognizing how bad I've been all along.
Then, the really hard questions
How many of "those kinds of people" have I judged in my lifetime?
How many have I "just" completely ignored?
What does "those kinds of people" even mean?
I'm learning to look at everyone. In the eye. With a smile.
And the lesson I'm learning — later in life than I wish but hopefully better late than never — is this:
There's only one "kind" of people: individuals, loved by God.