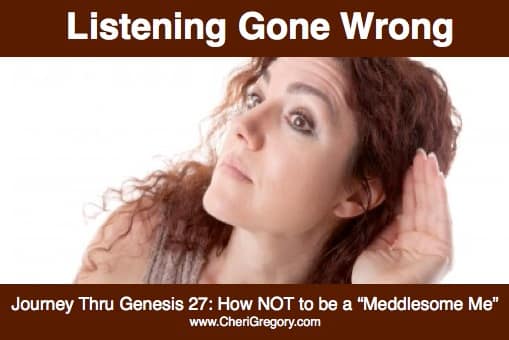 When Isaac was old and his eyes were so weak that he could no longer see, he called for Esau his older son and said to him, "My son."
"Here I am," he answered.
Isaac said, "I am now an old man and don't know the day of my death. Now then, get your equipment—your quiver and bow—and go out to the open country to hunt some wild game for me. Prepare me the kind of tasty food I like and bring it to me to eat, so that I may give you my blessing before I die."
Now Rebekah was listening as Isaac spoke to his son Esau. When Esau left for the open country to hunt game and bring it back, Rebekah said to her son Jacob, "Look, I overheard your father say to your brother Esau, 'Bring me some game and prepare me some tasty food to eat, so that I may give you my blessing in the presence of the Lord before I die.'…"
Now, my son, listen carefully and do what I tell you: Go out to the flock and bring me two choice young goats, so I can prepare some tasty food for your father, just the way he likes it. Then take it to your father to eat, so that he may give you his blessing before he dies."
Genesis 27:1-10
Rebekah Listens…and Adds
"Never ruin a good story with the facts!"
I come from a long line of Armenian story-tellers, and this is our #1 unofficial rule.
When my father or brother or cousins start to "spin a yarn," we all expect a certain amount of poetic license: hyperbole and understatement are essential for a good story!
But did you catch what Rebekah does as she recounts her eavesdropping to Jacob?
Compare what Isaac said to what Rebekah says he said:
Bring me game. (Check)
Prepare tasty food. (Check)
Blessing before I die. (Check)
"In the presence of the Lord." (?)
Rebekah tacks on this last line.
Just the facts don't make a good enough story for her purposes.
So she embellishes with a convenient God-add.
Rebekah Says, "Listen and…"
"I don't mean to tell you what to do, but…"
How often I heard my mother's pet phrase when I was a teenager! It was a red flag that she was about to–you guessed it!–tell me what to do.
Rebekah uses no such soft-sell ease-in approach. She's a Choleric Mama, cooking up a plan!
(We'll explore her recipe for disaster in days to come. Oy vey!)
Rebekah Fails to Listen
Do you notice what Rebekah doesn't do, this time?
Last week, we saw that when faced with a situation out of her control, she took it to God. And He answered her!
But this time, instead of taking it to God, she takes matters into her own hands.
Oh, how I want to point the finger at her, shake my head, and say, "Tsk, Tsk, Rebekah. You should know better!"
But my own hands are far to full.
Try This Today:
As you're building your "God Will Provide" family time line, include a situation in which you took matters into your own hands.
Your Turn!
What's a recent situation in which you felt the urge to take matters into your own hands?