Where'd This Idea Come From?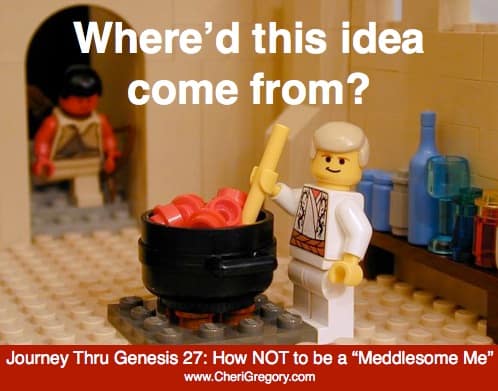 One last scene of backstory, and then (I promise!) we'll dive in to Genesis 27.
Once when Jacob was cooking some stew, Esau came in from the open country, famished. He said to Jacob, "Quick, let me have some of that red stew! I'm famished!" (That is why he was also called Edom.)
Jacob replied, "First sell me your birthright."
"Look, I am about to die," Esau said. "What good is the birthright to me?"
But Jacob said, "Swear to me first." So he swore an oath to him, selling his birthright to Jacob.
Then Jacob gave Esau some bread and some lentil stew. He ate and drank, and then got up and left. So Esau despised his birthright.
Genesis 25:29-34
This story leaves me with so many questions:
Is Esau really "about to die"? Or is he just being a Drama Prince? He is, after all, forming complete sentences and using rational logic!
Where are they? If Jacob is such a homebody, it seems that this scene is set near home. In which case Jacob can't be the only person around with some food.
But my biggest question is this:
Where did Jacob get the idea to barter for the birthright? It's like he's just hanging around, waiting to pounce on something he has no rational reason to want or expect!
Where Children's Ideas Come From
When Annemarie was just two years old, I was on the phone with Bank of America, trying to solve a financial crisis I'd created…again! I hadn't kept track of the checks I'd written, and I'd made some deposits late. The consequences were several days' worth of NSF charges that landed us in a negative balance which, of course, just kept triggering more NF charges.
As the customer service representative refused my logical and then emotional pleas to reverse the charges, I burst out crying, "But we have no money! We have no money!"
About an hour after I got off the phone, Annemarie, who had been playing quietly on the floor in the family room, suddenly began throwing her toys around.
"No pennies!" she cried, in a voice of despair. "No pennies!"
At first I was confused, but then I realized, with horror, that my little girl was an emotional sponge, mopping up her mama's overflowing feelings. Although she had no rational framework for my problem, my child had absorbed my emotions. She had internalized my despair and was acting out of fears that she knew nothing about but had taken straight to heart.
Did Rebekah's Need Became Jacob's Idea?
I don't think that bartering for a birthright was Jacob's idea.
No, I can't prove it.
I can't prove that Rebekah told Jacob what God had told her about her older son serving her younger son.
And she may not have told him…at least not in so many words.
But I can't help but wonder if, like my own toddler, Jacob started to absorb his Mama's emotions at a tender age.
If, as he grew older, the injustice of "no birthright!" felt so normal that obtaining that birthright at any cost became the next logical step.
This comment about parenting, from Brene Brown's book Daring Greatly, jumped out and shoved my face in the mirror this weekend: "Who we are matters way more than what we know or what we wish we were."
And it makes me ask about Rebekah, about myself, and about anyone who is a mother:
1. Who are you?
2. What emotions / ideas is your child absorbing from you?
Try This Today:
As you're building your "God Will Provide" family time line, see if you can add at least one time when an adult's emotions were absorbed by a child. This may be a positive event or a negative event, joyous or scary.
Your Turn!
Share a time when you recognized that someone younger than you was absorbing your emotions.