She Knew: A Re-Mothering Memory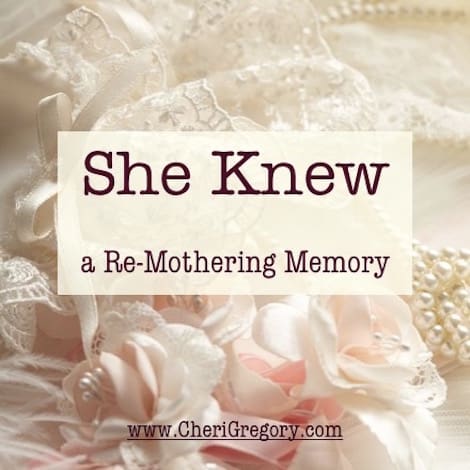 Last night, I shared this essay with my classmates in the memoir course I'm taking with Marion Roach Smith. Since Mother's Day is just around the corner, I'm sharing it with you today.
*****
(Backstory: Several years ago, Mother declined suddenly from early to late stage Alzheimer's Disease and was placed on hospice. Daddy, John, and I met and planned her memorial service. We knew we'd want to make a video of photos of Mother throughout the years, which meant that I needed to dig thru boxes of photos and stacks of albums.)
While sorting and scanning photos, I discover one I've never seen before. Front and center is Mother as a young woman, trying on her wedding gown and veil for the first time.
Grandma, smiling proudly, holds up a hand mirror so Mother can see herself from the back in the changing room's full-length angled mirrors.
The camera captured the bride-to-be as she reaches up, tentatively, to touch the tiara; her eyes sparkle with surprised delight at her own beauty. If her dress hadn't been so long, she might have twirled.
She knew. After decades of assuring myself that Mother just didn't understand, I hold in my hands concrete proof that I've been wrong all along.
She knew how important it was. I move the yellowed black and white photograph away as tears pelt my lap.
She knew how important it was for a girl to have her mother go dress shopping with her. I reach for my wedding album and turn to the photo I hate most: me trying on my wedding gown in the bridal store, without her.
She knew how important it was, but she still refused to come. I hated the dress I ended up buying. If we'd gotten married a year later, when she wanted us to, Mother would have kept me from choosing those hideous leg-of-mutton sleeves.
But it was never about the dress, which was merely an outward symbol of a lifetime of disappointment. Who knows which runs deeper: hers in me or mine in her.
In the imaginary life I scripted long ago, shopping together for my wedding dress was the one mother-daughter bonding experience that would atone for decades of distance and disagreement. I'd pictured myself parading around in gown after gown, Mother pointing out the pros and cons of each one, the two of us dissolving into giggle fits.
It was all a lunatic fantasy. Mother's laughter was long extinct. And shopping with her was never an adventure to enjoy but a chore to endure.
Except for the one time when…
I pull out the scrapbook Mother made commemorating my high school years. With trembling hands, I find the page that holds my favorite photo: me in my first prom dress. For one magical night, it transformed me from gawky geeky girl to elegant princess—Princess Diana, to be precise, for the dress was modeled after her wedding gown.
We found it on a Nordstrom clearance rack. Even at seventy percent off, I couldn't imagine touching it, let along trying it on.
But Mother insisted.
When I stood before the three-way mirrors, my throat constricted with wonder and longing. It was too much to ask; such a sum of money for a single-use dress was unconscionable.
While I resigned myself to heading home empty-handed, Mother carried the dress out of the changing room. When she walked by the clearance rack, I inhaled sharply, followed slowly.
As she handed the dress to the cashier and pulled out her credit card, I stepped close, whispering, "What are you doing?"
Her eyes twinkled. The corners of her mouth curved up in the slightest conspiratorial smile. And she giggled.
I loved that dress. I loved the absurdly poofy sleeves, the high lace neck, the enormous bow in the back. I loved the way Mother spent hours putting my hair up for the prom. I loved how she laughed, in spite of herself, as I pranced around the living room late that night, regaling her with my tale of miniature golfing afterward. I have always loved how looking at this photo of me in that dress makes me feel.
She knew. And I know now what I need to do.
I pull the picture I've always hated out of my wedding album, toss it in a box, take it back out, give it one last glance, crumple it, and throw it in the trash.
I gently remove the photo I love from my high school scrapbook and reverantly add it to my wedding album.
She knew how important it was for a girl to have her mother go dress shopping with her.
And she did go dress shopping with me.