How to Deal With Your Parents' Clutter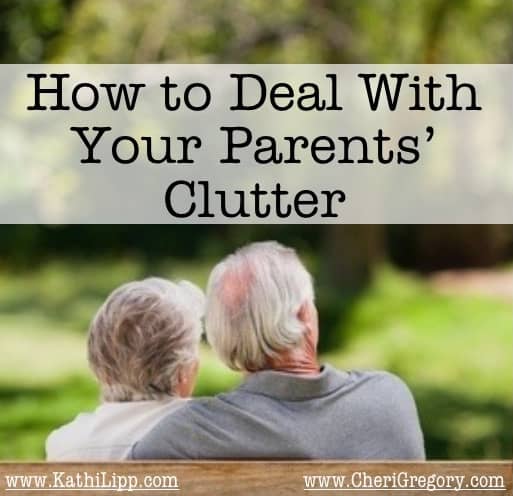 How do we deal with other people's clutter? What if it's your parents' clutter? And what if you are living in their house…… for free?
One listener asked my co-author Kathi Lipp, author of Clutter Free, for advice on a very overwhelming situation related to someone else's clutter, and she invited me to the Clutter Free Academy Podcast to weigh in.
Here's the listener's letter:
I've got a unique case I'd like to bring up to you (Kathi, and/or whoever else reads this.)

A year ago my husband applied for a job in our hometown. It was an hour away from where we were living. We talked with my parents to see if we could possibly live with them while our house sold (just in case he got the job.) He got the job…and we moved. My parents felt this was the jumpstart they needed to finally move to the lake. So, really we got to live in their house while ours was for sale.

Problem was/is: Their new place is WAAAAAY too small for all their stuff. And they're on the verge of hoarders. I say that loosely… They just have a lot of junk and aren't organized or clean. I was mortified when a phone company guy came today to fix the internet and had to see the clutter and mess. (We are able to close the doors on their mess as we've contained it to rooms that have become unusable to us.)

What can I do? Where do I start? How can I motivate them?

Feel free to use my circumstances in a podcast…. I'm at my wits end and it's frustrating my husband. It adds stress to myself, my kids, and my husband. Yet, they're letting us stay here rent free while our house is now being rented (we couldn't sell it.)

Utterly overwhelmed,

Trapped by Clutter
Turns out, there is a lot to consider when facing a situation like this.
What questions do you ask yourself?
What questions do you ask your parents?
In the end, there are important conversations we all need to have in order to understand the stories behind our parents' treasures.
Head on over to Kathi's blog to listen … and then share your insights on this tough topic!
Episode #191-Overwhelming Situations with Cheri Gregory