How to Overcome Perfectionism with Humor
Maybe she won't notice.
I sneak the odd-shaped object into our Target cart while Kathi's back is turned.
But once we're at checkout, I can't conceal such a conspicuous item.
"Why on earth …" Kathi begins.
"Don't ask!" I cut her off at the pass.
"Why not just …" she suggests.
"No way on earth am I asking our hostess if I can borrow one!" I insist.
Kathi stares at me and shakes her head in disbelief.
"You've seen how perfectly she's decorated her house! How perfectly she coordinates her clothes! How perfectly she styles her hair!"
Kathi nods in agreement while giving me the exaggerated eye roll only a BFF would dare.
"My first conversation with her is not going to start with, 'Hey … can I borrow a toilet plunger?' "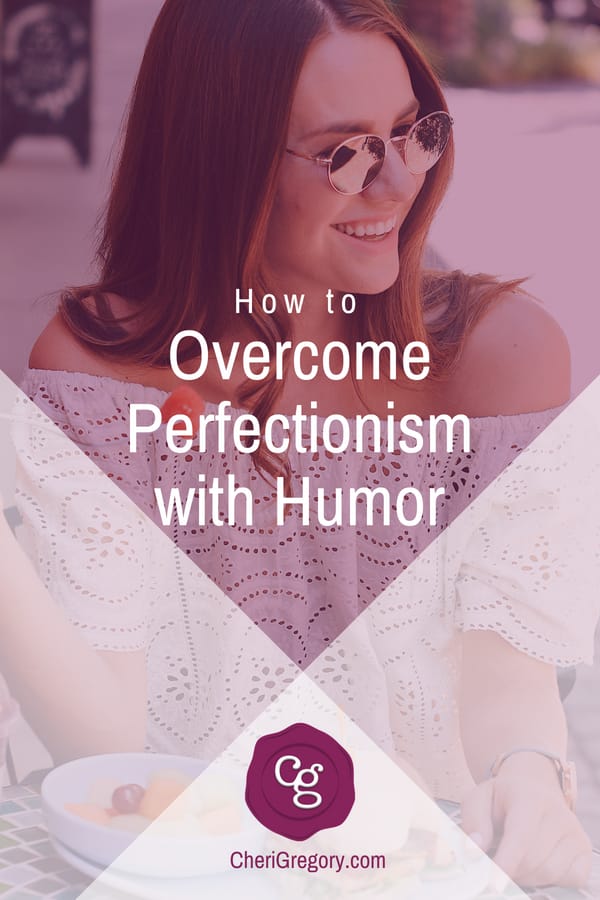 Back to the Air BnB …
"How are you going to get … it … into the house?" Kathi asks, as we drive back to our Air BnB, her voice containing far too much glee.
"I'll figure out a way," I say.
"What are you going to do if … it … doesn't work?"
"I'll confess and pay for a plumber," I reply.
In the silence that ensues, I offer up a silent prayer—one that's not particularly spiritual, but very practical.
Please let it work. I will die of shame if I have to admit that the first thing I did as her guest was stop up her plumbing.
"What will you do with … it … after you use it?"
I fix Kathi with a death glare, but she's driving and doesn't notice. "I will wash it thoroughly, wrap it in plastic bags, and put it in my suitcase!"
"I want to see the face of the TSA agent who scans that bag!"
I giggle. "Now that you mention it, so do I!"
Option B
Back at the Air BnB, our home base for a week-long writing retreat, we spend several hours working hard on our respective writing projects. Then Kathi takes a break.
"Come here!" she calls, waving me over to a corner of the room.
She points to a puppy pad spread on the floor.
"Is this your Option B in case the plunger doesn't work?"
We dissolve into a giggle fit, which may or may not have included me gasping, "You mock my pain. Never do it again!"
When we return to our writing, I pause to pray-cess:
Why am I so reluctant to simply 'fess up to our hostess?
We spent an hour talking with her, and she is absolutely lovely. Down-to-earth. Authentic. Totally NOT a perfectionist.
Why didn't I just tell her? Why do I feel the need to hide?
Getting … it … Into the House
After dark, I dress in my baggiest clothes: drawstring sweatpants and an oversized sweatshirt with a hood.
I sneak out the front door, grab the toilet plunger from the car, shove it under my clothes, and waddle back to the house.
It's no easy feat to walk nonchalantly through a house with a plunger handle sticking up through the the neck of your sweatshirt, banging mercilessly against your ear. But I arrive downstairs undetected.
"Are you going to try it now?" Kathi asks, cell phone suspiciously in hand … and likely set to "video".
"No," I reply, in mock annoyance. "I'm waiting until you're asleep."
Which I do.
And we can all be very grateful that my late-night victory dance will never see the light of YouTube.
What to Do With … it
I'm already up the next morning when Kathi comes out of her room.
"Yes," I say, not looking up from my writing.
"Now what?" she asks.
"Maybe I can wrap it up in plastic bags, sneak it back out, and throw it away in a dumpster somewhere?"
I look up to see if I've managed to horrify her.
Which I have.
"Just kidding," I assure her. "In fact, I think I'll come clean."
"You're gonna tell her?"
"Not exactly. But we need to stop by the store again."
The Weirdest Hostess Gift Ever
Back at Target, we pick out the perfect bow — it's gold and glittery and screams, "Notice me!"
I'm done hiding.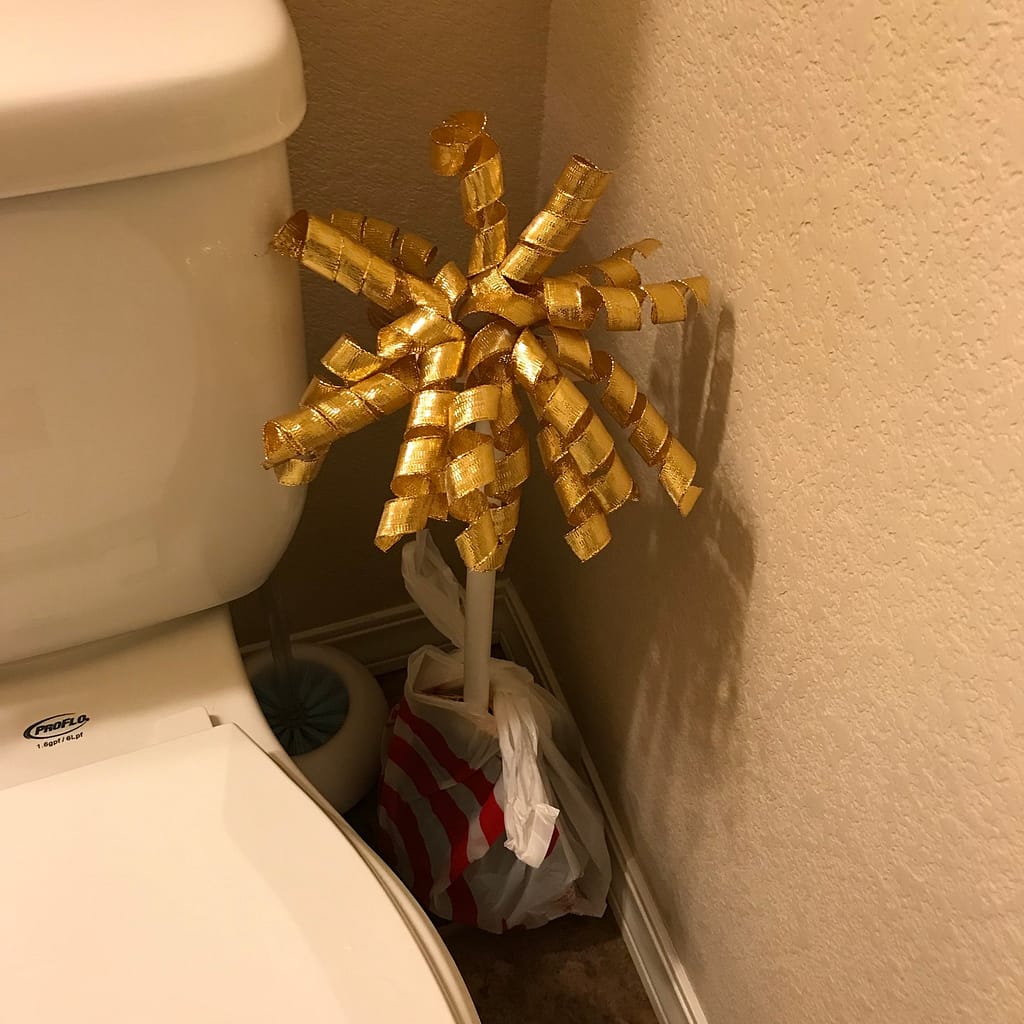 On the morning we leave our Air BnB, I stick the bow atop the plunger and leave a note, assuring our hostess "…one day I'll tell you the story behind the weirdest hostess gift ever!"
It's the story of my life, really.
With Perfectionism as the villain, Laughter as the hero.
I used to consider Perfectionism this larger-than-life villain who attacked me from every side. I saw him in others' expectations, others' demands, others' disappointed faces … even in another's house, clothes, and hair.
And I used to believe Laughter was a frivolous luxury.
But I'm learning that the real problem is how I pack Perfectionism with me.
I'm the one who brought Perfectionism into the Air BnB, not our hostess.
And I'm learning that laughing at my own absurdity with a trusted friend can shrink Perfectionism, and his side-kick Shame, right down to manageable size.
How to Overcome Perfectionism with Humor
One of Perfectionism's most powerful tactics is to convince us that every problem we face is So Very Serious with So Much At Stake.
When well-intentioned friends and family members suggest that we "lighten up a little*," Perfectionism convinces us "They clearly don't understand!" and, thus, "They can't be trusted!"
Here are three quick steps we can practice as we learn to overcome perfectionism with humor:
1 — Watch
Step outside of the situation and watch yourself.
Ask: If I weren't me, what would I think of myself right now?
This will give you a bit of distance and perspective.
2 — Name
Give yourself a character description, as if you've given a minor role in a play.
Ask: Am I Sad Girl in the Park? Worried Woman Waiting for a Call? Ashamed Lady with Toilet Plunger?
This will help you recognize how Perfectionism shrinks you from a multi-faceted person into a simplistic caricature.
3 — Laugh
Laugh not at yourself, but at the absurdity of who Perfectionism is trying to get you to become.
Ask: One year from today, what might be the punch-line of this story?
Finding the funny takes control away from Perfectionism and puts the reins of your story — or at least how you tell your story — back in your own hands.
Watch. Cast. Laugh.
As often as possible, take these three steps with a friend by your side.
And be the friend who helps a friend learn how to overcome perfectionism with humor, too.