How to Live Now So Your Future Self Will Thank You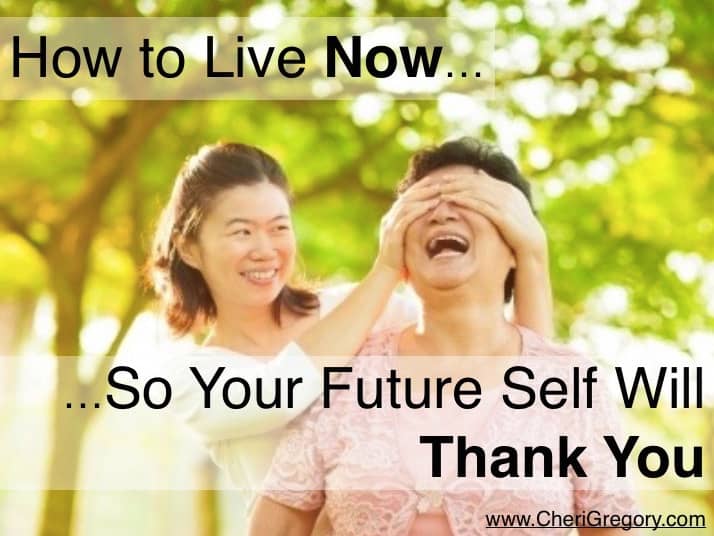 This morning, I'm giddy with gratitude for my Yesterday Self.
She didn't over-react!
Oh, she started to: her stomach churned, her neck knotted, her jaw clenched…
Then she remembered:
I don't like how it feels at the time.
I really don't like where it takes me.
And since the ride hadn't yet left the station, she got off.
Whew!
Here's the giddiness-inspired convo between my two selves:
Today Self: Thank you! Thank you SO much!
Yesterday Self: Oh, it was nothing.
Today Self: Oh, it is SO much more than you know! Do you have any idea of the clean-up job I do not have to do today? All because you didn't make a big mess!
Yesterday Self: If you say so. Happy to be of service.
The One "Hypothetical Life" Worth Living
Now, I've spent decades living hypothetical future lives.
I've followed endless "what if…" rabbit trails.
I've exhausted myself meddling in other people's future lives, trying to sway their choices and control the outcomes.
In other words, I've tried to live a lot of future lives that I have no right to live.
But I've managed to miss the one not-yet-lived life that I have every right to access: my own Future Self.
What might happen if I were to redirect all the time and energy that I've been pouring into
worrying about the unknown…
meddling in other people's lives…
trying to control outcomes…
…into conversations with my own Future Self?
What might I learn from her?
A Hypothetical Convo Worth Having
Now Self: I'm so upset, I feel like eating an entire bag of M&Ms. Whatcha think?
Future Self: How about a handful? If you have a handful now, I can still be who you want me to be. But if you have a full bag, you'll really limit my options.
Now Self: What do you mean?
Future Self: Every choice you make determines my options.
Now Self: Wow. I never think of it that way.
Future Self: Tell me about it. Here I am, with the heart and soul of an artist, doing janitorial work practically 24/7!
Now Self: Hey, now, don't blame me for that. I hate blame. Blame makes me want to eat M&Ms.
Future Self: No blame, no shame. Just cause-and-effect. You make messes; I clean them up. What you do impacts what I can – and can't – do.
Now Self: Hmmm. What would you do more often if I'd let you?
Future Self: I was created for beauty and joy and delight and connection. So are you! I hate to see you settle for so little when so much more is possible.
Now Self: So, how can I cause less clean-up and more creativity?
Future Self: Try this the next time you sense a mess brewing:
Next, pray that very question "How can I cause less clean up and more creativity?"
Then – and this is very very VERY important (and very very VERY hard for you) – wait. Instead of being so re-active (which is what makes all your messes!) try being more response-able.
Now Self: Are you sure this is worth the effort? It sounds so much easier to just eat the bag of M&Ms.
Future Self: Have a handful. I will thank you. I promise.
Testing My Hypothesis
This is 100% hypothetical.
I haven't tried any of it yet.
But having dealt with my hats and roles and goals, I suspect that chatting with my Future Self will be a powerful way to "go back to my goals" and "remember who I am" when I'm feeling blindsided.
Sort of an instant ad hoc committe meeting with me, my Future Self, and the One who knows the end from the beginning.
Engaging with my Future Self sounds so much more useful than wearing myself out in hypothetical lives that I'll never actually live.
I'm excited to meet regularly with my Future Self! I want to get to know her better. I want to make her proud.
And I want my Future Self to be able to say, "Thank you!" for the choices I'm making today.
What question(s) could you ask your Future Self?
* * * * *
Sign up here for my 10-Day Email series!