Why No Gift From My Husband is Not a Problem
Might you be a Highly Sensitive Person ?
Take the "Am I a Highly Sensitive Person?" self-quiz to find out!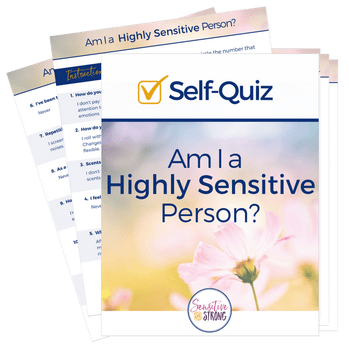 * * * * *
Daniel and I laugh at them now.
But I used to take the negative comments on what's become my most popular blog post – How to Fix a Non Gift-Giving Husband – soooooo personally.
How could people who don't even know me or my husband so confidently
proclaim him 100% selfish?
prod me to leave what they call an "emotionally abusive" relationship?
predict that he either is buying gifts for a mistress…or soon will be?
In Part 2, I tried to clarify, sharing perspectives from more than a dozen women who have wrestled with the very issue.
Yet the dismay continued.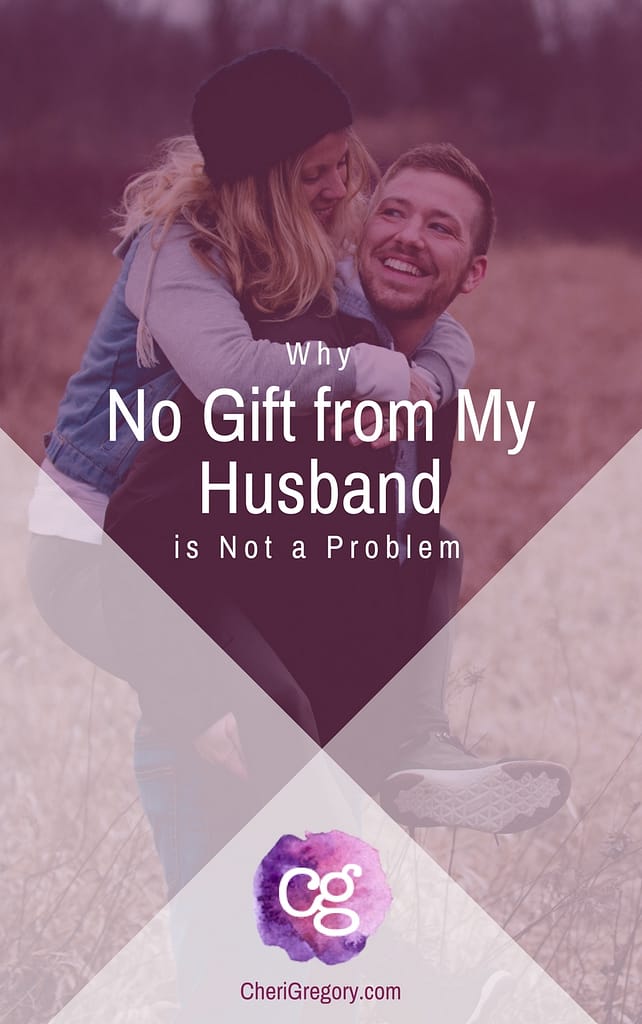 Now, thanks to a recent Email, plus help from my Facebook friends, I finally understand why!
"My Heart Sank"
In reading this post, I was REALLY hoping that it would end with something along the lines of, "Although it took a lot of work and discussion, my husband is now a thoughtful gift giver."

When that didn't happen, my heart sank.

Since last Valentine's Day, I haven't gotten a single gift…including our 1st wedding anniversary, my birthday, and Christmas. I knocked it out of the park for our anniversary, and I didn't even get card until I pleaded.

I don't think it's fair or right.

Yes, I'm a grown woman and I can go out and buy the things I want for myself, but it's nice to be slightly spoiled by your husband like we do for them.

Him cleaning the litter box and doing the dishes does not make up for flubbing on every single special occasion.
This takes me right back to when Daniel and I started dating (32 years and 3 months ago, to be exact!)
Valentine's Day is a milestone for us.
I got cards and flowers and gifts when we were dating, and I loved them!
Once we got married, the cards and flowers and gifts stopped.
I was devastated.
Confused.
Angry.
Hurt.
"WHY No Gift?"
Here's the question I posed to my Facebook friends:
Commenters to Part 1 have insisted that a man who does not give gifts to his wife/girlfriend is selfish, immature, and worthless. PLUS, he is giving them to his mistress…or soon will.

Granted, these are possible reasons in some cases. But surely they're not the only reasons in all cases?

Q4U: Why ELSE might a man NOT get a gift for his wife/girlfriend on a special occasion*?

(* The Big 5 seem to be: Valentine's Day, Mother's Day [if applicable], Christmas, her birthday, and their anniversary.)
The answers, in no particular order, include:
What if he expresses his love in some other way than the giving of objects as gifts?
He may be very affectionate, but just be clueless.
Not his love language so he honestly doesn't get it.
Giving gifts in the past hasn't gone over well (he tried to come up with an idea on his own but she didn't love it, wrong size, wrong color) so he's given up.
Or perhaps the flowers he so thoughtfully brought made his beloved's allergies activate, so he stopped bringing flowers?
Perhaps he had not been taught the art of getting presents the other person enjoys, so he brought presents that he liked?
Perhaps the gifts he has given in the past were not greeted with the fanfare that he expected?
Perhaps his desire to please and be accepted was so tied to the response of the gift that it hurt too bad and was too much of a risk of rejection?
No reciprocation/reward will build up over time. "Why am I making all the effort, here?" is one of the few resentments one man will admit to another.
Because (says the guy) the holiday is made up by Hallmark as a way to artificially make money. So he boycotts the day saying you should declare love every day.
Feeling sexually deprived.
I think they boil down to three core reasons: 1) I didn't think of it, 2) I didn't have the resources, and 3) I didn't really want to.
Some men find it offensive to be forced to show affection at a particular time. They feel like that takes the spontaneity and true affection out of the event.
If he isn't wired that way and hasn't been "trained" otherwise, it just doesn't register that he should buy her something.
Many men are so wrapped up in their jobs and schedules that they don't even realize that a special day (anniversary, holiday) is coming, even if the wife talks about it.
He has no idea what you want! (One year, my friend got a pecan crusher…)
Receiving gifts is not my husband's love language, so he doesn't think that way. Also, he didn't pick up on my hints well, but didn't want me to tell him point blank cause then it wasn't a surprise.
We don't always have money in the budget.
I complain about the gifts he buys and after a while, so why keep trying?
What Gift Actually Means
Hang in here with me…we're about to get to the ah-HA! moment.
But first, a couple of definitions, courtesy of Dictionary.com:
gift =
something

given

voluntarily

without

payment

in

return
something

bestowed

or

acquired

without

any

particular

effort

by

the

recipient

or

without

its

being

earned
But there's something about the Big 5 makes the line between a "gift" and an "obligation" razor thin…and sharp.
There's something about a specific, arbitrary calendar date that promotes expectations which quickly mutate into "premeditated resentment."
Why?
The Meanings We Give to Gift
Gifts mean different things to different people.
For some, gifts are symbols of true love.
For some, gifts are little more than symbolic gestures.
For some, gifts are a waste of time and money.
We each assign meaning to gifts.
And we assume that gifts mean the same thing to everyone else.
So when the man in my life gives me no gift for Valentine's Day, I "know" what it means because I know exactly what it would mean if I failed to give him a gift!
And herein lies The Problem.
No gift on Valentine's Day isn't The Problem.
It's not even a problem.
No gift on Valentine's Day is a symptom, not a problem.
Yet on February 15, thousands of devastated, confused, angry, hurt women will be trying their hardest to solve a symptom.
Symptoms vs. Problems
So what is the real problem in your relationship?
I don't know.
The same symptom can signal dozens, perhaps hundreds, of vastly different problems.
Re-read the "WHY" list above. You'll find plenty of real problems; which ones feel like they fit your situation?
And I now realize that every "negative" commenter has expressed concern over real problems. Serious problems, like selfishness, adultery, and abuse.
The symptom of "no gift on Valentine's Day" signals a different problems in every relationship.
There is no one-size-fits-all answer.
The one thing I'm pretty sure of?
Figuring out how to Get the Guy to Give a Gift isn't going to solve most real relationship problems.
Okay, a second thing I'm pretty sure of:
Figuring out how to Get the Guy to Give a Gift isn't going to cure devastation, confusion, hurt, and anger. They, too, are symptoms. Signals that there are relational problems, and individual problems (which always impact the relationship) that need to be addressed.
Don't waste your time trying to solve a symptom.
Follow the symptom back to the problem.
Solve the problem, not the symptom.
Real Solutions to Real Problems
I'll wrap up by sharing my favorite resources that offer real solutions to real problems.
1) "The Marriage Tip Only Few People Know (P.S. It Changes Everything)" – This is a game-changing blog post by Fawn Weaver of The Happy Wives Club.
2) Assume Love – Paradigm-altering blog written by Patty Newbold.
3) The 5 Love Languages – If the main problem you're facing is that you and your man have different love languages, you can find very practical solutions here!
4) Kathi Lipp – Check out her amazing books The Husband Project and Happy Habits for Couples
"Freely you have received; freely give."
(Matthew 10:8)