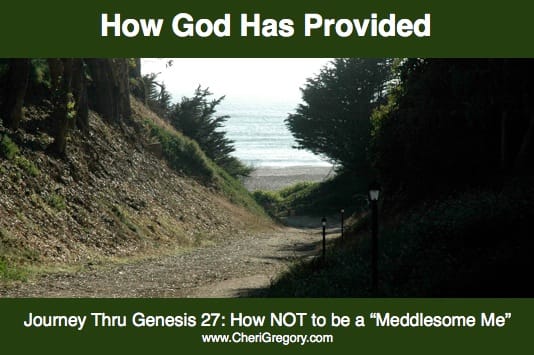 1984 "

Why is this happening to me?

"
The guy I was certain I'd marry dumped me. I pined for two years.
1986
I learned that the guy I was still hoping would marry me had been the cause of multiple abortions. I immediately recalled that time alone in his aunt's house…and the frantic phone call from my mother that got me out of the house just in time. By far one of the greatest evidences of God's hand in my life!
1987

A child experiencing the consequences of her own choices
I chose to drive for too long without stopping to eat, drink or use the restroom. Six hours in to my trip, with blinding sun in my eyes, I made a sudden switch from the fast lane to the slow lane without realizing the slow lane was almost stopped. I totaled both my car and the one I hit. I couldn't afford to buy another car, but a family friend rented me a truck for the rest of the summer so I could get to and from work. I was spared horrific consequences but still dealt with disappointment and struggle.
1992

Needing great trust in God
Jonathon tried to come 3 months early and then was born 3 weeks early with under-developed lungs. That week in the NICU was scary stuff. By the time we brought him home, though, his lungs worked just fine! And with each developmental milestone crossed, we breathed another prayer of thanks.
1995-2015

Taking matters into my own hands
I was involved in in direct sales, with eight of these years as a trip-earning Sales Director. Any time I "needed" more sales in order to "earn" an award, I increased the limit on our credit cards and bought inventory. I didn't see the dis-ease of my drive to "succeed" until years after leaving. God has helped me recognize many unhealthy patterns from those years so that I now recognize when I'm "slipping back to direct sales days."
1997

A child's emotions absorbed by an adult
It was a few days before Jonathon started kindergarten, and I jokingly said to him, "Jonathon, how will I find my car without you to remember where I parked?" to which he looked stricken and replied, "Mama, I don't know. I'd better not go to school and stay to help you!" God has blessed me with two highly-sensitive children (remember Annemarie's "no pennies"?!?) and regularly reminds me of my responsibility not to over-burden them with my "stuff"…but to take it to Him.
2006 Choosing to say "

We will go

"
We moved from southern California to central California coast with two kids who didn't want to change schools, a house that wasn't selling in a market that was tanking, two new car loans, a pile of graduate school student loans. Downsized from 2500 square feet + 3-car garage to 1800 square feet + 1-car garage, from two full-time incomes to one full-time income. We had no idea what our future would hold, and looking back seven years later, we couldn't have predicted all the blessings if we'd tried!
2013

Choosing challenge over comfort
Daniel has been under great conviction regarding his health for the last two years. I've watched him analyze his nutritional intake, his exercise, his sleep, and make radical changes. (He's just about wept to learn how much fat and/or sugar are in his favorite foods!) He is healthier now than when we met 28 years ago (although he still pines for the hair he had back then!) And none of these changes have had anything to do with me or my hinting / nagging!
Try This Today:
As you're building your "God Will Provide" family time line, include a time when you paused to reflect on your blessings…perhaps a specific birthday or anniversary or other special celebration.
Your Turn!
What's one clear "God Has Provided" from your family time-line?