Betrayal vs. Lovingkindness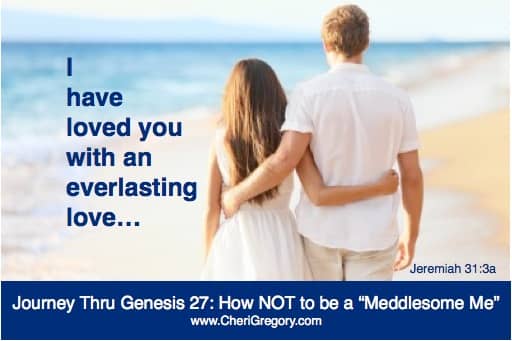 So [Jacob] went and got [the choice young goats] and brought them to his mother, and she prepared some tasty food, just the way his father liked it.
Then Rebekah took the best clothes of Esau her older son, which she had in the house, and put them on her younger son Jacob.
She also covered his hands and the smooth part of his neck with the goatskins.
Then she handed to her son Jacob the tasty food and the bread she had made.
Genesis 27:14-17
Rebekah knows her husband and her sons.
She knows just the way Isaac likes his "tasty food" prepared.

She knows exactly where Esau's "best clothes" are stored.

She knows that Jacob's hands and neck are smooth.
Rebekah knows the most important things about the most important men in her life.
And she uses her intimate knowledge of each man against him.
I Can't Believe What She Did!
Oh, the outrage I want to feel!
Oh, how I want to insist, "I would never betray my husband or my sons like that!"
(Betrayal of one's husband is, of course, a betrayal of one's sons…but we'll save that for another day!)
Oh, how badly I want to report that "I would never use intimate knowledge of my husband against him!"
But I still remember Thursday night.
I Don't Want to Believe What I Did
Last Thursday night.
The night before I left to speak for women at a retreat on the topic of God's love.
Daniel and I were at an event for which he'd arrived early to set up and run the sound system.
When the event was over, I quipped to him, "I'll see you in the morning."
To a bystander, this sounded innocent enough.
It was not.
My real message was: I know how this will play out. You'll be here all night wrapping up cords. I won't bother waiting up for you because microphones matter more to you than me.
Daniel surprised me by replying, "No, this won't take long. I should be home by 9:30."
It was 9:10 when he said this.
I laughed and headed home.
What I Did
I knew he would not be home by 9:30.
I knew from years–no, make that decades!–of experience that in his desire to pacify me he had, once again, grossly underestimated the number of things that could and would go wrong in the take-down process.
I had knowledge–intimate knowledge–that he would be lucky to be home by 10:30.
And I used my intimate knowledge of my man against him.
First, I decided that he'd promised to be home by 9:30.
Then, I concocted that I'd been looking forward all day to spending time with him.
Finally, I threw in that if he didn't come home on time, it meant that he wasn't trying nearly as hard as me to make our marriage work.
Why I Did It
If you have no idea what I'm talking about, praise God that your heart is not nearly as hard as mine.
If you recognize this script, then you can write the rest of the story.
By 9:40, I was hurt.
By 9:50, I was wounded.
By 10:00, I was outraged.
At 10:15, when he walked upstairs with tired steps and asked me why I was doing laundry when he'd already run it all in the morning, I chewed him up one side and down the other.
And felt 100% justified.
Not until the next morning did I remember Jeremiah 31:3.
The verse God's impressed me to pray without ceasing for Daniel.
You know, those lines about loving "with an everlasting love" and drawing him close "with lovingkindness."
I Don't Want to Be a "Meddlesome Me"
Studying Genesis 27 has shown me that I become a "meddlesome me" when I use intimate knowledge about my man against him.
Or about my daughter against her.
Or about my students against them.
I don't want to be a woman who betrays trust like this.
I want to be a woman who loves her husband, her children, her students, "with an everlasting love" and who treats everyone "with lovingkindness."
I want to be a woman for whom intimate knowledge is protected as sacred, not used as a weapon.
I want to be a woman with whom intimate knowledge is safe because she is grounded so securely in God's "everlasting love" for her. (Click to Tweet this.)
Try This Today:
As you're building your "God Will Provide" family time line, include a person who was trustworthy with intimate knowledge.
Your Turn!
How has the safety or betrayal of intimate knowledge played an important part in your relationships?