How to Know if You're a Problem-Preventer
"You're not a problem-solver."
Dumbfounded, I stare at my husband.
Finally, the words, "Yes, I am!" eek their way out.
"No, you're not," comes his rebuttal.
I'm too stunned to speak (which is probably a good thing).
For the rest of the day, the Holy Spirit is clearly at work in my mind and heart.
Because instead of stewing over Daniel's declaration that I'm "not a problem-solver" … instead of dissolving into tears over how clearly worthless I am (and have been for the past thirty years) … I find myself curious:
What evidence makes this a valid conclusion from his perspective?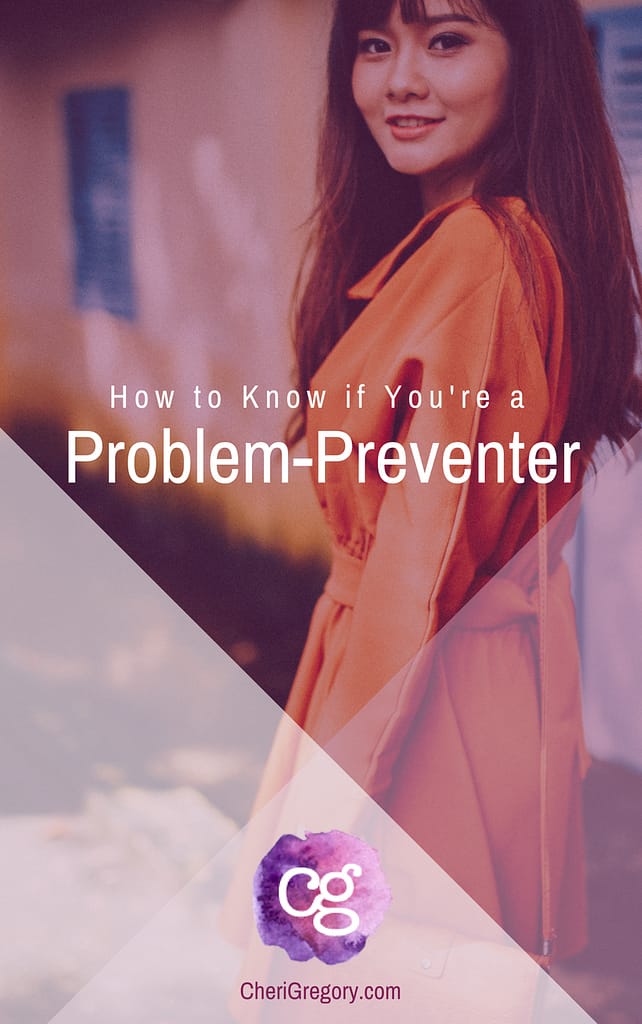 Me and My Control Issues
I realize that my husband doesn't actually see me solve problems, for two reasons: one good, one … <sigh>.
The good reason is that I do a lot of my problem-solving behind the scenes. And then I don't make a big deal out of it. I mean, who really wants to hear a blow-by-blow description of how many hours and separate phone calls it took me to finally get a $40.16 refund from BigStore.com? (Plus, doing it was miserable enough — why would I want to relive it all a second time?)
The <sigh> reason is that much of my so-called "problem-solving" has actually been (if I'm gut honest) problem-prevention.
Especially with my kids.
Now, I've never been a smother mother, stalker mom, or helicopter parent.
No way. Not me!
But it turns out, there's a whole 'nother category:
The "snowplow parent" is defined as a person who constantly forces obstacles out of their kids' paths. They have their eye on the future success of their child, and anyone or anything that stands in their way has to be removed. (Ruth Stiles, 2014)
So, yeah. All these years, I've been a snowplow parent … and wife … and friend … and … and … !!!
You know, the kinda gal who anticipates trouble, goes ahead of everyone so she can pre-fix everything before it ever breaks, and then humbly steps out of the way.
That's me, to a T.
(Especially the humbly part.)
Yeah, I know that there's an official psychological term for all of this. But somehow, codependent never struck a chord with me the way that problem-preventer has.
I've never thought to ask myself, "Am I being codependent right now?"
But now I find myself regularly self-checking: Am I being a problem-preventer right now?
5 Habits of a Problem-Preventer
Right about now, you may be wondering, "Am I a problem-preventer?" (If so, you're right on cue. Thank you!)
You might be a problem-preventer if you regularly find yourself …
Sensing possible problems long before they occur

Imagining the negative consequences of #1

Experiencing the emotional, physical, and even relational reactions of #2

Developing multiple plans to prevent all permutations of #1

Attempting to execute All The Plans — and anyone who gets in your way
The #1 problem with being a problem-preventer is hypervigilance.
When you're hypervigilant, you spend so much time re-living the past and attempting to control the future, you never experience the here-and-now.
Long-term consequences of living like this include:
Mental overwhelmedness

Emotional exhaustion

Physical fatigue

Relational disconnection

Spiritual stuntedness
If you're starting to suspect that problem-preventing causes more problems than it … prevents, you're not alone.
I'm right there with ya.
5 Truths that Set the Problem-Preventer Free
Here are five truths that we problem-preventers can rehearse and take to heart. As we do, the Truth will set us free:
1 — Permitting problems is not the same as perpetrating them.
When you allow a problem to occur, you may feel as though you caused the problem, as though it's now your fault.
You didn't, and it's not.
Permitting problems simply means that you're learning when to step in … and when to step back. When someone actually needs your help vs. when they need to experience the consequences of their own choices. When you need to knowingly, even intentionally, disappoint people.
2 — Pain is not the enemy.
You may believe an unwritten rule that goes, "If you do everything right, nothing will ever go wrong, and there will be no pain."
The corollary to this rule is, "If there is pain, you've done something wrong."
Neither are true. The kind of pain that accompanies growth is normal and necessary.
3 — Inconvenience is acceptable.
You may also harbor the belief that Nobody should ever be inconvenienced on account of me.
This, of course, is absolute nonsense.
Inconvenience is normal. When someone over-reacts to being inconvenienced, it's not a sign that you've somehow failed them; it's a sign that they're immature.
4 — Neediness is normal.
It's so easy to believe that other's unmet needs are your fault.
That if you were a good _______ (friend, daughter, sister, wife, mother, aunt, worker, Christian, etc.) you would automatically know what everyone needs — before they even need it! — and pre-emptively meet each unspoken need.
But … wouldn't that make you … God?
What might happen if we all learned to
recognize our own needs,

express them clearly, and

take responsibility for getting them met?
We might quit pretending we don't have needs and start living truth-full lives.
5 — Peace is possible.
Do you believe, deep down, that your happiness is dependent on everyone around you being happy?
If so, you're not alone. This is what fuelled my decades of problem-prevention. Sure, I wanted my people to be happy.

But I now recognize that more than anything, I wanted to be happy. I wanted to heave one big sigh of relief and finally enjoy my life.
I thought that if anyone around me was inconvenienced, disappointed, or hurting, it automatically meant that I couldn't be happy.
But happiness is always possible for you and me — regardless of how others are feeling.
As is contentment.
And satisfaction.
And peace.
Especially peace.
In fact, Jesus promises us peace.
Hope for Problem-Preventers
Before he was crucified, Jesus told his disciples that they would fail as problem-preventers.
"You will leave me all alone," he said. (John 16:32b)
But He didn't stop there.
"I have told you these things, so that in me you may have peace," He assured them.

"In this world, you will have trouble. But take heart! I have overcome the world." (John 16:33)
How-To for Problem-Preventers
What might it look and sound like to apply these Biblical truths in-the-moment?
When you feel the need to prevent a problem, you can pray, "Jesus, give me the strength to permit this necessary problem."
When you want to alleviate growing pains, you can pray, "Jesus, walk me through this discomfort."
When you start to scramble to avoid inconveniencing anyone, you can pray, "Jesus, help me believe that inconvenience is normal."
When you start to feel guilty over others' unmet needs, you can pray, "Jesus, show me the need with my name on it."
When you just wish everyone would clean up their act once and for all so you can finally be happy, you can pray, "Jesus, be my joy."
So the next time the answer to, "Am I being a problem-preventer?" (or, if you're ready to be really honest and ask, "Are my control issues surfacing again?") is a resounding, "Yes!"
Tell yourself:
It's time to shift from reliance on my behavior to dependence on my Savior.