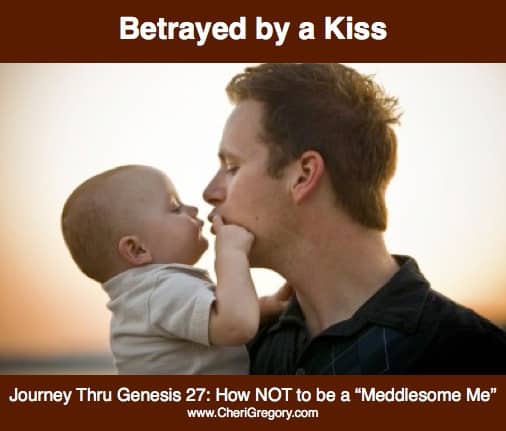 Then Isaac said to Jacob, "Come near so I can touch you, my son, to know whether you really are my son Esau or not."
Jacob went close to his father Isaac, who touched him and said, "The voice is the voice of Jacob, but the hands are the hands of Esau." He did not recognize him, for his hands were hairy like those of his brother Esau; so he proceeded to bless him.
"Are you really my son Esau?" he asked.
"I am," he replied.
Then he said, "My son, bring me some of your game to eat, so that I may give you my blessing."
Jacob brought it to him and he ate; and he brought some wine and he drank. Then his father Isaac said to him, "Come here, my son, and kiss me."
So [Jacob] went to him and kissed him. When Isaac caught the smell of his clothes, he blessed him and said,
"Ah, the smell of my son
 is like the smell of a field
 that the Lord has blessed…."
Genesis 27:21-27
Why does Isaac doubt whether it's really Esau speaking to him?
If he'd spent years playing the "Guess Which Twin I Am!" game, I'd understand.
But Esau and Jacob aren't identical twins. They've looked and acted different since birth.
It feels to me like Isaac is used to being suspicious. Used to being lied to. Used being on guard against his own family members.
How sad for mistrust, untruth, and hypervigilance to become so "normal".
Denied 3 Times, Then Betrayed by a Kiss
In this scene, we see Isaac is denied the truth three times.
First, when he touches Jacob and feels the hairy arms of Esau.
Second, when he asks Jacob, "Are you really my son Esau?" and Jacob says, "I am."
And third, when he smells Jacob and recognizes the scent of Esau.
Each of these denials is, once again, an abuse of private knowledge. Jacob, acting under Rebekah's orders, pulls of a multi-sensory deception scheme that only a wife and a son could execute.
Only his wife and sons know such intimate information about Isaac. And suspicious though he may be, he never imagines that these close family members will form an alliance against him.
And final betrayal comes thru an act of intimacy: a kiss.
Through an act meant to communicate vulnerability and connection, Jacob commits the ultimate violation of his father's trust.
The Destruction of a Family
Once again, I have the urge to say, "Well at least I never do anything like any of this!"
But then I think about all the times we walk on eggshells around each other. Silently suspect each other's motives. Lie by omission.
I ask myself, Do we use closeness–the times we're close enough to touch and even smell each other–to be truly vulnerable and build connections? Or do we rush past such opportunities, denying the truth of how much we need each other?
And I realize how often I've sealed broken trust with a peck of resignation rather than renewing trust with a kiss of repentance.
The Salvation of a Family
This passage from Genesis 27 reminds me of what happened to Christ: He was denied three times. He was betrayed by a kiss.
And yet instead of putting up his guard, he gave the ultimate sacrifice. He modeled something inescapable at the heart of love:
suffering.
All the eggshell walking and hypervigilant pretending I've done with my family over the past decades has kept me from loving them and experiencing their love in return.
Now, as I am living with greater honesty, vulnerability, and trust, I find myself learning the one thing I've spent my life avoiding: suffering
Suffering with and suffering for.
Rebekah and Jacob totally missed the integral relationship between love and suffering, and their entire family paid a heavy price for their attempts to escape it.
I'm grateful for the chance to learn this lesson before it's too late.
Try This Today:
As you're building your "God Will Provide" family time line, include a situation that involved suffering and/or sacrifice.
Your Turn!
What have you learned about sacrifice by suffering along with someone you love?