Why We Hate Being Told What to Do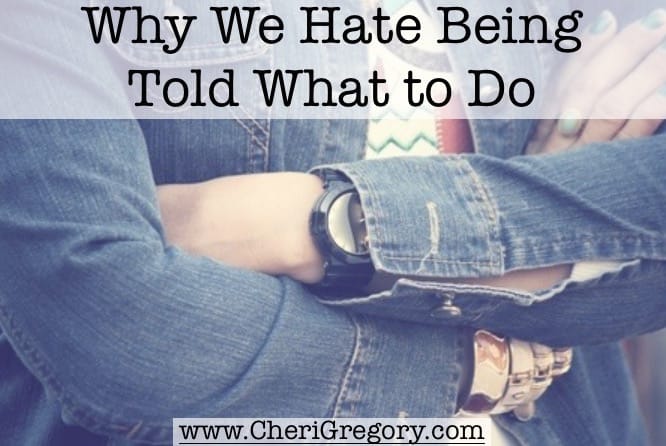 "I felt so dumb. Like, I should know what this word means by now!"
I'm telling Daniel about my latest epiphany.
"I'm almost half-way through the course, and I'm not sure what this basic term means – a term so basic it's not even in the glossary!"
I shake my head.
"Finally I decided: I don't care if I should know what it means, I'm going to make myself a flashcard for the word 'variable'."
Daniel looks up eagerly.
"Oh, that's easy. A variable is…"
I interrupt.
"I know. I made the flash card. I watched a 3-minute video on YouTube. I know what a variable is now. My point is how long it took me to move past feeling stupid and actually make the smart move."
Later, I feel bad for interrupting.
I should have let him finish his sentence.
But I am finally learning why I get so irritated when Daniel – and any other family member or close friend – jumps in with a quick fix.
3 Types of Feedback
According to Sheila Heen, co-author of Thanks for the Feedback and speaker at this year's Global Leadership Summit*, there are three types of feedback:
Appreciation – "is fundamentally about relationship and human connection."
Coaching – "is aimed at trying to help someone learn, grow, or change."
Evaluation – "tells you where you stand. It's an assessment, ranking, or rating."
Conflict arises when we need one type of feedback but receive another.
Two Needs in Tension
Heen also points out that humans have two primary needs that are constant tension with each other:
We need to learn and grow.
We need to be loved and accepted the way we are right now
Who do we rely on those to meet Need #2?
Those who are closest to us: family and friends. The very people who are often the most eager to coach us, to tell us what to do (and how to do it!)
Coaching vs. Connection
Coaching implies evaluation.
After all, if we're meeting or exceeding the standard, we don't need any input. It's only when we're struggling or failing that guidance becomes necessary.
When I am seeking to meet Need #1 – to learn and grow – I am open to receiving coaching.
But when I am seeking to meet Need #2 – to be loved and accepted the way I am right now?
Then I need connection, not coaching. Then, I need Appreciation in the form of:
"I see what you're saying.
"Yeah, that happens to me, too."
"That must have been hard."
We aren't open to coaching when our need for love and acceptance outweighs our need to learn and grow.
Too Close to Coach
My biggest take-away from the Global Leadership Summit* was worth the price of admission.
Heen shared how frustrated she used to get when her husband would come home from work and tell her all about an amazing new idea he'd just heard from someone he'd just met.
The amazing "new" idea?
Was one she'd been telling him about FOR YEARS.
Oh, I howled with laughter and resonance at this story. This has been a sore spot for 27+ years in my marriage!
WHY does my husband eagerly accept input from a total stranger but NOT FROM ME?
For the same reason I don't want to hear a definition of "variable" from him.
Coaching isn't what we need most from each other. We depend on those we're closest to for unconditional love and acceptance the way we are.
Often, we're simply too close to coach.
In my notes, I wrote, "Daniel needs me to love and accept him, not tell him what to do."
And in my own experience, I recognize this truth:
Coaching I haven't asked for comes across as Evaluation.
Which is why we hate being told what to do by those who are closest to us:
Unsolicited advice feels way too much like criticism.
(In Part 2, "Why We Love Telling People What to Do" we'll discuss simple strategies that make feedback-giving and feedback-receiving a whole lot easier!)
* Interested in seeing all 13 videos from the 2015 Global Leadership Summit? For $19, you are welcome to one of the 9 access codes I purchased as part of a team pack. Drop me an Email at [email protected] for more details!