The Differences Between Meddling and Helping
I was planning to write a wrap-up for our Journey Thru Genesis 27, but after re-reading all my blog posts and Bible study notes, I came up with a visual instead: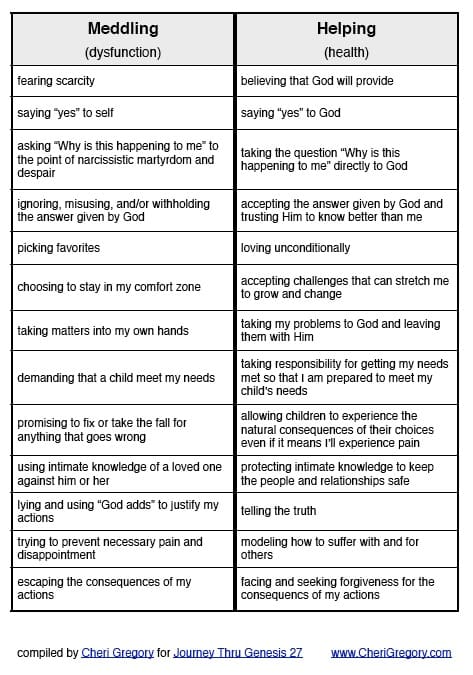 (You can click here to download a PDF file of the Meddling vs. Helping Chart)
A few of my favorite stops along the way:
Back-story is vital for understanding people.
You can learn a lot about yourself by figuring out who you "favorite."
Every major break-through I've had has come from challenge, not comfort.
The choice to settle always produces the "need" to meddle.
What we don't say often says far more about our hearts than what we do say.
I want to be a woman with whom intimate knowledge is safe because she is grounded to securely in God's "everlasting love" for her.
Christ modeled something inescapable at the heart of love…suffering with and suffering for.
The trinity at the heart of every meddler: me, myself, and I.
The great gift that stories such as these offer us: the opportunity for vicarious learning.
Your Turn!
What's been your biggest "ah-HA!" moment or take-away from our Journey Thru Genesis 27?